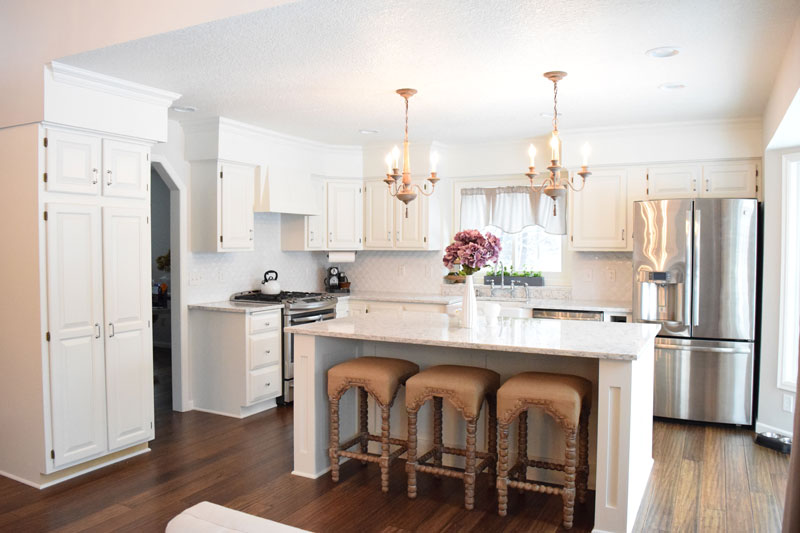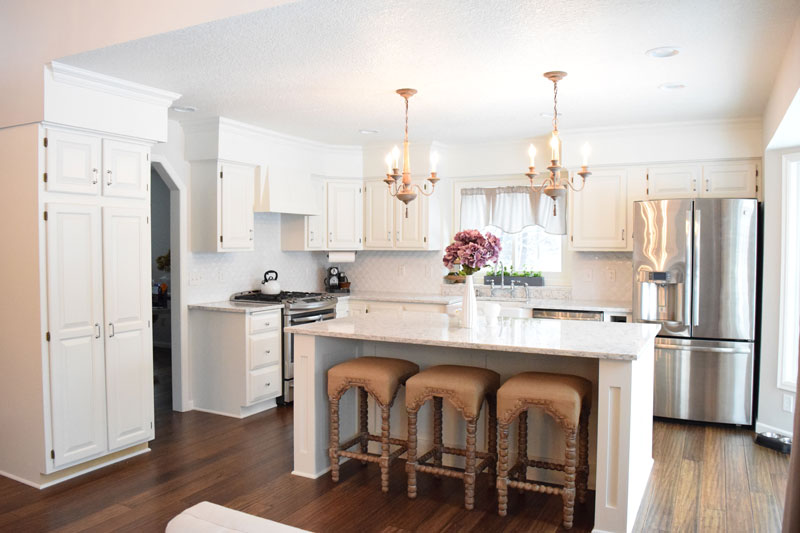 Remodeling Kitchen and Bathroom
Adorned Homes featured Viatera countertops in a recent home remodel. Owned and operated by husband and wife duo Dan and Katie Kurtz, Adorned Homes brings a spectrum of services to clients including home listing, selling, renovation and design. The pair's skill set supports this broad offering; Dan is a certified master plumber, and Katie is a real estate agent with a background in design. The team was tapped to renovate a home in desperate need of upgrades to appliances and design. They performed a total remodel of the home and featured Viatera in the kitchen and master bathroom.
Before the remodel, the age of the house was apparent in both its design and functionality. "The home's aesthetic was very 1990's," Katie Kurtz said. "You could tell the kitchen's age from the blonde oak cabinets and dated appliances. The bathroom had a sunken tub with old tile and fixtures."
Apart from needing a new look, the house also required some serious repairs. "None of the appliances worked in the kitchen, and the shower was covered with rust," Kurtz said. "We gutted both rooms to get a fresh start."
Why Viatera? Natural Beauty and Outstanding Durability
Kurtz landed on Viatera after scouring brands in search of the perfect product. "I was immediately attracted to Viatera Rococo," Kurtz said. "Warm tones didn't fit with this project, and I loved the soft gray and white marbling. It was exactly what I was looking for."

Kurtz was also impressed by the durability of the quartz surface material. "Durability is a huge factor in choosing countertop materials, especially for kitchens and bathrooms," she said. "The nonporous surface of Viatera ensures there won't be any staining throughout the life of the product, a problem that might occur after only a few months with natural marble."
Combined with its natural stone look, Viatera met all of Kurtz's requirements. "When you look closely at Viatera, you can't tell it's manufactured," she said. "It has the luxury appeal of natural stone. When you pair that with outstanding durability, strength and hygienic properties, it's the ideal product."
Creating a natural-looking pattern in an engineered stone counter product is not easy, and Kurtz has yet to find another product that compares. "A lot of companies offer quartz and solid surface material with a similar look, but their products have a repeating pattern that shows it's not authentic," Kurtz said. "Viatera looks like it was cut straight out of a natural stone mine."
Viatera, the Perfect Quartz Surface for Kitchen and Bathroom Countertops
The project was a success. "We've gotten many compliments on this house," Kurtz said. "Sometimes we do custom countertops that only a few people will be attracted to, but that's not the case with Viatera Rococo. It fits almost every style."
This was Kurtz's first time using Viatera, but she plans to continue incorporating it in her future work.
"The visual quality and durability of Viatera are unmatched by other solid surface counter materials I've used," Kurtz said. "Even though this was my first project with it, I've already recommended Viatera to clients. It's truly a fantastic product."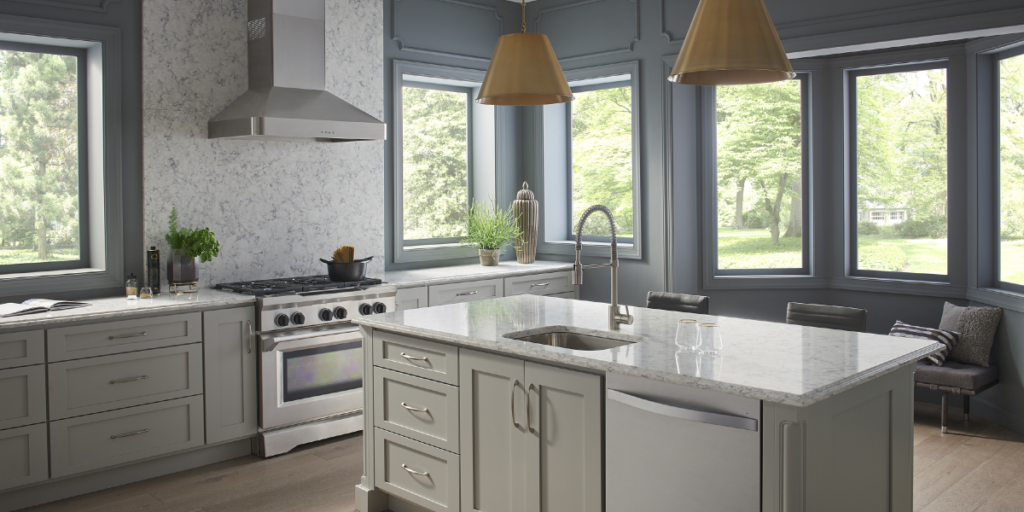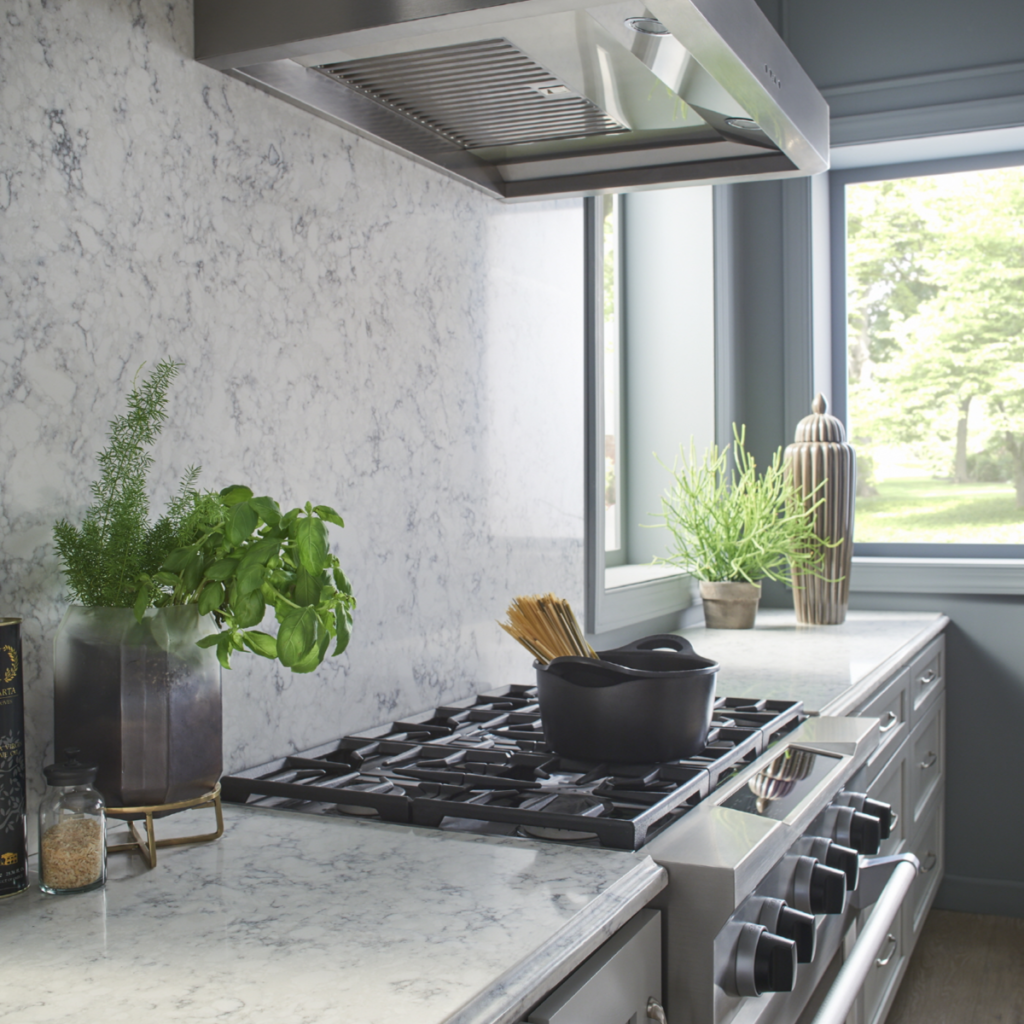 · Viatera Rococo
Pale eggshell with gray marbling. Delicate gray marbling seems to swirl and float effortlessly on a pristine canvas. Each subtle detail whispers beautiful music in your ear before being whisked away by the breeze, leaving you to ponder its haunting melody.
Take a look and imagine what's possible with Viatera Rococo quartz surfaces
Kitchen and Bathroom Interior Design Suggestions
· Kitchen Interior Design Trends
According to a Kitchen interior design trend survey, professionals responded that given the increasing income polarization, the future remodeling interior trend will be the L-shaped layout with enhanced electronic device connectivity. Moreover, they forecasted that minimalistic white-tone kitchen designs with quartz surfaces countertop will lead the upcoming kitchen design trends.
The transitional style, a combination of traditional and contemporary, will be a popular choice for remodeling, along with using organic and eco-friendly materials. To make a more 'connected' kitchen, respondents recommended the usage of white, gray, beige, and blue colors when designing a modern kitchen.
· Multi-purpose Island Table: The superhero of the millennial kitchen
66% of millennial households with a child are dual-income households. With the rapid growth of their expertise and skills in their field, millennials play a key role in society and their related profession. At the same time, as parents, millennials have a big interest and passion for good parenting, balancing their work and home life to spend more time with their family.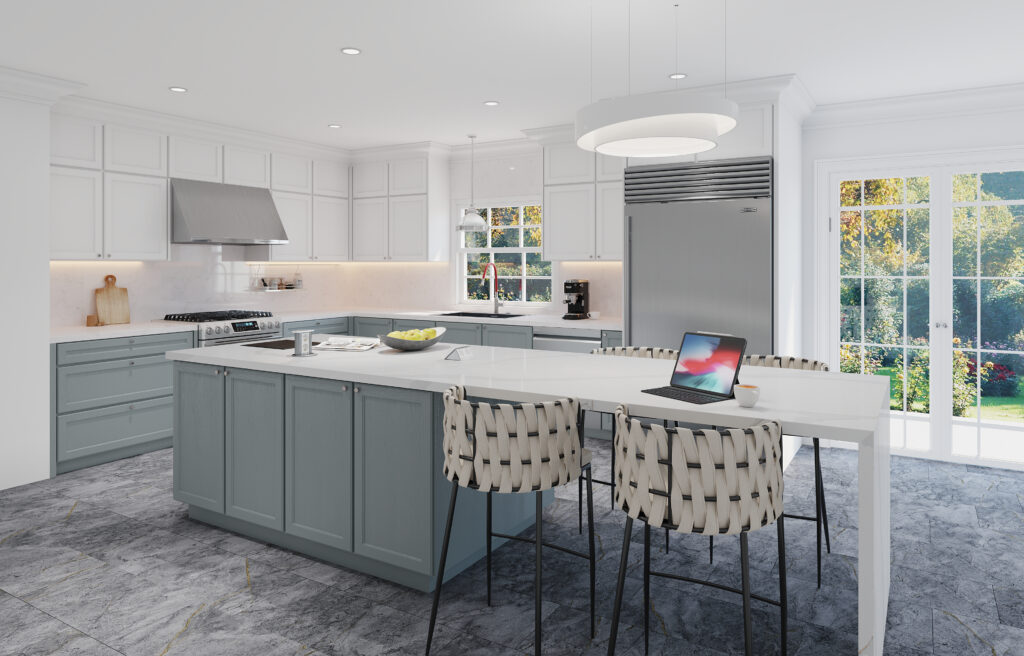 From the island table with a built-in range enabling a quick and safe preparation of food, to a large countertop that allows serving food to children as soon as the meal is cooked, and built-in digital amenities supporting connecting laptops or other digital devices used for work are all combined in the multi-purpose island table functions. These are the reasons that make a multi-purpose island table a superhero for the parents who can now take care of their work and family in a single space.

Benefits of Viatera Quartz Surface kitchen table
Viatera uses organic resins removing air gaps in the surface, making it non-porous. It is designed not to let any substances permeate or pollute the surface. Therefore, spilled food can be easily removed by simply wiping the surface, making the kitchen easy to maintain and clean. Also, the kitchen can incorporate nature's beauty and elegance through its accurate depiction of marble movement and texture.
Viatera Quartz Surface offers Natural beauty and outstanding functionality
Surface materials used in residential spaces must possess not only functional elements but also aesthetic competitiveness. LX Hausys Viatera quartz combines the beauty of natural stone with the outstanding functional elements of quartz by raising the composition of natural materials to a high level.
Check out LX Hausys Viatera Musica collection and get inspirations for your kitchen remodeling project.