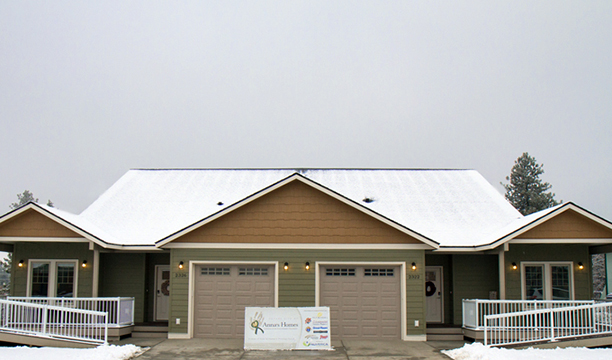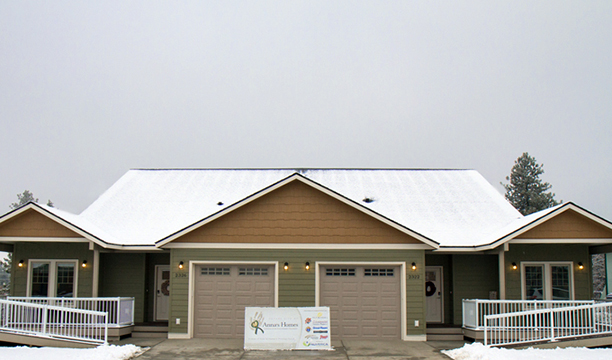 Annas Homes: Townhouse project for pediatric oncology families
The mission of the Spokane, Washington-based Anna Schindler Foundation is to provide temporary homes for pediatric oncology families near Sacred Heart Children's Hospital in Spokane. Childhood cancer affects many families in the U.S., with an estimated 15,780 children between the ages of birth and 19 years of age diagnosed with cancer each year. With some families facing long drives – sometimes up to six hours or more – to get to the hospital, and treatments that can range anywhere from a few months to several years, the need is evident for a place for families to stay while their children are undergoing this life-saving treatment.
Polly Schindler, who co-founded the Anna Schindler Foundation with her husband, Joe, stressed the need for this housing, stating that, "The families who will reside in these homes are going through a critical and stressful journey as their child fights for their life against cancer."
In 2015, the Foundation launched its Anna's Homes initiative and began building four townhomes to provide temporary dwelling to families in need. They are in the process of finalizing the first stage of two of these homes.
Annas Homes Chose LX Hausys Viatera Quartz Surface for Countertops Materials
LX Hausys lent its support to the Foundation, donating countertop materials to be installed in the first two townhomes. The Foundation also collaborated with fabricator Mario & Son, who are donating their services for this important project.

· Viatera Quartz Surface
Viatera is a quartz counter material for commercial and residential countertops, worktops, and vanities. Viatera by LX Hausys combines up to 93% quartz, one of the hardest minerals on earth, with advanced polymers and colorfast pigments. The manufacturing process occurs under intense heat and pressure and creates the highest quality quartz materials.
Learn more about LX Hausys Viatera Quartz Surface
Viatera Soprano quartz surface for Annas Homes countertops
To aid in the Foundation's efforts, LX Hausys donated Viatera Quartz Surface in Soprano to be used in the townhomes. In one of the homes, the surface is being used on the kitchen countertops and islands, and in the other home, it is being utilized for the bathroom and laundry room countertops.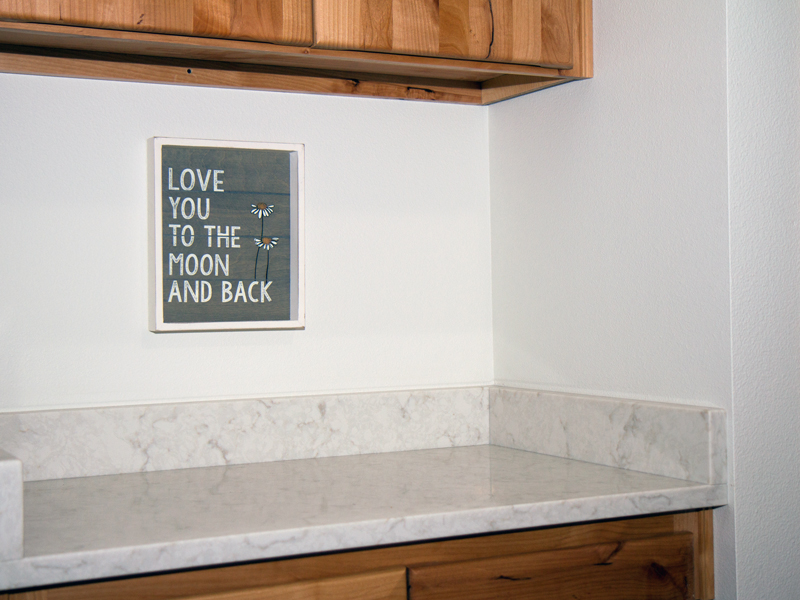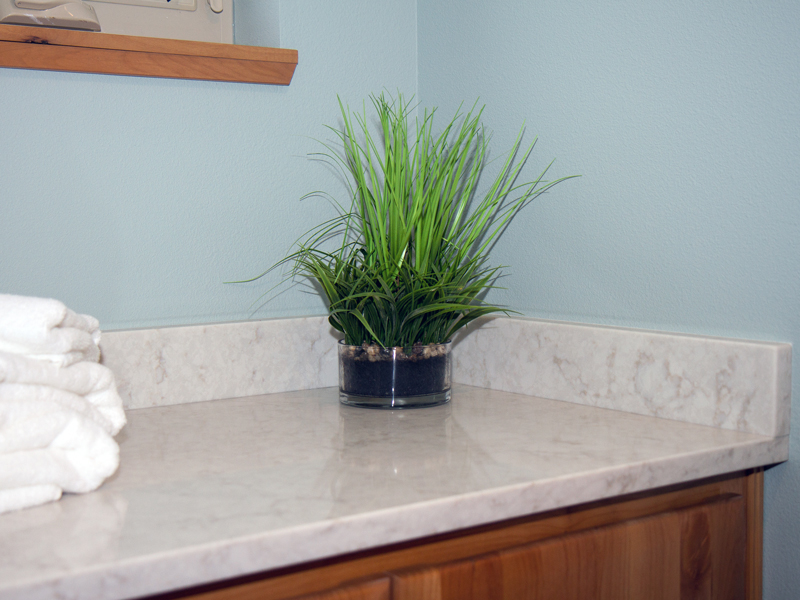 · Viatera Soprano quartz surface from Musica Collection
The Musica Collection from Viatera offers you quartz surfaces that reflect the elegant and timeless beauty of the finest classical music while drawing inspiration from the allure of natural stone. Conduct the perfect symphony of light and dark countertop quartz colors with surfaces that reflect the soaring heights and rich, deep complexity of the works of the world's greatest composers.

A cream white marble look alike quartz entwined with darker shade, the Soprano quartz surface harmonizes ideally with any setting and surrounding due its attractively neutral color tone.
Check out Viatera Musica Collection discover how these colors can enhance your project.
Features and Benefits of Viatera – Annas Homes' Choice for Countertops
· Beautiful and Functional Quartz Surface, Viatera is Ideal for Hygienic Spaces
According to Schindler, the donated product served a two-fold purpose. She noted that Viatera in the soft, subtle tones found in the Soprano color was "beautiful" and "brought an aesthetic feeling of brightness and peace to the homes." More importantly, she stated that Viatera's non-porous and safe qualities were ideal for maintaining a hygienic space without sacrificing beauty, adding, "These families live in a sensitive environment where sanitation is very important because they must limit germ/bacteria/mold/mildew exposure, and quartz surfaces are ideal for cleanliness and sanitation. The functionality is ideal because they are easy to clean, work on and practical."
· Viatera Creates Eco-friendly and Sustainable Spaces
The fabricator for the project, Mario and Son, donated their time and effort to help the Foundation achieve its goal and said that "partnering with LX is extremely rewarding" and pointed out the "unmatched" support they received throughout the project. Mario and Son also recognized the eco-friendly features of the surface, adding, "The LX Viatera surface allowed us to provide a safe quartz surface product for a project that houses families of terminally ill children, which requires an extremely clean environment. We trust LX Viatera when it matters most." As for the installation process, the fabricator had a challenge-free experience, stating that, "the process from request to installation went very smoothly."
· Viatera is the material of choice for aesthetics, health and sanitation
The Foundation recognizes the contribution of LX Hausys to this important project, with Schindler calling the donation, "a gift that blesses these families every time they stay in Anna's Homes." She went on to add that, "The money saved on this project goes directly to our oncology family's stay or another financial need. This project has been made possible by good companies giving forward to help others."
Schindler said that she would "absolutely" recommend Viatera for future projects, adding, "the surfaces are aesthetically beautiful, with great functionality and meet all concerns for health and sanitation."
Interior Kitchen and Bathroom Design Trends in Countertop Materials
People will increase their preference towards an eco-friendly kitchen in the next few years, and a brighter-colored quartz countertop will improve kitchen designs by enhancing the original intention of the space. For the countertop of the master bathroom, the majority of the designers are expected to use bright-colored quartz material.

Interior Kitchen and Bathroom Design Trends in Color
To make a more 'connected' kitchen, professionals recommended the usage of white, gray, beige, and blue colors for countertop ideas when designing a modern kitchen. Many designers select stainless steel with bright white, or bold colors for sink design, and get their inspiration from nature to create a more biophilic design.
White, gray-blue, and beige with a feeling of purity and cleanliness will be the top choices for bathroom vanity top colors and will be complemented with surface materials that are bright, organic, and medieval-style patterns.

Kitchen Interior Design Suggestion – Home Chef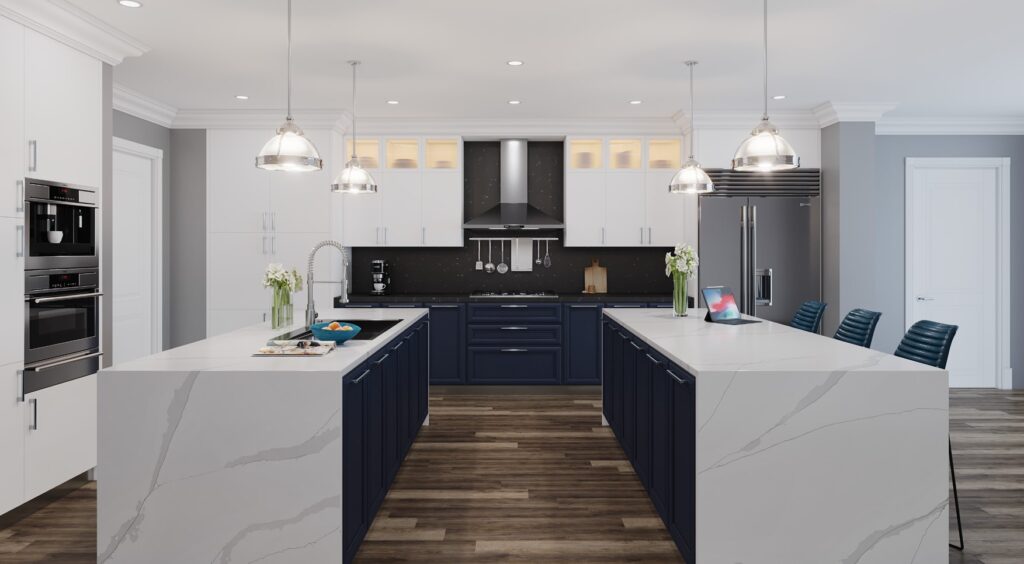 The kitchen is a basic, but essential area that every family member uses and where Generation X spends time with their family. Research shows that Generation X men spend more time in the kitchen than the previous generation, baby boomers, and are responsible for 8 meals per week on average.
Since Generation X wants to add up their luxurious taste to the kitchen, Viatera can be the perfect choice. It will create an elegant kitchen design made possible by its nature-inspired patterns that can only be found in natural stones.
Generation X has a higher preference of being the home chef for their family. By redesigning a customized kitchen experience with LX Hausys materials, a kitchen will be more than a space for food preparation: space where moments become memories.
· Used Material for Home Chef Kitchen Countertop – LX Hausys Viatera Calacatta Plata

Widely-spaced silver veins dash around like a homage to a poetic lightning-filled sky. The thin, minimal veining leaves an ocean of the pristine white that Calacatta is famed for. It angles for attention just so with its striking presence, but with its timeless nature, it is flawless.
Discover what's possible with Viatera Calacatta Plata quartz surface.