Contact us
Never miss out again !
Sign up for our newsletter to stay up to date with
the latest HFLOR/HIMACS design trends and news.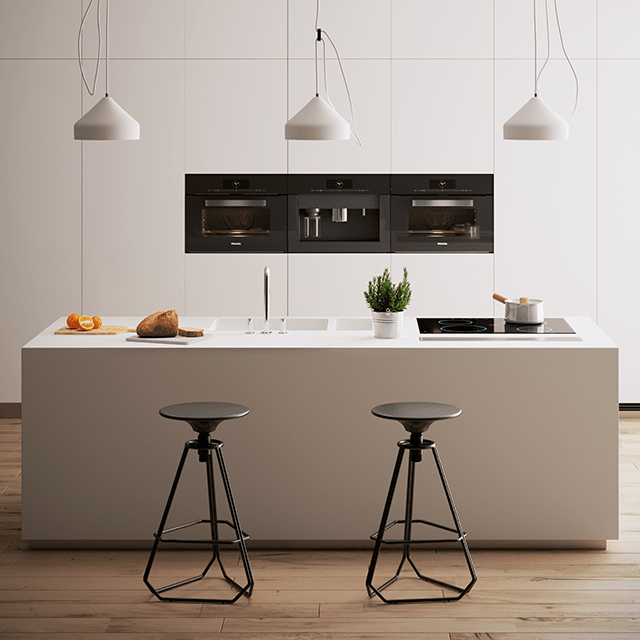 Development
LX Hausys uses its definition of Green Identity in developing eco products. Our top priorities in product development are 'Eco-Friendly' products that are made from eco-friendly materials to deliver more natural and enjoyable living spaces as well as Zero-Emission' products that are highly efficient and adopt renewable energy to help minimize GHG emissions. These principles guide our endeavors to develop new green products.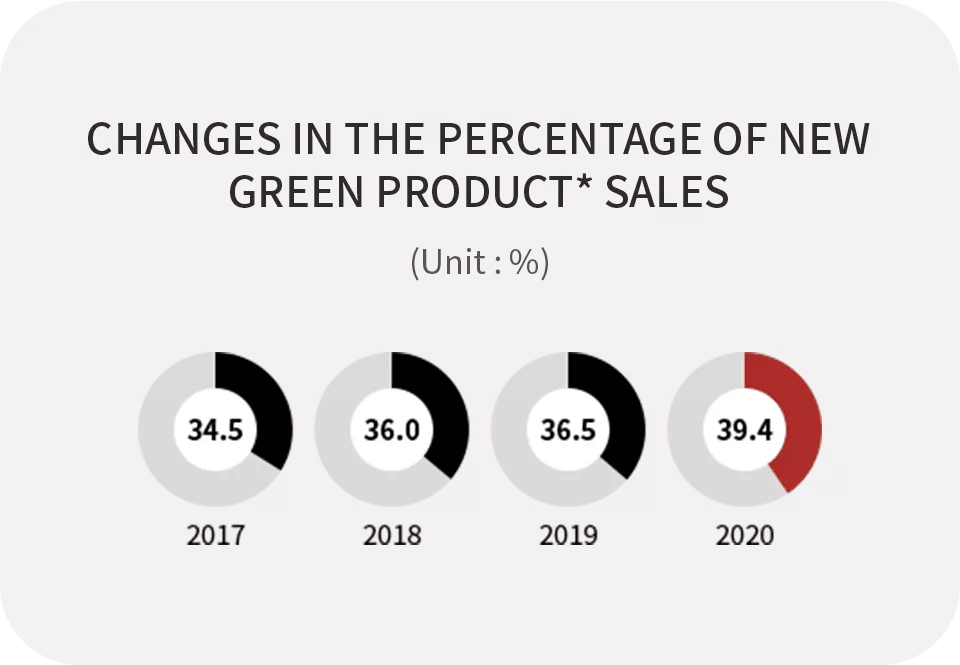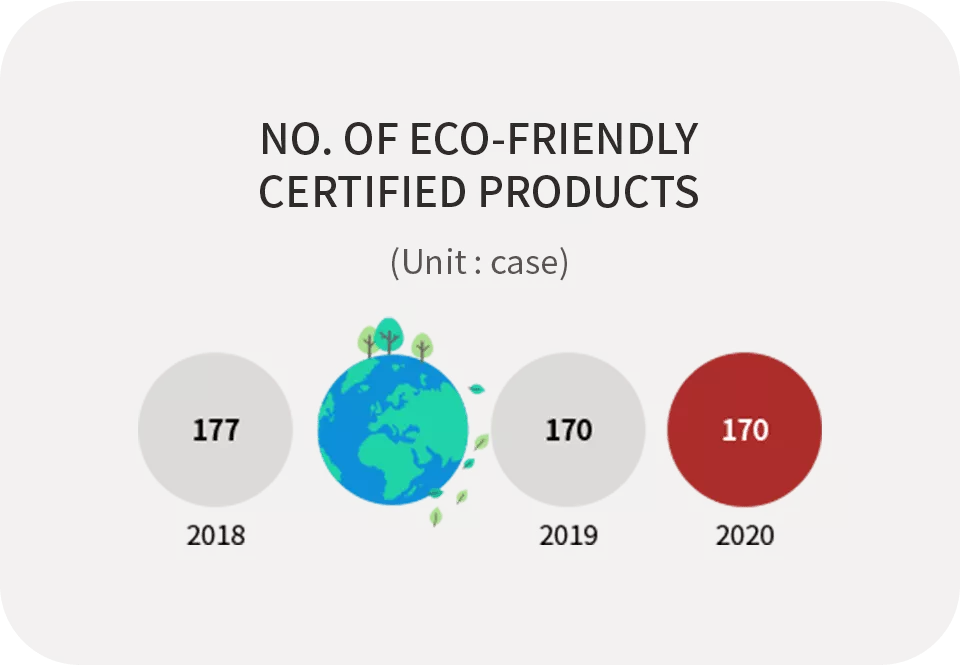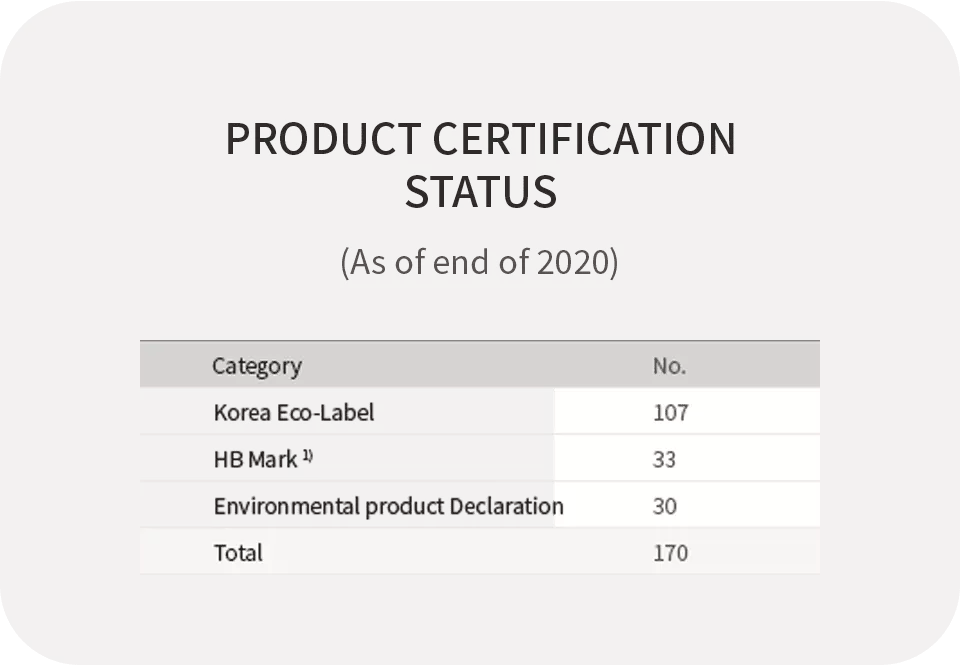 Raw Materials or Ingredients
1. Use of plant-derived materials: Use of ingredients extracted from corn
2. Product examples: Flooring (X-comfort, ZEA Sorizam, ZEA Maru - wooden floor, etc.), Wallpaper (ZEA wallcovering, etc.)
3. Use of materials that reduce CO2 emissions: Glass fiber lightweight automotive parts, bio automotive skins
4. Increased use of renewable raw materials: 16,023 tons of renewable raw materials used in 2020
Products
Energy-saving Products
1. High-insulation performance windows: Super Save Double glazing windows made with super plus low-e glazing can achieve the Energy Performance Grade
(It can be different depending on the specifications such as window model, thickness of glass, etc.)
2. High-performance insulation: High level of heat conductivity in comparison with general-purpose insulation of the same thickness
3. Lightweight automotive parts: Increase the fuel efficiency of automobiles by using automotive parts that help reduce weight via glass fiber
(Roof rack: Weight reduced by 26% when compared to using aluminum. Knee protector: Weight reduced by 38% when compared to using steel)
Products Reducing Harmful Substances
1. Sum Tile: hazardous substance adsorption and desorption capabilities
2. Launch of products that reduce the discharge of TVOC, 5VOC, HCHO* (wallcovering, interior film, automotive skin, etc.)
3. Dust filter net: developed a product for windows that reduce fine dust (90% reduction of fine dust in the air)
Eco Collection
Eco-friendly Materials & Energy-Efficient Products
Certification of raw materials for surfaces - Certification for recycled raw materials for surface substances
LX Hausys has acquired an eco-friendly certification from SCS Global Services, an international certification body, for its use of recycled raw materials for products. We have received the SCS recycled content certification for part of solid surface products, as they are made with more than 10% of recycled raw materials. With this certification, we plan to accelerate our advance into the European market, which stresses the importance of using environmentally-friendly products made with recycled raw materials.
Recycled PET Material - GRS(Global Recycled Standard) certification for PET films for recycled furniture made
Regarding industrial films, we have developed PET films made with recycled raw materials and acquired the GRS (Global Recycled Standard) certification from Control Union in USA Films for furniture are surface finishing materials that can express various designs by attaching them to the surface of plywood, which is a common furniture material. This material is applied to various types of furniture including kitchen furniture and closets, as it allows various patterns ranging from wood to marble or metal, and gloss/matte texture to be expressed freely. LX Hausys produces PET films for furniture, which are certified by the GRS for the first time in Korea.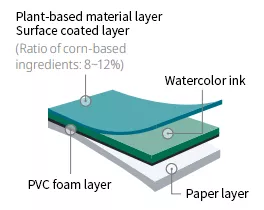 Eco-friendly decorative material - 'LX Z:IN Flooring ZEA Sorizam, ZEA Wallcovering'
LX Hausys' ZEA Sorizam and building insulation materials were listed as green products for seven consecutive years, whereas the ZEA wallcovering series and Super Save windows were listed for five years running. LX Hausys' flooring material ZEA Sorizam was recognized as an eco-friendly product that minimizes hazardous substances and reduces noise between floors, while its ZEA wallcovering series (Diamant, ZEA Fresh, ZEA Fabric) earned recognition as an eco- friendly product whose coating layer is made of ingredients derived from plants.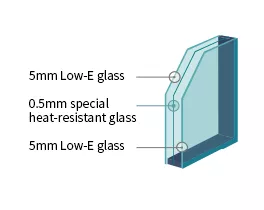 Energy Efficiency Thermal Insulation - 'LX Z:IN Super-Light Triple Insulated Glass'
'LX Z:IN Super-Light Triple Insulated Glass' incorporates 0.5mm special heat-resistant glass, instead of the 5mm glass that is generally used for the middle layer in triple insulated glass. As the total thickness of the triple insulated glass is the same, the argon gas layer between the glass layers is wider than that of previous products, thereby improving thermal transmittance, thus reducing the amount of heat energy that escapes from the glass.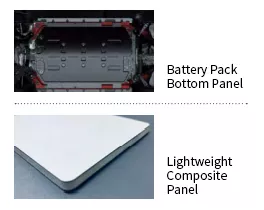 Ovement of vehicle safety performance and energy efficiency - Lightweight Composite Materials and Parts for Vehicles
Through independent R&D of new lightweight composite materials and parts, we were able to develop the bottom panel for electric automobile model by a Korean complete car manufacturer battery pack and the world's first lightweight composite panel featuring fiber core material. The bottom panel of the battery pack, which achieved the same performance and a 30% weight reduction compared to when conventional aluminum material was used, will be applied to four additional models. The lightweight composite panel is 15% lighter than the previous model and will be supplied to Trailer walls of North American complete car manufacturer.
Reduction of harmful substances inside vehicles - Eco-friendly High-performance Automotive Skin
We released SOFINO-Green and VERNO-Green, eco-friendly skins manufactured using differentiated techniques such as minimizing the phthalate plasticizer used in existing vehicle fabrics and treating the surface with water-based coating. These products were awarded the Oeko-tex Standard 100 Class 1, which is the highest grade for babies and toddlers, thereby verifying that they are eco-friendly.
Products that Address Social Issues and Provide Customer Convenience

Discharge indoor pollutants and bring in fresh air - 'LX Z:IN Window Ventilation' keeps indoor air clean
Recently, the importance of ventilation is being highlighted as it becomes difficult to ventilate rooms with outside air due to fine dust and yellow dust. Also, air purifiers are not effective at removing carbon dioxide and harmful substances. Our Window Ventilation product exhausts polluted air from a room without having to open a window, and supplies fresh outside air through the H13 grade HEPA filter and the total heat exchange system, while maintaining the indoor temperature in order to maintain comfortable indoor air all year round. The product's luxurious design that matches the interior and smart IoT App maximizes user convenience. We will continue to introduce next-generation products that are smaller and more compact with improved noise control and heat exchange efficiency.

Enhance indoor fire safety - 'LX Z:IN semi-noncombustible sheet' that emits fewer harmful substances in case of fire
Unlike general wallcovering made of paper or PVC (polyvinyl chloride), we use a semi-noncombustible base layer to produce "semi-noncombustible sheets" that prevent the fast spread of fire and emit fewer harmful substances in the event of a fire. This product received the Prime Minister's Commendation at the Fire Industry Awards, hosted by the National Fire Agency and organized by the Korea Fire Institute (KFI), in recognition of its contribution to improving fire safety on account of the fact that it has a shorter installation time and can reduce costs by 20-50% compared to existing semi-noncombustible grade or higher wall finishing materials (paint, stone). Going forward, we aim to seize the opportunity to increase the supply of our semi-noncombustible sheets to the commercial space market. We will do this by supplying semi-noncombustible sheets to general businesses that are deemed to have a high risk of damage to life and property in the event of a fire, such as postpartum care centers, study rooms, and restaurants. We believe our efforts in this regard will strengthen the fire safety of these buildings.
Improve eco-friendliness and durability - 'LX Z:IN Safety Mat' for reducing noise between floors
The Safety Mat is Korea's only floor mat made with TPU to acquire the highest grade of HB Mark, an eco-friendly building material standard certification by the Korean Air Cleaning Association. The Safety Mat reduces sound caused by impact on a lightweight floor by 43dB and increases the shock absorption rate by 73.6% compared to slab-only (210 mm thick concrete) floor. As a result, it effectively reduces noise between floors, such as the sounds of chair dragging or a vacuum, in addition to preventing seniors from being seriously injured should they suffer a fall.
New Space Trends - 'LX Z:IN interior door'
In order to contribute to the creation of a luxurious first impression of our customers' homes, we launched LX Z:IN Interior Door series products which reflect customer tastes and design trends. 'LX Z:IN interior door' provides user convenience and safety via an easy-open handle that enables comfortable and smooth opening and closing with little force, and a damper verified by undergoing a test of being opened and closed 100,000 times. Moreover, 'LX Z:IN Interior door' also comes with a max 10-year warranty. Going forward, we will provide new value via solutions and delicate designs for all spaces that require a degree of separation, such as utility rooms, bedrooms, living rooms, and kitchens, in addition to the entrance to the home.