Contact us
Never miss out again !
Sign up for our newsletter to stay up to date with
the latest HFLOR/HIMACS design trends and news.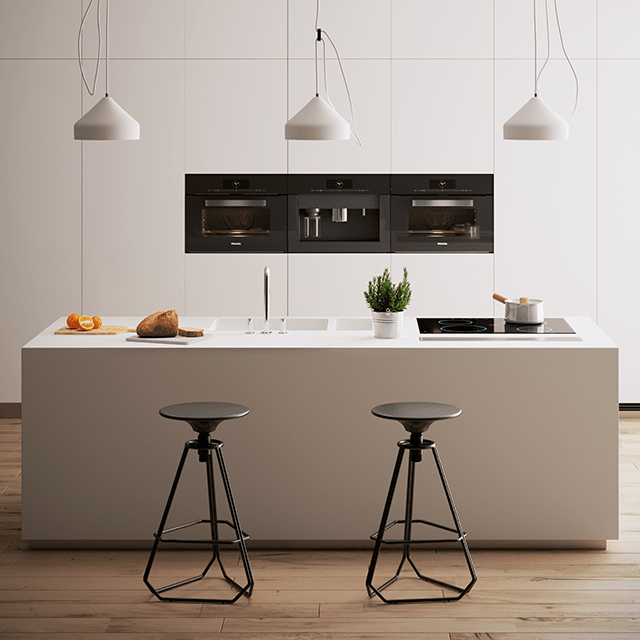 HIMACS SOLID SURFACE
HIMACS is composed of minerals, acrylic and natural pigments that come together to provide a durable, smooth, non-porous and visually seamless surface which meets the highest standards for quality, aesthetics, fabrication, functionality and hygiene – offering manifold advantages over conventional materials. HIMACS is durable, it can be shaped by a thermoforming process, and thanks to its huge colour spectrum and translucent properties can help to achieve outstanding and colourful designs. HIMACS uses a simple heating process to give three-dimensional thermoforming capabilities, allows visually seamless designs, offers a virtually limitless range of colours and – for some shades - exhibits a special translucency when exposed to light. Although HIMACS is almost as robust as stone, it can be worked in a similar way as wood: it can be sawn, routed, drilled or sanded. HIMACS is available in sheets of different dimensions and thicknesses. The collection is completed with our range of kitchen sinks, basins, baths and shower trays.
Collections
Gravilla

The Gravilla collection follows the aesthetic veined trend of Aurora & Marmo combined with a granite particles inspiration thanks to the shorter veins and a chip effect.

Aurora & Marmo

The Marmo Collection provides colours to address the current trends for top-quality marble aesthetics, ranging from semi-translucent white, through shades of grey, to striking dark brown and anthracite tones.

Terrazzo

Terrazzo has a long tradition as a material aesthetic: the coarse-grained look has offered the perfect blend of longevity and elegance since antiquity. HIMACS has now adopted the trend with two colours, which both combine perfectly with their typically coarse-grained, 'splattered' look. The Terrazzo Collection is especially suitable for the hospitality and gastronomy sector, as well as for any other high-traffic public building.

Lucent

Translucency and effective use of light are decisive design elements of contemporary architecture – the shades of the Lucent Collection, with their exceptional light translucency, allow for spectacular designs. Whether effectively backlit or simply illuminated, the Lucent colours of the architecture always add an elegant touch thanks to their characteristic reaction to light.

Ultra

At the forefront of innovation as always, LX Hausys recently introduced two new products. First HIMACS Ultra-Thermoforming, an innovative formula that pushes the boundaries of solid surface shaping to a whole new level, with 30% more thermoplastic capabilities - the biggest innovation for the Solid Surface history since its inception in 1967. Now, HIMACS Intense Ultra, combining the characteristics from two disparate worlds: Intense Colour Technology and Ultra-Thermoforming.

Volcanics

The large particles of the Volcanics shades add a sense of style to any design. When used on a large scale the result is a dramatic showpiece. Three colours from the Volcanics range contain recycled content for an environmentally friendly solution with a luxurious natural stone look.

Concrete

The indusrial look of concrete combined with the incredible flexibility of HIMACS. The Concrete Collection adds huge opportunities for great designs to architects and designers

Solids

The classic in terms of solid surfaces – a wide range of attractive shades of white lies at the heart of this collection. Complemented by colourful, dynamic uni-shade accents from Lemon Squash to Festival Pink. The timeless collection offers the perfect colour for every design.

Granite Quartz Sand & Pearl

Ultimate elegance thanks to lively textures, harmoniously natural tones and maximum subtleness. The Granite, Quartz, Sand & Pearl collections are perfect either alone or in combination with other colours. Three of the granite colours contain recycled content for an environmentally friendly solution.

Lucia

This collection focuses on the natural trend colours black, white and grey. The lively and homogeneous structures add character and expression to the colours. Not surprising, as the renowned Dutch designer, Marcel Wanders, designed three of these colours.

Aster

Aster is a collection of elegant shades of grey, ranging from almost white to a warm beige, all with a gorgeous mother of pearl shimmer.

Exteria

For years, spectacular façades have been made from HIMACS all over the world. In doing so, the advantages are often skilfully crafted: Relief milling with writing, samples with company logos, a combination of spectacular light effects and curvy designs. And every good design inspires the next big thing. Together, we can now take the next steps. With HIMACS Exteria, LX Hausys is expanding exterior possibilities.

Strato

The Strato Collection enhances the HIMACS colour range with brand new design possibilities: the striations create geometry through its soft structure and subtle look. The skilful use of the new linear pattern, vertically or horizontally, allow for great variation in each and every project.

Wide Range of Shapes
Every option is available to designers to create neat washrooms, kitchens, hospitals and much more with our wide range of HIMACS sinks and bowls. Perfectly coordinated and ideal for mixing and matching, the bowls and sinks guarantee a modern look that is easy ad simple to look after.

Dramatic Translucency
Certain colours and thicknesses of HIMACS exhibit a special translucency when exposed to light. Various textures and patterns can be built into the material to intensify the HIMACS translucency effect.

3-Dimensional Design
HIMACS boasts a simple heating process and three-dimensional thermoplastic forming capabilities. This allows for greater forming flexibility compared with other conventional materials so that spectacular ideas can quickly take on a concrete shape.

Unlimited Spectrum of Colours
HIMACS offers a virtually limitless range of colours in all conceivable shades. More are being added every year no matter what colour you choose, HIMACS remains 100% homogeneous.

Most Advanced Fabrication Technology
The material is heated in a progressive tempering process (Thermal Cure). which sets HIMACS apart from other mineral materials and produces a new and stronger compound in which any structural defects are perfectly evened out. This improved structure automatically affects the quality of the material.

Simple Processing
Although HIMACS is almost as robust as stone, it can be worked in the same way as wood. Using conventional carpenter's tools, this solid surface material can be sawn, routed or drilled.

Seamless Perfection
HIMACS allows for visually seamless manipulation. Smooth integration enables large areas without joints or edges as well as flush mounting of sinks or bowls.

Strong
Stronger surface with durability similar to that of natural stone - HIMACS stands up to everyday scratches. Should you accidentally inflict a deeper scratch or surface impression, a trained professional can easily resurface your HIMACS thanks to its sealant-free consistency.

Fire Resistant
Backed up with numerous certificates that attest of its fire resistance, HIMACS is ideal for places where security is the number 1 criteria of choice.

Hygienic
Thanks to its impermeability to dirt, bacteria, viruses and countless chemicals, HIMACS is the ideal material for the hospital, medical practice or laboratory. And for all other areas where hygiene really counts.

Water Resistant
Thanks to its non-porous surface HIMACS is suitable for humid areas where moisture can form such as wet rooms and bathrooms.

Renewable
With easy-to-care and repairable properties, no matter if it's a scratch, stain or crack, HIMACS can be restored to its original state by a certified professional.

Sustainable
HIMACS supports greener earth by using sustainable material, eco-friendly manufacturing process and recycling at the end of its life-cycle. LX Hausys fully stands behind HIMACS uality, which is we offer a 15 year transferable warranty with customer's best interest in mind.
Ministry of Environment of the Republic of Korea
designates HIMACS as environmentally-friendly thanks to the demonstration of its commitment to ecological awareness in its product management activities.

M1 Emissions Classification
designates HIMACS as environmentally-friendly thanks to the demonstration of its commitment to ecological awareness in its product management activities.

Leadership in Energy and Environnemental Design (LEED)
HIMACS supports greener earth by using sustainable material, eco-friendly manufacturing process and recycling at the end of its life-cycle. LX Hausys fully stands behind HIMACS uality, which is we offer a 15 year transferable warranty with customer's best interest in mind.

ISO 14001
Is a standard voluntary system to certify high performance of buildings, from the US Green Building Council (USGBC). LEED certifies buildings using a credit system. The use of HIMACS contributes toward satisfying EQ Credit for Low-Emitting Materials with the category Indoor Environmental Quality (EQ).

Greenguard
The ISO 14000 family concerns the management of environmental quality. The most popular certificate in this group is ISO 14001. It encourages the minimisation of damage caused by our own activity to the environment and the continuous improvement of environmental performance. The objective is to contribute to protecting and stabilising our planet's environment. This test certifies that the environment management system of HIMACS conforms to ISO 14001 standards.

Environmental Building Certificate – Grade "outstanding"
HI-MACS has been approved by Greenguard in the USA, as a "low emitting product". The organisation establishes acceptable indoor air standards for indoor products, environments and buildings. The organisation's goal is to improve public health and quality of life through programs that improve indoor air.

DGNB
The DGNB system, founded by the "German Sustainable Building Council", evaluates buildings holistically on the basis of individual criteria within the categories Ecological Quality, Economic Quality, Sociocultural and Functional Quality, Technical Quality, Process Quality and Location Quality. Different profiles allow the certification of new buildings and existing buildings, as well as of quarters in Germany and Internationally. Buildings can achieve a certification in Bronze, Silver, Gold and Platinum. HIMACS has an Environmental Product Declaration (EPD), which can be used to calculate the building life cycle assessment (ENV1.1/2.1). Furthermore, HIMACS has achieved Quality Level 4 of 4 in DGNB 2018 criteria for local environmental impact for the entire product.

BREEAM (Building Research Establishment Environmental Assessment Method)
BREEAM is the world's leading sustainability assessment method for masterplanning rojects, infrastructure and buildings. It recognises and reflects the value in higher performing assets across the built environment lifecycle, from new construction to in-use and refurbishment. HIMACS can contribute to BREEAM International New Construction 2016 certification, as the entire product complies with Hea 02 Indoor air quality. Furthermore, HIMACS achieved RSCS summary score level in Mat 03, responsible sourcing of construction products for the entire product: RSCS level 1. "BREEAM is a registered trade mark of the Building Research Establishment Limited, a wholly owned subsidiary of BRE Group Limited, and is used by permission. LX Hausys and its products are not affiliated, endorsed or certified by BRE Global Limited, which is the operator of BREEAM, or any other subsidiary of BRE Group Limited. All rights are reserved."

Norme NFP 92-501 Classe M1
LNE tests the reactivity to fire of a material. Class M1 certifies that HIMACS FR benefits from advanced resistance to fire. This certificate is recommended in France.

Norm EN 45 545 Class R1 HZL3
Fire protection on railway vehicles: The measures and requirements specified in EN 45 545 are intended to protect passengers and staff in railway vehicles in the event of a fire on board. HIMACS has achieved the highest and best performance R1 HZL3 (Hazard Level). Valid for Alpine White S728.

Norme EN 13501 - Classe B-s1, d0
HIMACS successfully passed the European test EN 13501 – Class B-s1, d0, equivalent to the class 0 from Warrington Fire certification.

Norme DIN 4102-1 – Classe B1
Class B1 certifies that HIMACS has a low flammability. B1 class is the European fire resistance requirement. This test result is valid for all colour ranges in 12mm.

IMO MED - modules B et D
MED stands for Marine Equipment Directive. Both modules are extremely important for the shipbuilding industry, as they are mandatory for fabrication materials used in ships. IMO B covers the fire resistance of the material per se and certifies that the material has low flame spread characteristics and is not capable of producing excessive quantities of smoke and toxic combustion products. Module D covers the overall production capacity and checks, among other production processes, the management and systems used.

ETA
Fixed with Keil inserts and a BWM structure, HIMACS facade in S728 - Alpine White successfully passed the ETA tests (European Technical Agreement).
CSTB Certification
HIMACS has obtained the French QB certification and CSTB ATec "Avis Technique" for facade applications (Avis Technique 2.2/18-1795_V1).

NSF
NSF standards are generally accepted norms for a variety of public health related industries and fields. These include drinking water treatment and contact with materials, food equipment manufacturing etc. NSF recognises that HIMACS complies with NSF norms.

LGA
Necessary in hospitals and environments where hygiene is critical, LGA assesses the ease of cleaning, resistance to bacteria and fungi and rates the design from a hygiene point of view. Thanks to its non-porosity, HIMACS has been approved for the LGA seal "hygiene tested".

ISO 9001
ISO 9001 criteria can guarantee the following points: The whole fabrication process, ensuring a good product quality Quality control, with an appropriate corrective procedure, when needed and regular control of quality control procedures. Process, which aims to continuously improve global efficiency

OHSAS 18001
OHSAS 18001, Occupational Health and Safety Assessment Series, (officially BS OHSAS 18001) is a British Standard for occupational health and safety management systems. Compliance with it enables organizations to demonstrate that they have a system in place for occupational health and safety.
Shaping the Future in Harmony with the Environment
Countless internationally recognized certificates attest to the fact that HIMACS has a strong focus on ecological aspects. Without exception, all HIMACS products are manufactured in accordance with the ISO 14001 environmental standard.

Commitment
LX Hausys conducts and publishes regular environmental audits along with energy consumption analyses. Thanks to the use of non-polluting fuels, greenhouse gas emissions have been cut by 15,000 tons per year since 2008.

Material Safety
Extensive studies – within LX Hausys' own laboratories as well as tests carried out by other renowned independent institutions – have shown that the HIMACS material itself, as well as the cured adhesive, are completely free from formaldehyde and emissions. HIMACS has been awarded the Greenguard Gold Indoor Air Quality Certificate.

Manufacturing
The production of this solid surface material is marked by an excellent energy balance. In recent years, the company was very successful in achieving ambitious goals in terms of waste reduction and water conservation. In addition, HIMACS plants in Cheongju (Korea) and Atlanta (USA) meet all environmental standards.

Processing
The material allows for virtually waste-free processing. In addition, HIMACS installations are extremely strong and durable. They can easily be renewed to their original appearance, meaning they don't have to be replaced, thus giving a positive long-term environmental footprint.

Transport
Within Europe, HIMACS observes the Euro-5 standards for reduced particulate emissions. The partner-network of LX Hausys Europe consists of carefully selected partners with the highest environmental standards: for example, the State-of-the-Art logistics centre in the Netherlands is one of the first buildings to have been constructed in accordance with the WELL Building Standards and awarded the BREEAM Certificate. This means that it meets the highest requirements for environmentally friendly and healthy construction.