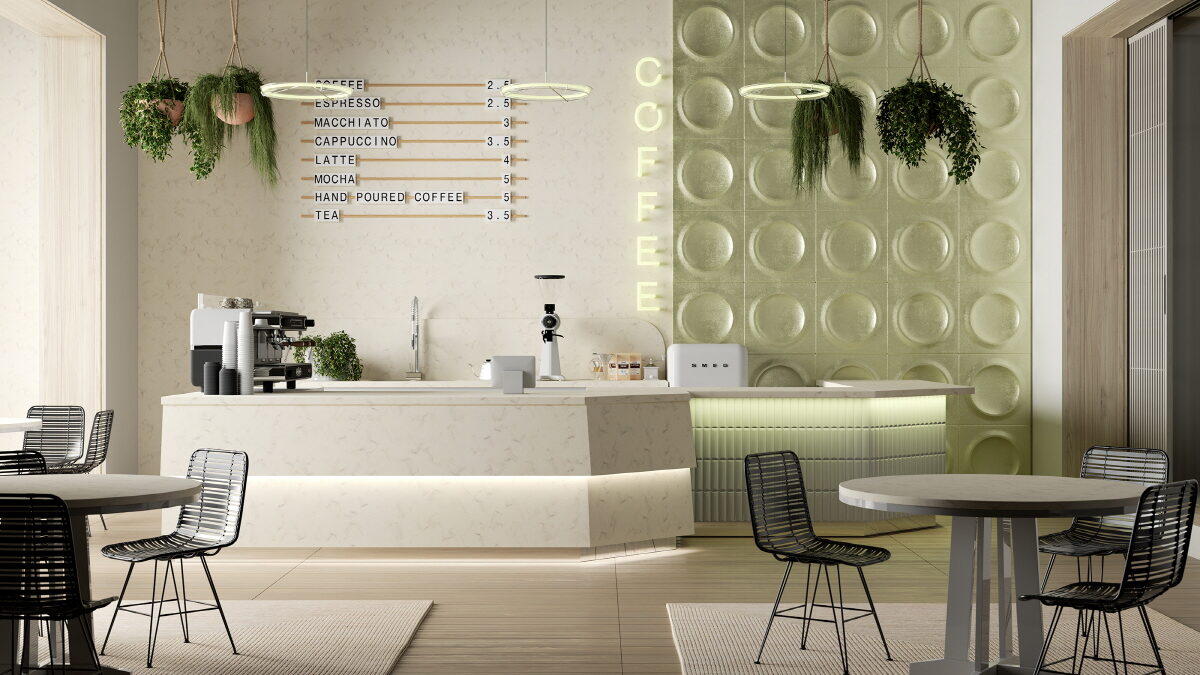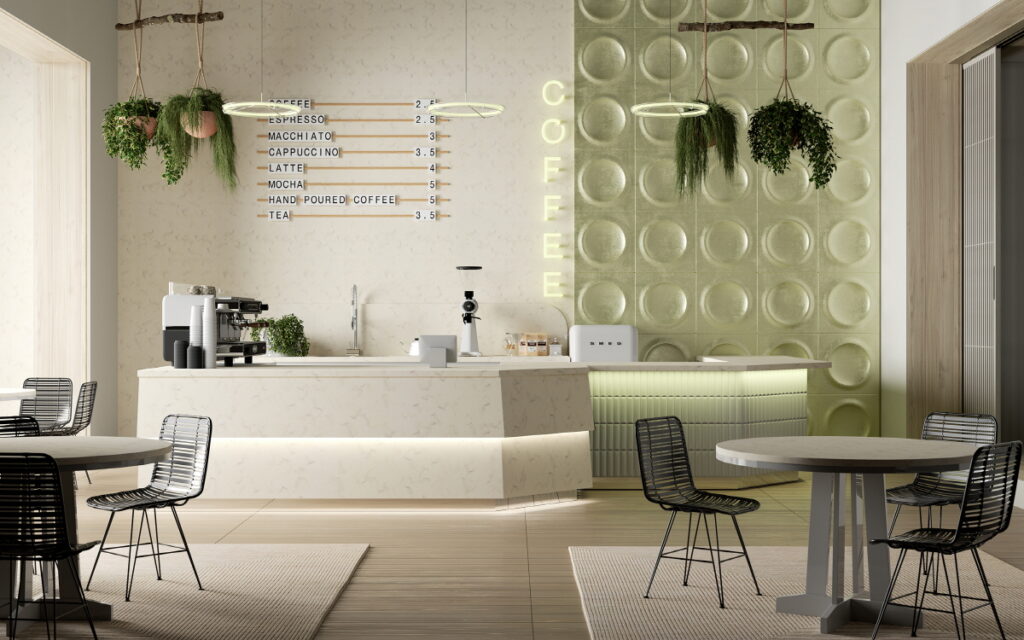 When designing your café, choosing a countertop is one of the most carefully considered elements. There are many options, like quartz, granite, and laminate. Each material has advantages and disadvantages, and we will discuss the pros and cons of each here.
Considerations when Choosing Café Countertop Materials
Countertops are an essential consideration when designing a café, restaurant, bar, or coffee shop. They influence customers' first impressions and contribute to the overall style and tone of the business.
But they also must deliver on design and function. Various countertop materials can be used in a café, and choosing the right one is vital. You must consider:  
Visual appeal – The look of your countertops is one of the best ways to highlight the personality of your cafe or retail establishment. They provide a first impression and an appealing design that can encourage customers to stay.
Functionality – A busy café must have a functional design. With a poor layout or the wrong countertop material, it may affect the efficiency of your café and your retail success.
Durability and strength – Because your countertops are the surface where your equipment will sit, and customers may sit and eat, they must have the ability to manage the weight while being resilient and appealing.
Scratch and chip resistance – Café and restaurant countertops must be scratch and chip resistant, as this is where most of the work happens. It is best to use something long-lasting and durable.
Stain and heat resistance – One of the top priorities of a café countertop is to be stain and heat resistant. Things like coffee and wine stain quickly, and if the surface is porous, they will cause stains that are difficult to remove. The surface must also withstand heat, so it doesn't discolor or burn the countertop.
Easy cleaning and maintenance – When you own a busy café or restaurant, there are many things to worry about. Maintaining your countertops shouldn't be one of them. Make sure to choose a material that doesn't require advanced techniques like regular sealing and will allow for spills and accidents without damaging the surface. The material also should be easy to keep clean without expensive cleaning solutions.
Quartz Café Countertops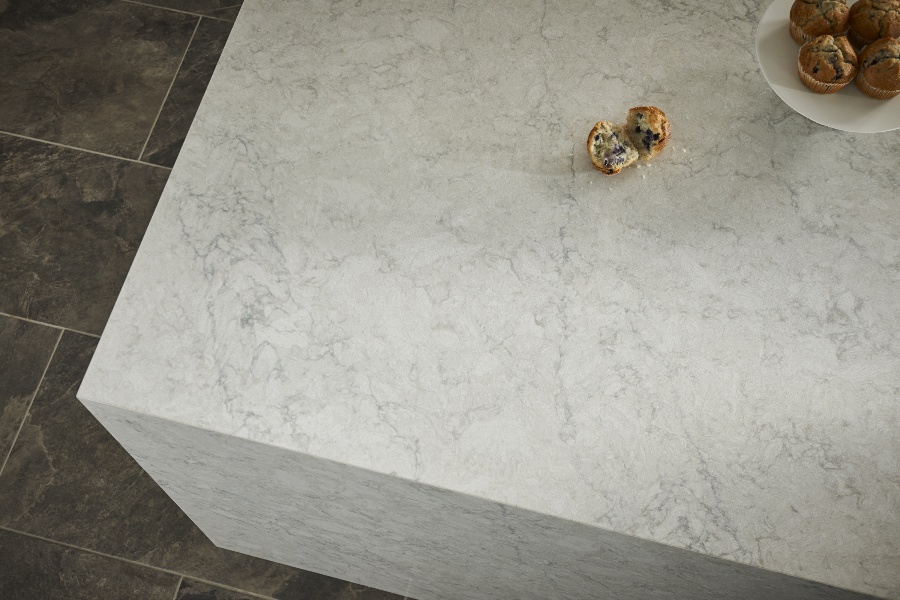 The pros far offset the cons when it comes to quartz for café countertops. Quartz offers the design, resilience, functionality, and hygienic performance the most selective designers and retail/café owners want.
Quartz is extremely durable and comes in many styles and colors. It is also a non-porous surface that offers exceptional resistance to stains, scratches, and chemicals, ensuring long-lasting durability. Quartz surfaces are easy to maintain and don't require any sealants or special cleaning products, providing a safe, clean, and attractive surface that can endure the harshest environments.
Quartz is not the least expensive countertop material. However, it far outlasts and outperforms many other materials. While quartz is made from one of the hardest substances available, it isn't indestructible. Quartz can break if a heavy object is dropped on it or can be dinged around the edges. It can also be damaged if exposed to extreme heat for long periods of time.
Granite Café Countertops
Granite is a natural stone comprising quartz, feldspar, mica, and other minerals fabricated into slabs. It is often chosen for its earthy, unique appearance. Granite is sturdy, dense, and less likely to scratch and chip than softer stones such as marble.
Granite countertops require annual sealing to protect the surface from stains, bacteria, and fungal growth. While granite can withstand heat up to 480 degrees, the sealant that protects it isn't heat resistant, so use trivets or pads to protect the countertops. With proper care and installation, granite countertops can last a long time.
Laminate Café Countertops
Today's laminate is not the one you remember from your youth. The new high-pressure laminates are stronger and offer more color and pattern options than in the past. Some laminates offer styles that simulate many trendy materials, including natural stone. Laminate countertops are reasonably priced, easy to install and simple to clean, making them appealing for budget-conscious projects.
Laminate damages easily and is vulnerable to cracks, particularly around the edges. Also, it may warp and delaminate over time with frequent exposure to heat, chemicals, and liquids.
Quartz is Best for Café Countertops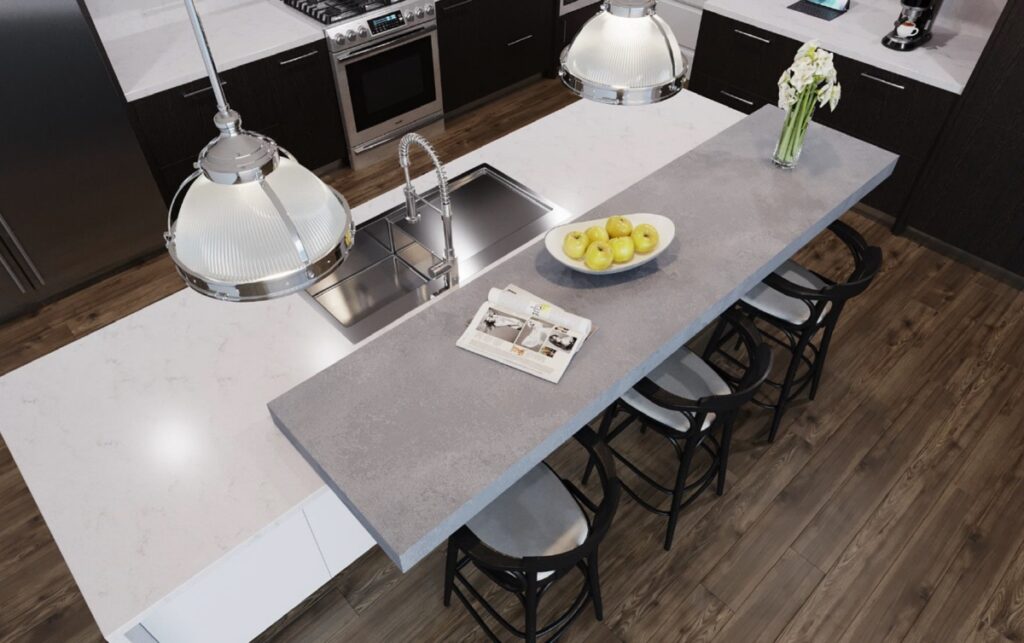 If you are looking for high-design and excellent performance for your cafe countertops, the best option is quartz. LX Hausys produces quartz countertops that meet the most challenging demands while providing the most luxurious look.
Quartz is often admired for its effortless care, cost, and large assortment of styles. It is less porous than other surfaces and extremely durable. Quartz comes in various colors, such as solid white, gray, or black, with some styles incorporating intricate veining reminiscent of marble.
Quartz is a popular option for countertops, and its appeal and performance make it the perfect choice for any design. Because of its minimal maintenance, quartz is a solid choice for any busy café.
Viatera Quartz Collections
Viatera by LX Hausys uses only the finest quartz for sturdy and elegant cafe countertops. Every slab is inspected to meet the highest standards and includes up to 93% natural quartz. Viatera's non-porous quartz surfaces are durable, hygienic, and simple to clean and maintain.
Viatera quartz comes in five different collections, with different colors and styles in each.
Calacatta is inspired by Calacatta Marble and offers bright, natural white backgrounds, intricate veining, and elegant patterns.
Masterpiece includes an inspiring palette of stylish hues and unique designs, with on-trend colors and both bold and subtle designs.
Musica draws inspiration from natural stone with the perfect symphony of light and dark hues with deep, rich complexity.
Urban boasts concrete-like designs lending edgy appeal with an industrial look softened by captivating marbling throughout.
Classic is made up of timeless colors drawing inspiration from the earthy and ethereal tones found in nature. From brightest to darkest, this collection offers something for everyone
LX Hausys Café Design Cases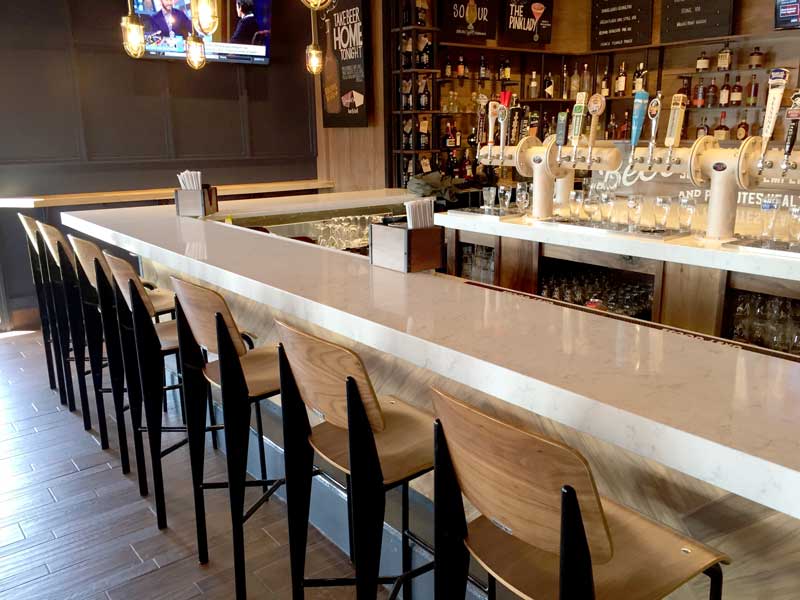 Viatera quartz makes an excellent countertop for restaurants, bars, and cafés. You can learn more about how others have successfully incorporated Viatera quartz countertops into their restaurant/retail designs on LX Hausys website.
Check out the restaurant/café design case for Wood & Tap in Hamden, Connecticut. When designer Kierstan Field wanted to create a showstopper bar and beer tap island for Wood & Tap, she chose Viatera quartz countertops in gleaming Minuet white. The result, according to Field, was tremendous. "It stands out. It pops really well but doesn't overwhelm the space," Field said. "The place looks like it's been there a really long time, in a good way."
You may also want to read the design case for Lake Drive Bar. When architectural design firm SJ POPE Design & Renovation wanted to create a unique design for a waterfront property that was sure to become a busy entertainment spot for friends and neighbors on a lake of upscale homes, they turned to Viatera for the countertop material. Here's why they chose Viatera." As a designer, you're always looking for the next trend, design element or products. But nobody wants call-backs due to product issues either. Customers don't want maintenance; they just want to enjoy their new space. That's why Viatera is right for our company. I wanted a product that is very durable, stain resistant and low maintenance. I don't have to worry about my customers forgetting the sealer maintenance, which is required by other natural stone products. They always seem to forget that part."
You can also browse through several Viatera Quartz countertop installations in our café inspiration gallery, loaded with photos of restaurants, bars and cafés featuring various Viatera countertops.
Contact Us
If you're a homeowner needing assistance, we're happy to help. Fill out a brief form and contact us today; someone will reply to you promptly. If you're a designer or trade professional looking for samples, products, or information, our experts can assist; contact us now.