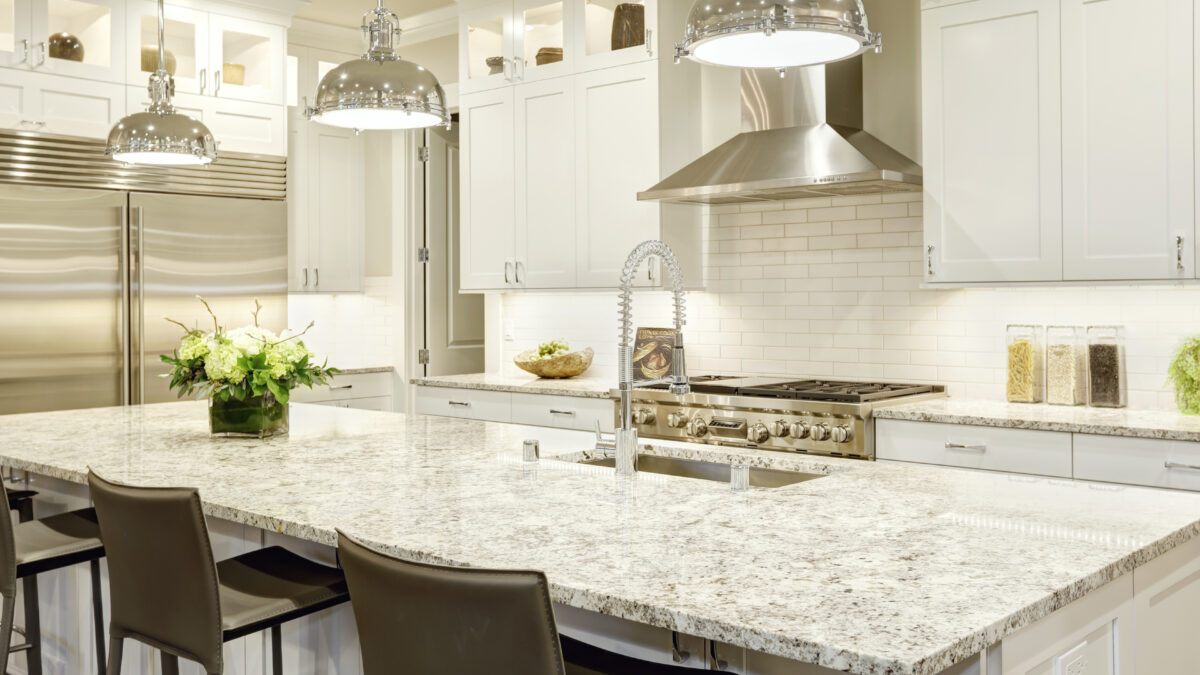 Are you looking for the best kitchen or bath countertop? This article provides an overview of popular countertop materials to help you choose a countertop to complement your design and lifestyle.
What's the best countertop material? The answer depends on several factors, including your design, budget, maintenance preferences and what you expect from your countertops. When building your dream kitchen or bath, dozens of countertop materials are available, with even more colors, patterns, and finishes to consider. Choosing a countertop material is an important decision. Countertop purchases are investments and something you'll live with for many years, so understanding the different types and materials can help you make the best decision.
While it's challenging to identify one countertop that's ideal for every situation, there are some clear winners when it comes to design, durability, maintenance, hygiene and costs. Let's start by exploring five of the most popular countertop materials, how they're made, and how they'll affect your kitchen and bath design.
This article looks at a variety of countertop materials, including:
Granite
Laminate
Quartz
Porcelain
Solid Surface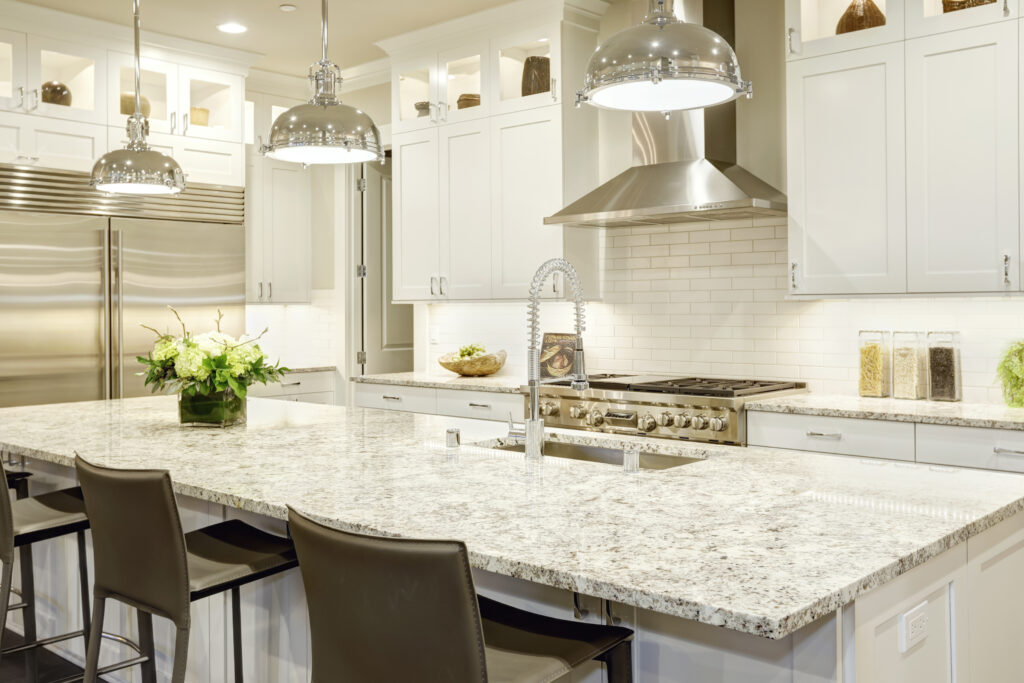 Granite Countertops
Granite is a natural igneous stone quarried, cut, polished and fabricated into countertop slabs. Granite consists of quartz, feldspar, mica and other minerals, which contribute to its color and pattern. According to an article in Architectural Digest, nearly 64% of new homes include granite countertops, making it an extremely popular choice. People choose granite for many reasons, including its appearance, which adds a unique, earthy elegance to classic and traditional home designs. Granite is highly durable, dense, and less likely to scratch and chip than softer stones such as marble and stone. Granite countertops require yearly sealing to protect the surface from stains, bacteria, and fungal growth. You'll also want to use a pH-neutral cleaning solution to maintain the integrity of the sealant. While granite can resist heat up to 480 degrees, the sealant that protects the granite isn't as heat resistant, so you'll still want to use trivets or heating pads to protect your countertops. With proper care and installation, granite countertops can last a lifetime.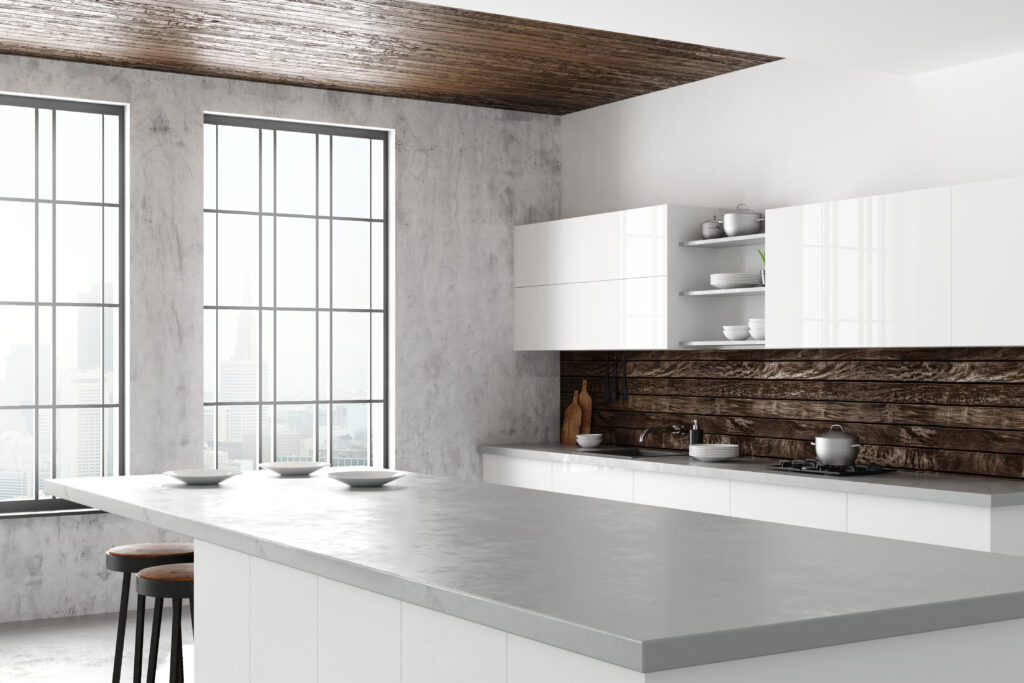 Laminate Countertops
Made from layers of kraft paper and plastic and protective resins, today's high-pressure laminates are vastly different from the laminates of the 1950s and '60s. There are far more color and pattern choices than ever before. You can find laminate that mimics the look of many popular materials, including wood and natural stone. At $20 to $60 per square foot, laminate countertops are some of the most affordable and easy-to-install, making them attractive for budget-conscious and do-it-yourself projects. Laminate is easy to clean and stain resistant; however, it damages easily and is susceptible to cracks, especially around the edges. Additionally, the surface may warp, bubble and delaminate over time with exposure to heat, chemicals and liquids. Laminate's appearance can also detract from your home's resale value. Still, its affordability and modern designs make it an attractive choice for homeowners willing to change their countertops more frequently.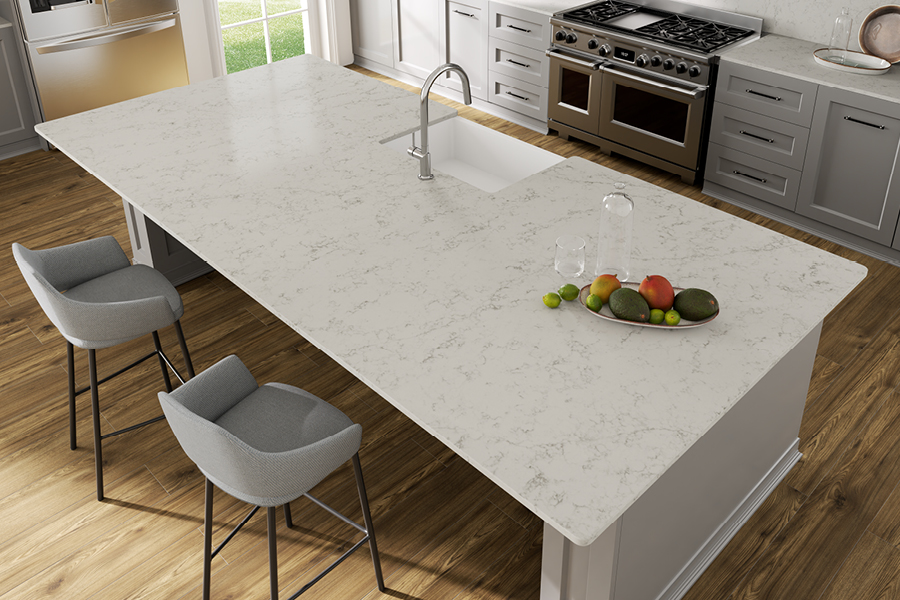 Quartz Countertops
When it comes to popularity, quartz is gaining ground on granite for its design versatility, superior durability, and low maintenance. According to a Kitchen and Bath Design News survey, 33 percent of kitchen dealers and designers named engineered quartz the fastest-growing kitchen countertop by demand. So, if you're looking for modern or traditional countertops that are durable and low-maintenance, you'll want to consider quartz. This engineered stone product combines crushed natural quartz, one of the hardest and most abundant minerals on earth, with polymers, resins and pigments to create a strong, durable surface with unlimited design potential. Quartz can be installed to create a cohesive surface across counters, backsplashes, and kitchen islands. Thanks to its nonporous, hygienic surface, quartz countertops resist stains and prevent bacteria and fungus from penetrating the surface. And, unlike granite or natural stone, quartz is easy to maintain and doesn't require sealants or annual maintenance— regular cleaning with soap, water or a mild cleanser is all you need. As one of the hardest materials available, you won't have to worry about quartz scratching, chipping or cracking with normal use and wear. Care should be taken with hot pans and pans to avoid heat damage.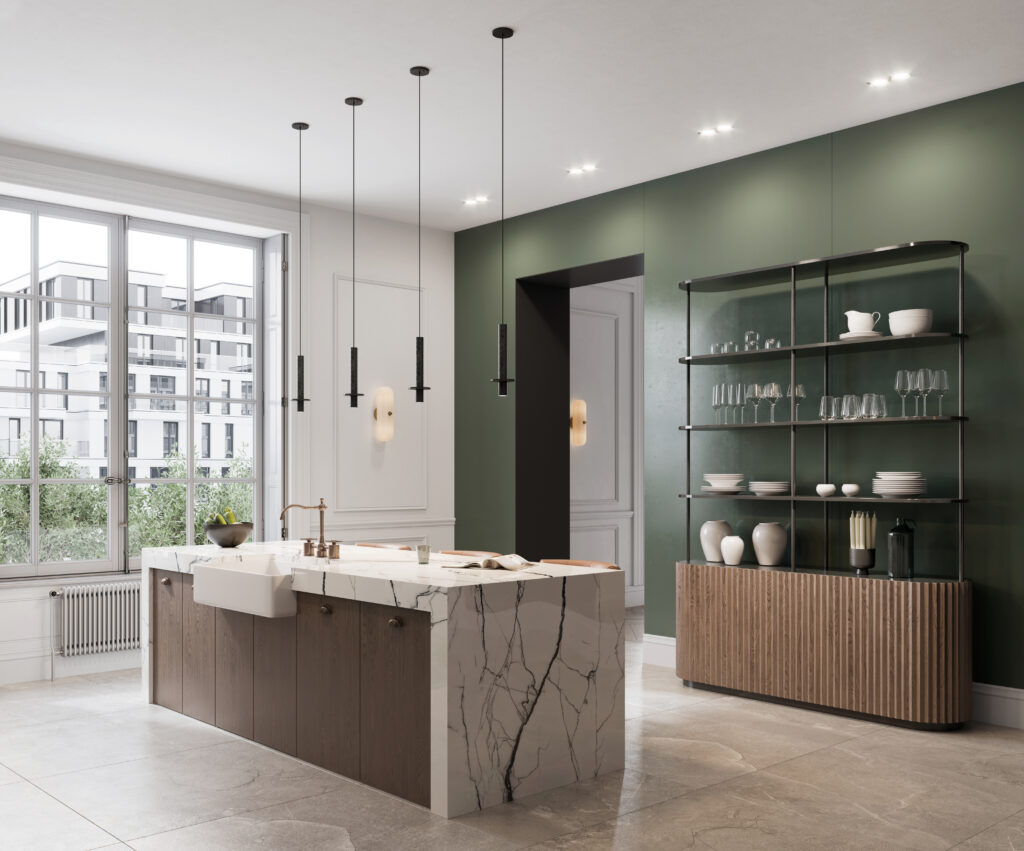 Porcelain Countertops
Building off the durability of porcelain tile, porcelain slab countertops are also growing in popularity. Already a popular countertop material in Europe, more people in the U.S. are choosing porcelain slabs for their kitchen, bath, and even outdoor countertops. Porcelain countertops are made from clay and fired in a kiln at high temperatures, giving porcelain an advantage in heat endurance. Porcelain comes in a variety of colors and patterns to match any design preference. This durable, incredibly dense, lightweight surface resists moisture absorption and is easy to clean and maintain. Routine sealing isn't required; however, a glaze is strongly recommended to decrease porosity and increase durability. Once installed, porcelain resists scratches, chips, and cracks; however, thin porcelain slabs can be difficult to work with and crack and break easily, making it difficult to find a fabricator to work with the product. Like laminate, porcelain's design features are printed on the surface, so chips or raw edges may reveal the lack of color and patterning throughout the material. The material cost for porcelain is less than for granite and quartz but finding a fabricator can take time and effort. Working with full-sized porcelain can be challenging, driving up fabrication and installation costs.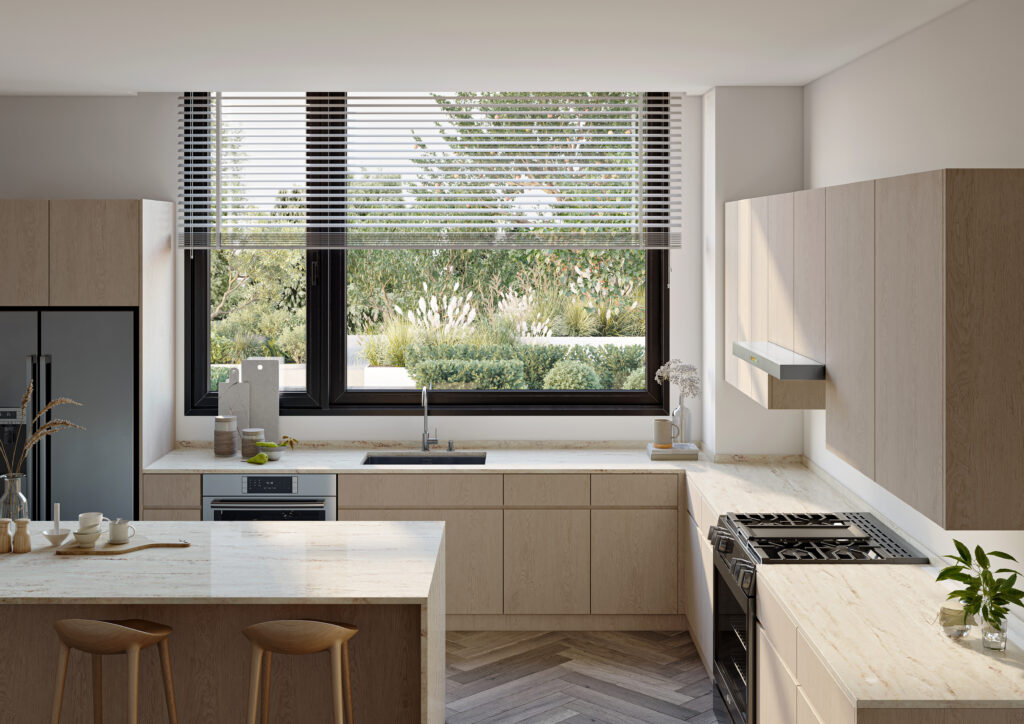 Solid Surface Countertops
Solid surface countertops are an affordable, mid-range option for many homeowners who want a durable surface with numerous design and color options. Solid surface countertops are made from a combination of resin (either acrylic, polyester or a combination of the two), natural minerals, and pigments to create a homogeneous material that maintains its color and design throughout the material. Thanks to its homogeneous design, solid surface countertops are easy to repair, allowing you to sand down scratches with an orbital sander or fine-grain sandpaper without having to depend on a fabricator. Like quartz countertops, solid surface creates a hygienic surface that prevents bacteria and mold from penetrating the surface, creating a sanitary surface for kitchens and baths. Solid surface is softer than natural stone and quartz and can scratch more easily so you'll need to use a cutting board and resist cutting directly on the countertop. Many solid surface countertops can also be thermoformed into a variety of shapes for extensive countertops, backsplashes, and even outdoor three-dimensional commercial installations.
What Is the Most Durable Countertop Made?
If you're looking for a durable countertop material, quartz, porcelain, and solid surface countertops are good options. Granite countertops are also durable but require routine, annual sealing to maintain a hygienic, stain-resistant surface.
What Is the Easiest Countertop To Maintain?
When it comes to cleaning and maintenance, quartz, porcelain, laminate, and solid surface countertops are all easy to maintain and clean using soap, water, and typical household cleaners. Granite requires a pH-neutral cleaner to maintain the sealant and yearly application of a sealant to protect the countertop from stains.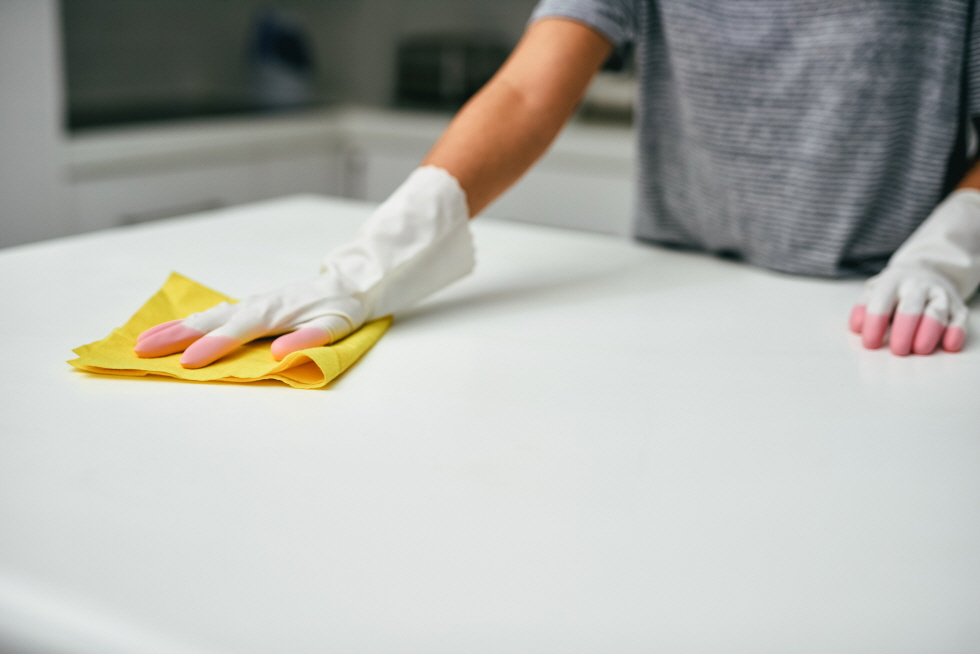 What Is the Most Heat Resistant Countertop?
Solid surface, quartz, porcelain and granite countertops offer good heat resistance, with porcelain being able to withstand high temperatures due to its high-heat manufacturing process. As a natural igneous stone, granite naturally resists heat; however, the sealant used to protect granite is not as heat resistant. Quartz and solid countertops can withstand daily heat; however, temperatures greater than 300 degrees Fahrenheit may affect the resins and binders, causing slight discoloration.
Is Quartz Cheaper Than Granite?
When it comes to pricing, granite and natural stone are the most expensive materials. Quartz is less costly than granite and doesn't require the same amount of maintenance.
Viatera Quartz Countertops: Top Choices
After reading this article, you may want to consider quartz for your next kitchen or bath design or remodeling project. Viatera quartz surfaces by LX Hausys include 93 percent quartz and offer 15-year limited warranties. As a nonporous product, harmful bacteria or mold won't penetrate the surface, making it safe for food preparation and other daily activities. Viatera withstands everyday wear and tear and offers high resistance to stains, scratches, and chemicals, ensuring long-lasting beauty and durability. Unlike natural stone products, Viatera doesn't require sealants.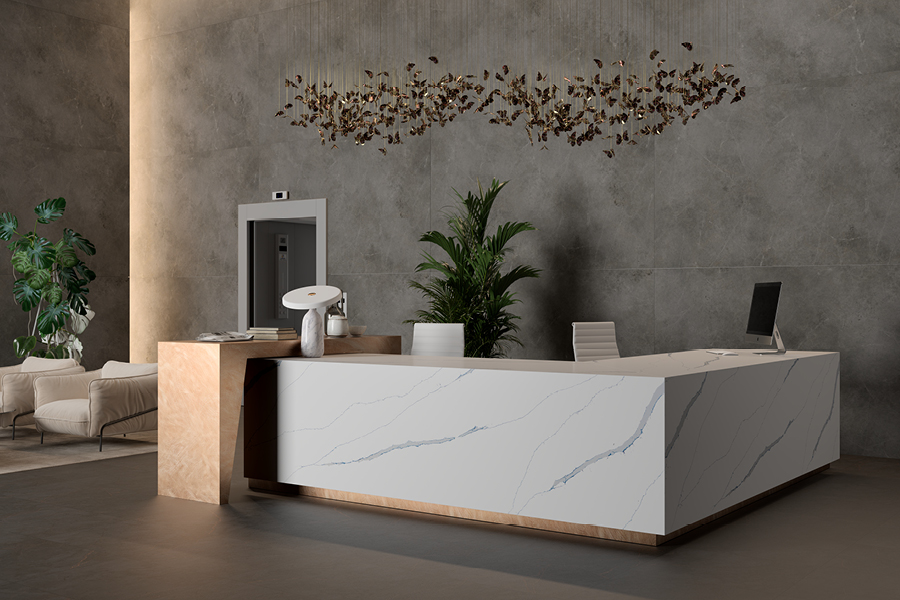 If you're looking for your next quartz countertop, check out the Viatera Calacatta Collection. Inspired by Italian Calacatta marble, this collection offers a bright white background, intricate veining, and large, elegant patterns to enhance your kitchen and bathroom designs. Add a little luxury and a lot of performance to your space with popular countertop colors such as Calacatta Marina, Calacatta Verde, and Calacatta Plata.
Contact Us
If you're a homeowner needing assistance, we're happy to help. Contact us today.
If you're a designer or trade professional looking for samples, products, or information, our experts are available to assist; contact us now.