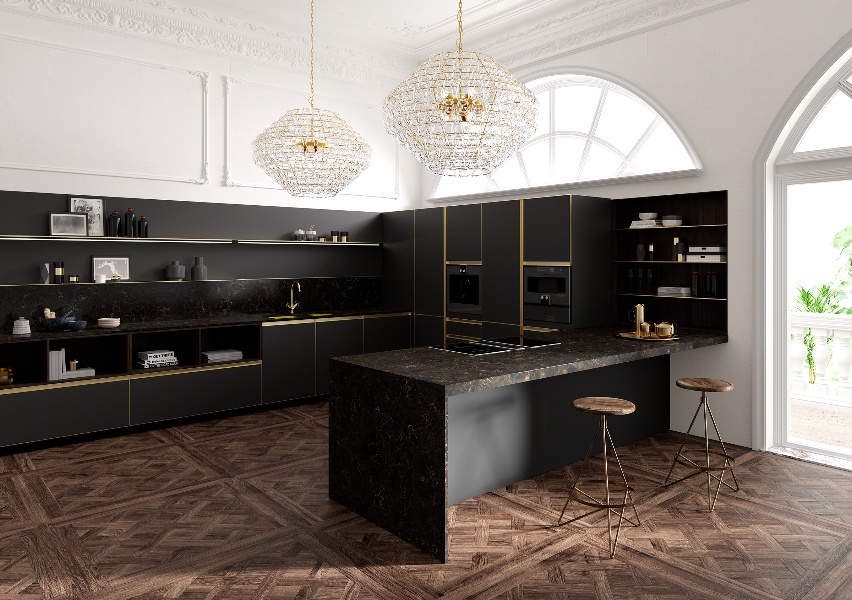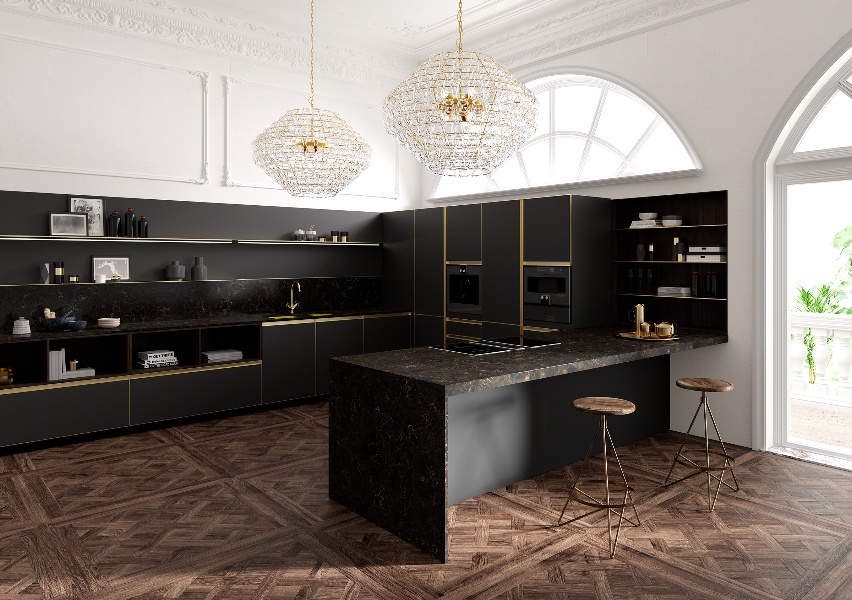 Whether you want to update your kitchen or design a new one, you might consider black countertops. Black is a popular choice for kitchen renovations and may be just what you need to elevate your kitchen design.
While kitchen countertops play a vital role in the design and aesthetic of your kitchen, they should also be durable, functional, easy to clean, and enhance the overall kitchen experience. If you're thinking about black countertops, here are some pros and cons to consider.
Pros of Black Countertops
Introducing a contrasting color into your kitchen is the perfect way to make a statement. Black countertops pair well with white walls, cabinets, and backsplashes for a striking contrast. Black is a great style choice because you can use other pops of warm or cool colors to complement the black-and-white combination. Black and white works well in any size or shape kitchen. Your kitchen will look modern and stylish when you add in various textures, whether in the backsplash tile, art, or wall coverings.
Black is a timeless color that will never go out of style. Black countertops work with traditional, transitional, and contemporary kitchen designs and many different cabinets and appliances. White, stainless steel, chrome, gold, white, wood tones, and brightly colored cabinets, appliances, and fixtures look great with a black countertop.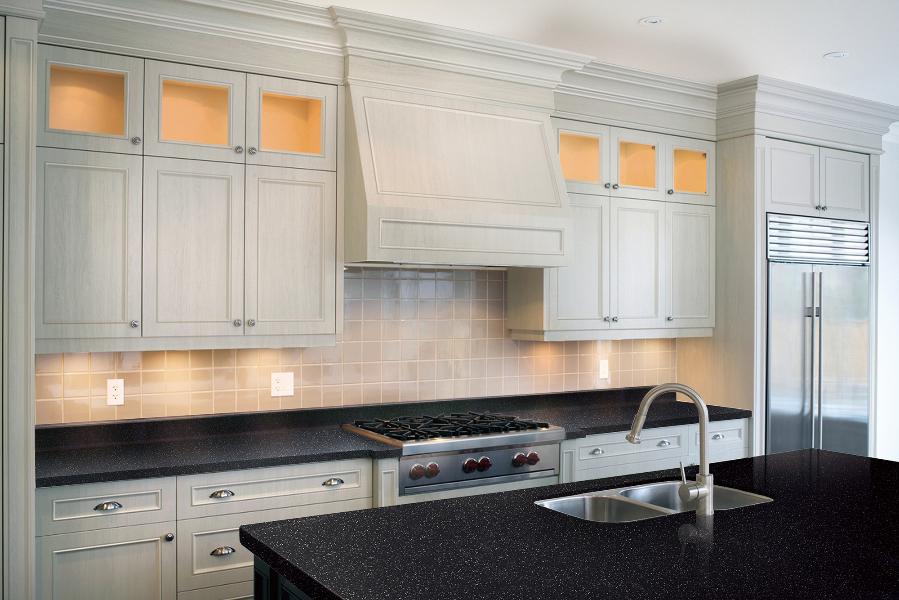 Black or dark countertops are less likely to show stains or blemishes and will not show scratches as easily as lighter-colored counters. They are popular because they are durable, stain resistant, and easy to care for. Although dark countertops make it easier to see dust and dirt, this can work to your advantage, highlighting areas needing cleaning.
Overall, black countertops offer timeless appeal, design flexibility, and contrast for easy-to-clean kitchen counters. If you're looking to create an attention-worthy kitchen, you'll want to keep black countertops at the top of the list.
Cons of Black Countertops
In some ways, black or dark countertops are more challenging to keep clean because dust, crumbs, dirt, and soap residue are more visible. Therefore, you may need to wipe these countertops down more frequently; however, on the other hand, stains, including red wine stains, are easier to conceal on a solid black countertop. Black countertops can also show water marks, streaks, and fingerprints more easily, so you'll want to clean up any condensation, wet handprints, and other moisture as soon as possible.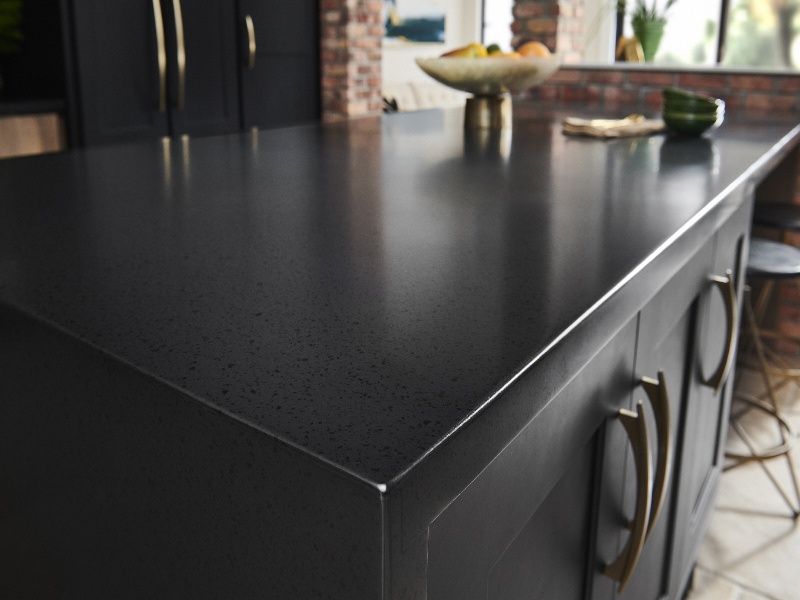 There are a few other things to think about before you choose black countertops. In addition to more frequent cleaning, black countertops can make it more difficult to see ants and other pests, which may decide to infiltrate your kitchen. Black also absorbs more heat than lighter countertops, and they may make smaller kitchens look even smaller.
While black countertops can be a sleek and stylish choice, it's essential to understand how your countertop color choice affects the usability and appearance of your kitchen.
Remodeling Kitchen Ideas with Black Kitchen Countertops
Whether you want black countertops because you love how classy and beautiful they are, or you like the idea of solid black countertops because they will provide a clean look to your kitchen, you may want to explore your options. Not all black countertops are created equally, and some may be more durable than others. Black countertops can also have other colors running through them, including white or light gray veining that may show stains and blemishes more readily.
You can explore black countertop designs on many manufacturers' websites, including LX Hausys, and request samples to ensure you get just what you're looking for. LX Hausys' Viatera quartz countertops and HIMACS solid surface countertops offer various black countertop options. Here are a few you may want to try.
· Viatera Black Quartz Countertops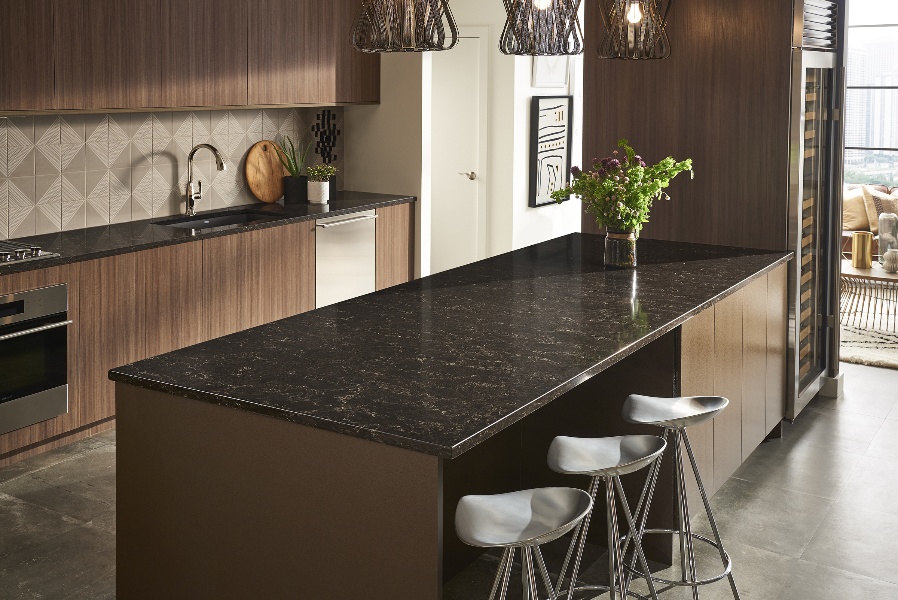 Viatera by LX Hausys uses only the finest quartz. Every quartz slab is inspected to meet the highest standards and includes up to 93% natural quartz. Viatera's nonporous quartz surfaces are strong, hygienic, easy to clean and maintain, and relatively heat resistant. Viatera also offers black countertops, including the options listed below.
Carbo Brushed, part of Viatera's Masterpiece collection, offers a beautiful tinted black base with long diagonal light gray veins running across the surface, reminiscent of natural Soapstone. Carbo features a luxurious brushed finish that imparts a soft texture to the countertop.
Viatera's Musica collection includes Nocturne, with a rich, dark foundation that evokes the appeal of a glorious evening sky. Creamy neutral threads complement the dark background, adding perfect light and contrast.
· HIMACS Black Solid Surface Countertops
HIMACS is a solid surface material that blends acrylic, minerals, and natural pigments into a smooth, nonporous, thermoformable, and visually seamless surface. It is often used in residential projects to enhance kitchens, baths, and workspaces and in numerous commercial projects. HIMACS combines design flexibility with exceptional durability and protection against stains, germs, bacteria, and everyday wear. Let's explore some of the black solid surface countertop option from HIMACS.
The Volcanic collection from HIMACS offers Merapi, an ideal choice for anyone desiring the look of a majestic black granite mountain with the performance properties of solid surface.
HIMACS' Notte is part of the Pietra collection and features a stony, textured, weathered look. Rugged and dark, Notte makes a dramatic statement with a sophisticated black background and long, whisper-white veins expanding across the surface.
The Aurora collection features two black countertop options: Aurora Midnight and Sanremo. Aurora Midnight is a soft black with delicate, light-colored veining, and Sanremo is a tonal black marble-inspired surface with subtle gray veining and large black particulates.
If you're looking for classic black countertop options, you may want to check out the Classic collection, which includes three color choices: Black, Black Granite, and Black Pearl. Black is a true classic, with sleek, timeless shades of black bold enough to make a statement. Black Granite showcases timeless elegance and refinement with a blend of onyx and obsidian hues. And the last color, Black Pearl, evokes the mysterious depths of the dark ocean with inviting pearl accents.
Explore Quartz Black Countertops at LX Hausys
Check out LX Hausys' inspiration galleries, trend reports, and virtual showroom to explore more countertop trends and options. If you need assistance finding the best black countertop or other colors, our team will gladly help. Visit our website, complete a brief form, and contact us today; someone will reply promptly.