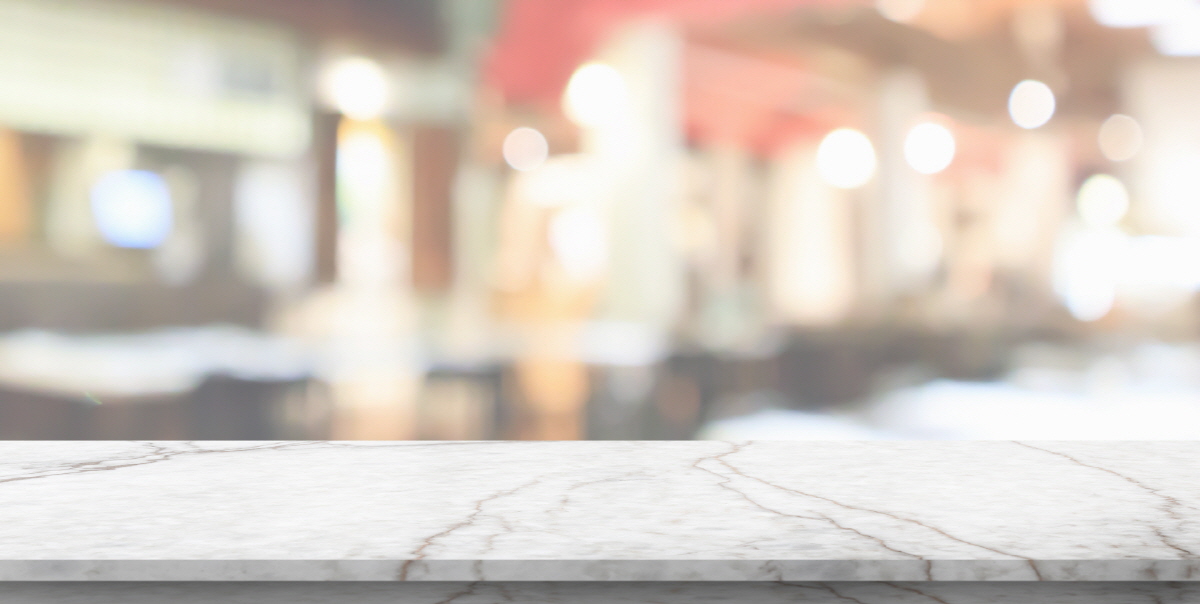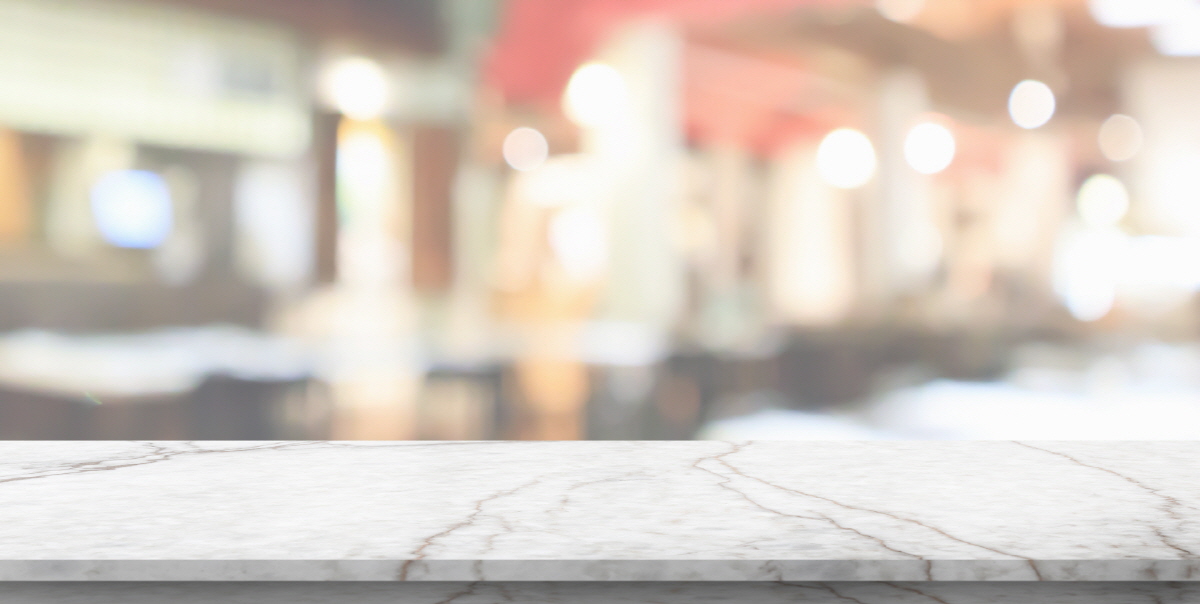 If you're designing a restaurant or commercial kitchen, the countertop material you choose will directly impact the functionality and efficiency of the space. There are plenty of materials to choose from, including the ubiquitous stainless steel and more modern options such as quartz and solid surface.
In this article, we'll take a look at some of the most popular commercial kitchen countertop materials and how they affect the space, workflow, and other factors that matter. Finding the best material for your commercial kitchen countertops takes time and effort. Still, with so many practical implications riding on the decision, it's good to review the pros and cons of each material before making a decision.
Stainless Steel Countertops
When it comes to the pros, stainless steel has many advantages, starting with popularity. Think about a chef, and you often imagine someone surrounded by stainless steel equipment. Stainless steel is often the countertop of choice for many professional kitchens; it's even used residentially to create chef-kitchens for the at-home chef in many of us. Stainless steel has many features that make it a classic choice for commercial kitchens. It's durable, easy to sanitize, resists heat, won't burn, rust or stain, and is nonporous, meaning it resists bacteria, mold, and germs.
There are several disadvantages to stainless steel countertops, however. Stainless steel can dent and scratch easily; it also attracts dust, smudges, and fingerprints. A higher gauge stainless steel with a matte finish can help reduce the appearance of scratches, smudges, and imperfections but the higher gauge stainless steel can be expensive, costing nearly as much as marble.
Another critical drawback to stainless steel countertops is that they're incredibly noisy. If you drop anything on a stainless steel surface, the sound reverberates, and in a busy kitchen, communication is the key to safety. Not being able to hear or being bombarded with excessive noise throughout a long shift adds stress to an already high-stress environment. So, while chefs may think they prefer stainless steel for its cleanliness and durability, other countertop materials may be better suited for the commercial kitchen.
Quartz Countertops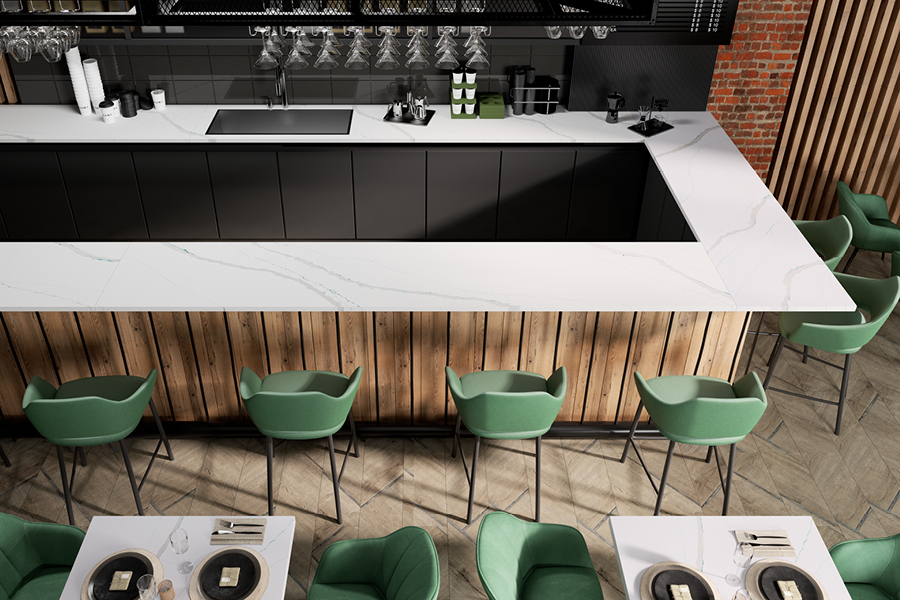 If you're looking for an equally hygienic countertop for your commercial kitchen, you'll want to look at quartz. Quartz is a manufactured stone, sometimes called engineered stone, that includes a large percentage of quartz, one of the hardest and most abundant materials on Earth. Quartz slabs come in many colors and patterns and are engineered to be nonporous, making them impervious to moisture, germs, bacteria, and other contaminants.
Quartz countertops are low maintenance. Unlike natural stone countertops such as granite, quartz countertops do not require routine sealants to maintain their performance. They're durable, hygienic, maintenance-free, scratch resistant, and hold up to heavy demands and usage for many years.
The beauty of quartz countertops is that they come in various designs and provide all the protection you need for a busy, industrial or professional kitchen. However, the material isn't as heat resistant as granite or stainless steel, so you'll want to be careful about placing hot pots and pans directly on the surface. Still, given all its other benefits, quartz is a strong contender for commercial kitchen countertops.
Granite Countertops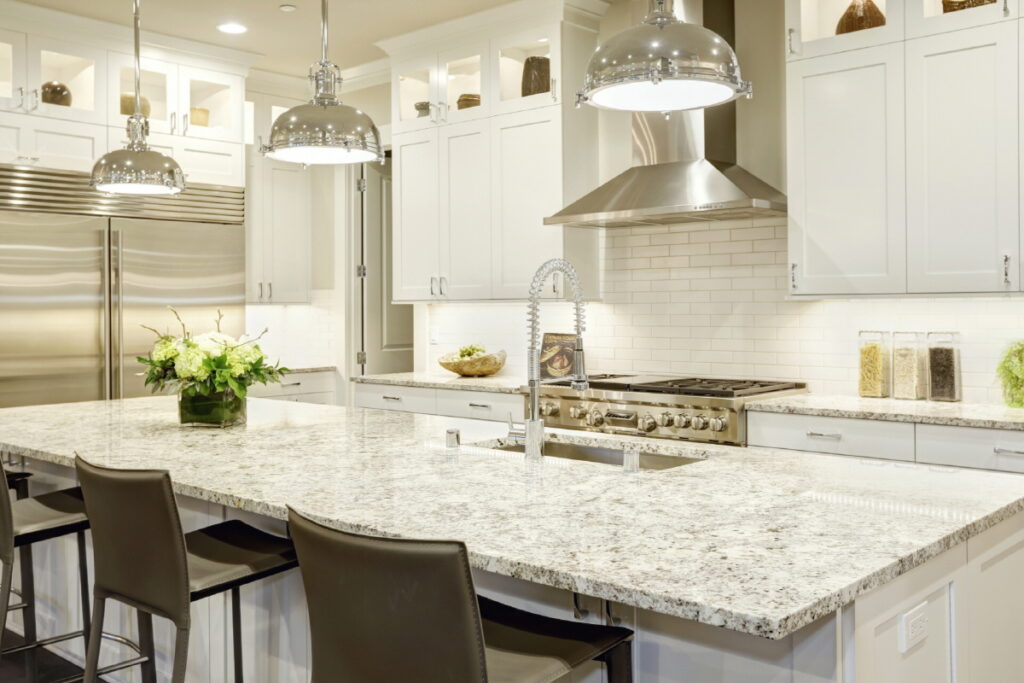 Granite countertops are also a good choice for commercial kitchen countertops. You won't have to worry about scratches when it comes to a granite countertop. However, you'll also want to avoid using the countertop as a cutting board as granite can quickly dull kitchen knives, and dull kitchen knives can be a crucial safety hazard.
Granite countertops also require routine maintenance, meaning you'll have to re-seal countertops, usually once a year, to maintain the surface's performance characteristics. Without proper sealing, moisture, bacteria, and germs can seep into the material pores, making it a less-than-ideal surface for food preparation and sanitation.
Granite can add a bit of luxury and earthy visuals to a commercial kitchen, with each slab of granite providing a one-of-a-kind design for your kitchen. Granite is also very durable and won't chip or scratch easily. However, it's not indestructible and can be damaged if you drop a heavy item on it, particularly if it hits the corner of the countertop. Granite is heat resistant and can withstand even the highest cooking temperatures. However, the sealant that's used is not as heat resistant, so it may show fading or discoloration when exposed to hot pots and pans. Granite is also expensive, costing more than quartz and many other materials.   
Laminate Countertops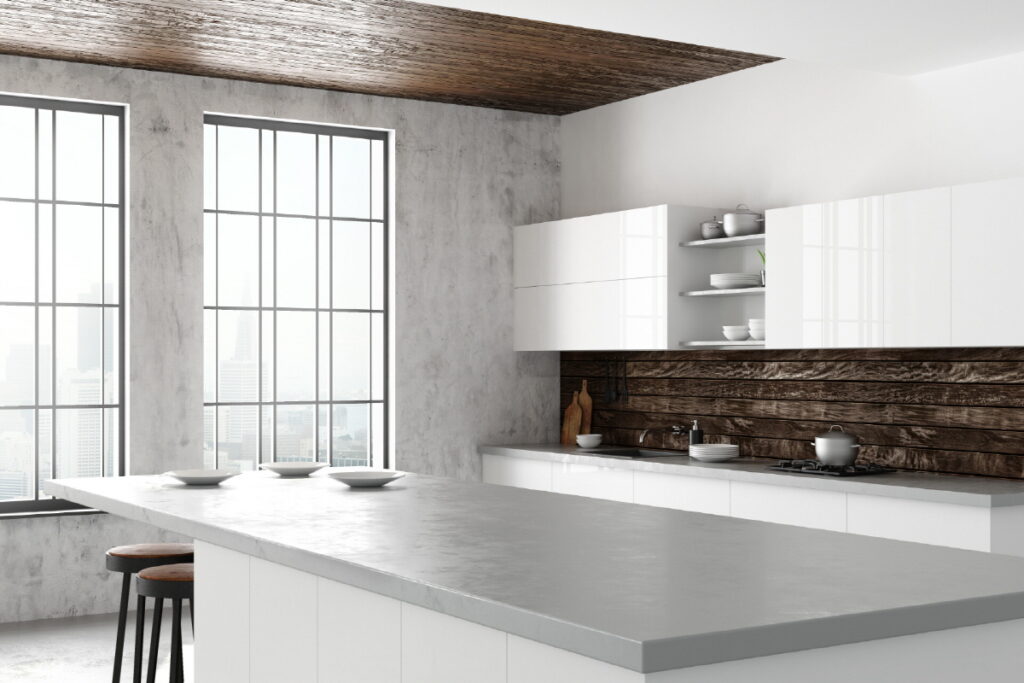 Laminate is one of the more budget-friendly countertop options for your commercial kitchen. This material may be worthwhile if you plan to replace your countertops frequently or need something less expensive to meet your opening budget.
Like quartz, laminate is a manufactured product that comes in an array of patterns and colors. However, unlike quartz, laminate's design is only surface deep. The pattern is stamped onto the material's surface, so damage may reveal a substructure with no coloring or patterning. Laminate countertop manufacturing has improved dramatically over the years. Still, the basic manufacturing process, which includes laminating plastic phenolic resins onto sheets of paper, adding a decorative print layer, and finishing with a resin wear layer, remains the same. Once the product has been designed, it's solidifying under high pressure and heat.
Laminate is easy to clean but can scratch easily, like stainless steel. Laminate countertops are also susceptible to chipping, revealing the lack of design throughout the material. They also offer little heat resistance for hot items that can scratch or damage the first few layers of the countertop.     
What Is the Most Durable Countertop?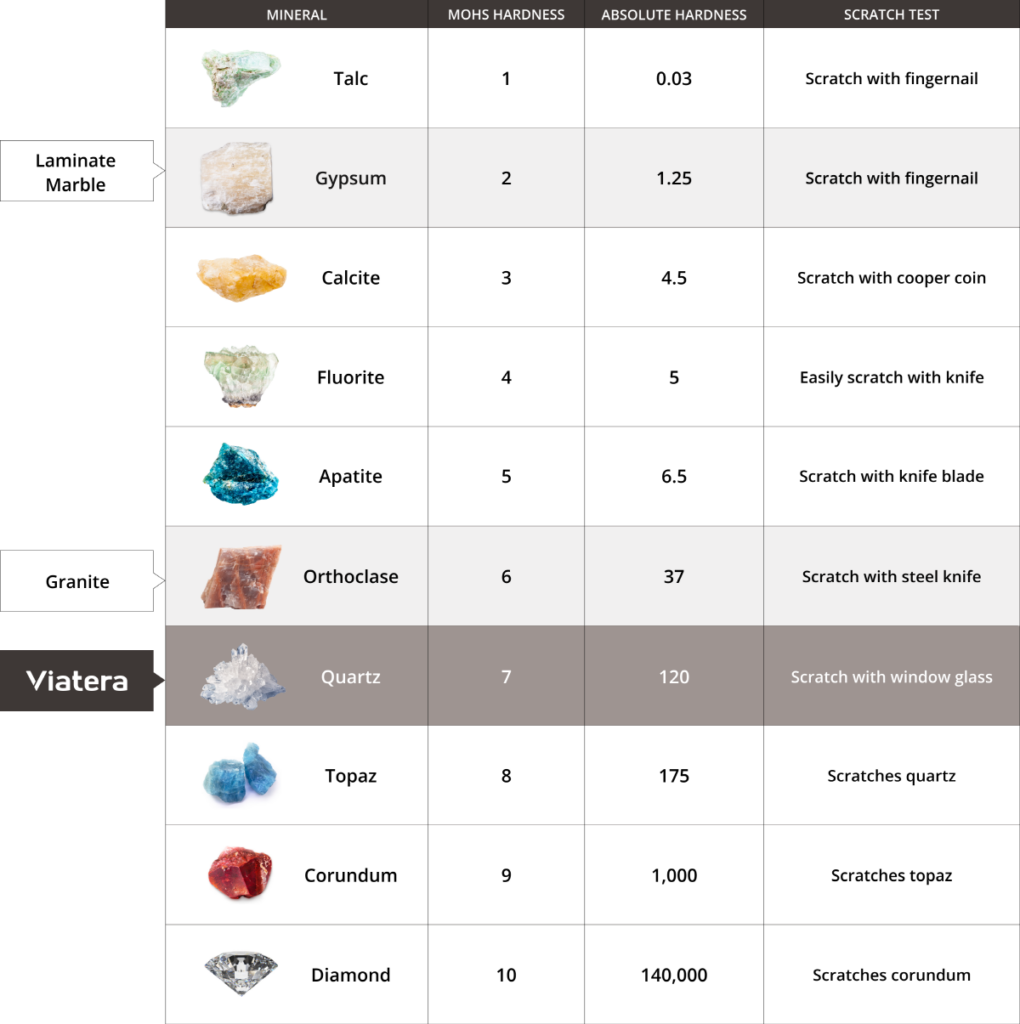 If durability is your top priority, quartz is your best option. Made of crushed quartz stone, an incredibly hard mineral, and mixed with polymers and resin, this high-quality engineered stone is durable and doesn't require a lot of fuss or maintenance.
What is the Easiest Countertop to Maintain?
Laminate is extremely easy to maintain, as is quartz; granite requires regular sealing, and stainless steel, which is susceptible to smudges, dents, dings, and scratches, can be a hassle to maintain a clean appearance.
What's the Most Heat Resistant Countertop?
When it comes to heat resistance, granite and stainless are the best options. Both materials can take the heat of a commercial kitchen. Granite itself is formed under high heat and pressure in the Earth's core, so its temperature threshold is high, with a melting point of around 2,000°F.
Most stainless steel can withstand temperatures up to 1,598°F.
Commercial Kitchen Countertop Design Considerations
As you design a commercial kitchen, it's important to remember that there are many countertop materials available, stainless steel, though popular, isn't the only option. There are newer materials, including solid surface, another manufactured nonporous material you may want to consider, that can transform both the look and functionality of the space.
As chefs and commercial kitchens move towards more modern cooking methods, including automated food preparation and sous vide cooking methods, factors like heat resistance may not be as vital as they once were. With staffing issues at an all-time high in most foodservice establishments, creating an environment that contributes to the kitchen staff's well-being is essential. Creating a kitchen that's easy to clean, use, maintain, and work in without additional stressors is key to successful commercial kitchen design. While budget, maintenance, durability, hygiene, and aesthetics are all crucial considerations, the most critical factors are how these materials will affect the staff who use them and how they'll contribute to safe, consistent, fast food production.
Viatera Countertop Collections for Commercial Kitchens
If, after reading this, you've decided you should check out quartz countertops for your commercial kitchen project, then you'll want to take a look at Viatera quartz by LX Hausys. Viatera by LX Hausys uses only the finest quartz available and contains up to 93% quartz in every slab.
Viatera quartz by LX Hausys comes in five collections with varying colors and styles.
Calacatta offers bright, natural white backgrounds, intricate veining, and elegant patterns reminiscent of luxurious Italian Calacatta marble. 
Masterpiece includes an inspiring palette of stylish hues and unique designs, with on-trend colors that will turn any commercial kitchen into a masterwork of art.
Musica draws inspiration from natural stone with the perfect symphony of light and dark hues with deep, rich complexity and the added sense of earthy calm that's perfect for the commercial kitchen.
Urban boasts concrete-like designs lending edgy appeal with an industrial look that's far less noisy than industrial-looking stainless steel.
Classic is made up of timeless colors that draw inspiration from the earthy and ethereal tones in nature. From brightest to darkest, this collection offers something for everyone.
Contact Us
If you're planning a commercial kitchen design, let's talk. We're happy to help you with any of your countertop material needs. Visit our site, fill out a form, and one of our experts will reply to you quickly at the email you provide.