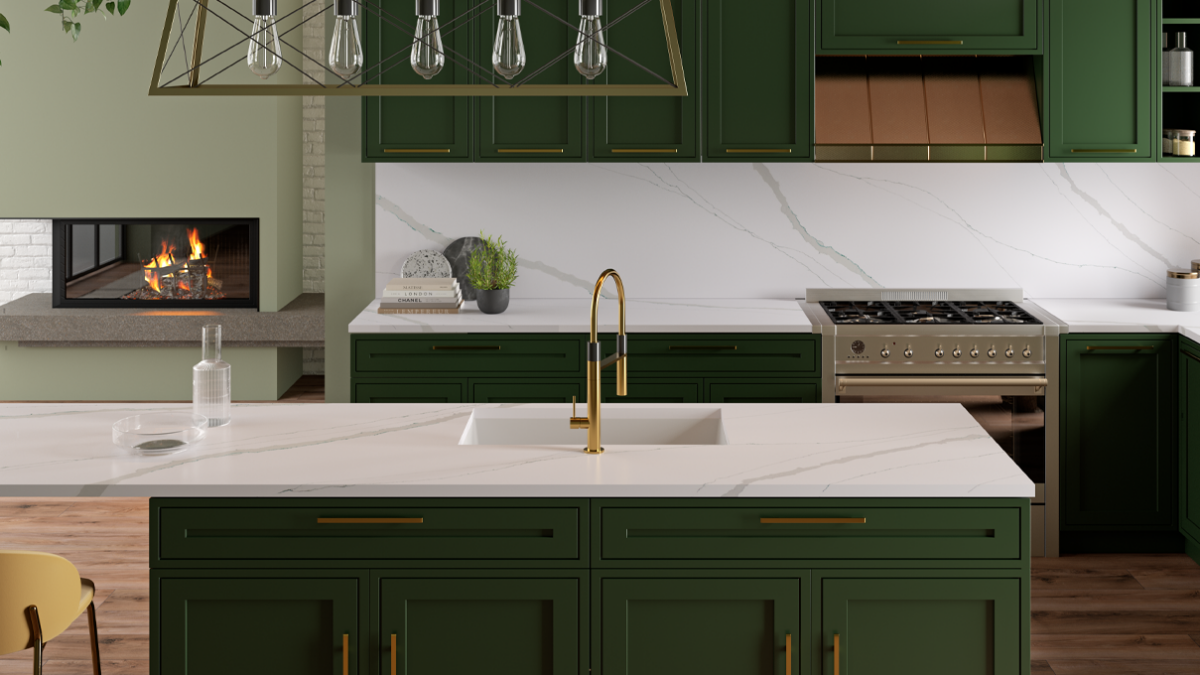 If you're looking for the best countertop material for your kitchen or bathroom project, you'll definitely want to take a closer look at quartz. There are plenty of reasons to choose quartz countertops, but since no material is perfect for every project, we'll outline some pros and cons to help you determine whether quartz is the right choice for your kitchen or bathroom design.
Homeowners and designers choose quartz for many reasons, including its durability, appearance, broad range of interior design styles and kitchen countertop colors, easy maintenance and hygienic characteristics.
There are a few things to note about quartz countertops. Quartz is not the cheapest countertop material on the market; for instance, it costs more than laminate and porcelain tile. Still, quartz pays off over time, since it adds value to your home and far outlasts many other countertop materials. While quartz countertops are made from one of the hardest substances available, like any countertop, quartz isn't indestructible. Quartz can break if you take a sledgehammer or heavy object to it, especially around the edges. Quartz can also be damaged if exposed to extreme heat for long periods of time.
When it comes to quartz, the pros far outweigh the cons. These countertops offer the design, durability, functionality, and hygienic performance that even the most discerning designers and homeowners are looking for, which makes them worth serious consideration. Let's take a closer look at quartz, including how it's made, color and design options, care and maintenance, costs, heat resistance, installation and more.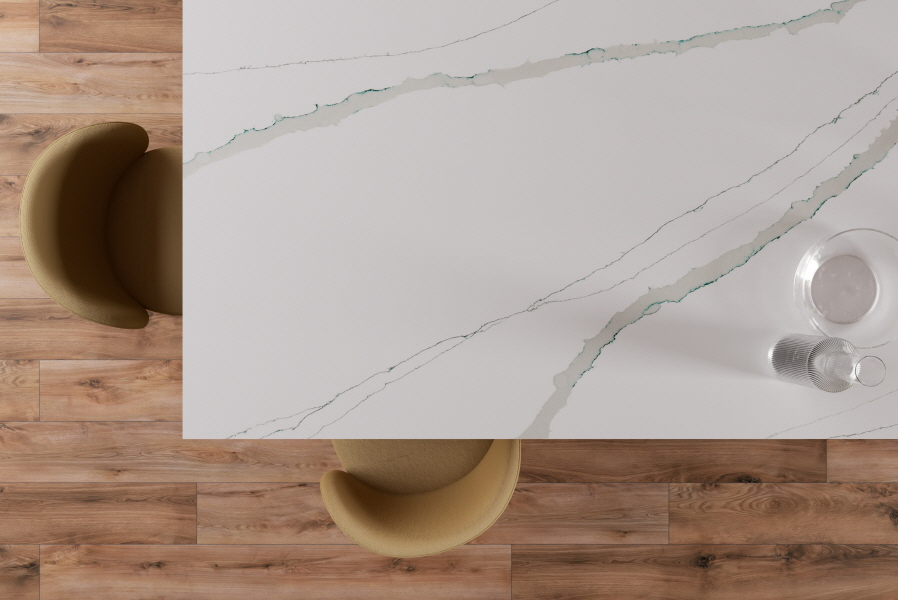 What is quartz?
Quartz, also known as engineered stone, combines crushed natural quartz, one of the hardest and most abundant minerals on earth, with polymers, resins and pigments to create an incredibly strong and durable surface with great design potential. Most quartz countertops include at least 90% naturally occurring quartz, with some brands, including LX Hausys' Viatera quartz containing up to 93% quartz. High-quartz content may increase the strength and durability of the material since naturally occurring quartz is known for its ability to withstand mechanical and chemical weathering.
Quartz provides the strength and durability of a natural stone product with a few distinct advantages. Because it's engineered, quartz can be created in various colors and patterns. The manufacturing process creates a non-porous, hygienic surface that is also easy to maintain and doesn't require regular sealing.

Color and Design of Quartz
When it comes to design, quartz has plenty of options. Whether you're looking for something modern, statement-making, or more traditional, you can find a quartz countertop to complement your interior design ideas. You'll find quartz countertops in a range of lx viatera quartz colors, including bright and warm whites, rich creams, modern grays, neutral beiges, earthy browns, stunning blues, dramatic blacks and more.
Quartz countertops also come in many styles and designs, including slabs with subtle textures, shadings, chips, and veining that add depth and movement to your design. Some quartz countertops have veins that closely resemble marble or other high-end stone products. Quartz allows you to choose from a variety of veining patterns, ranging from barely visible, to pencil thin, to bold and dramatic. Quartz countertops typically have a base color with accented veins, chips or patterns in contrasting colors. You can also choose from polished or brushed finishes to refine and fine-tune your look.
Unlike natural stone, quartz provides a very consistent appearance. With marble or granite, each slab can vary greatly, so what you choose in the showroom may not look exactly like what appears in your home. Some designers and homeowners love natural stone for its unique, earthy look, but others prefer the designs, colors, and consistent appearance of quartz.

Care and Maintenance of Quartz
The primary advantage quartz has over granite, marble, and natural stone is how you care for the material. Natural stone requires regular sealing to maintain its appearance and performance. Unlike granite or natural stone, quartz is easy to maintain and doesn't require sealants or special pH-neutral stone countertop cleaning solutions. You can easily clean and maintain your quartz countertops with soap, water or a mild cleanser.
Quartz products such as Viatera are resistant to most stains, including wine, lemon juice, tea, coffee, fruits and vegetables. Some stains may require the use of a non-abrasive stone countertop cleaner. For dried spills, you can use a non-abrasive scrub pad. For substances such as paint, gum, or food, you can carefully use a razor blade to remove the residue. If the razor blade leaves a mark, you can easily remove this with a standard cleaning product or a non-abrasive pad.
Some cleaning products, including those with bleach and harsh chemicals or solvents, especially those containing trichloroethane or methylene chloride, (found in furniture strippers and oven cleaners), should be avoided, as they can cause surface damage and dull or discolor your countertops.
For many, clean countertops also mean hygienic countertops. Quartz countertops are nonporous, so they resist stains and prevent bacteria and fungus from penetrating the countertop surface. Hygiene is an important consideration since the average kitchen countertop carries 2,000 to 4,000 unseen bacteria. Plus, more than two-thirds of food-born diseases are contracted in homes, not restaurants or markets, according to this video from LX Hausys. Quartz countertops provide clean, hygienic surfaces that are easy to maintain and won't harbor unwanted contaminants, making them an ideal choice for kitchens and bathrooms.
Cost of Quartz
The quartz countertop cost can be a barrier for some; however, compared to natural stone countertops with similar durability, quartz is less expensive. Quartz pricing varies based on the quality and size of the slab as well as the installation. Keep in mind that there are material costs for the countertop itself as well as fabrication and installation costs. Still, given its long-lasting durability, maintenance-free properties, and luxurious look and feel, quartz adds a great deal of value to your countertop design. As one of the most popular countertop materials available, quartz is an attractive option for those looking to add beautiful, functional countertops to their home.
Heat Damage of Quartz
Overall, quartz has a strong heat resistance and won't change shape or color when exposed to routine heat. Still, excessive and prolonged countertop heat can damage quartz, so you'll want to use a trivet or pad between the countertop and any hot cookware or heat source, such as electric frying pans or curling irons.

Installation of Quartz
Quartz can be fabricated to work with various designs, including backsplashes, extensive counters and island waterfalls. You will want to work with a professional quartz stone countertop fabrication company to properly cut your slab to fit sinks, drainboards and other fixtures. Quartz countertops can be fabricated and secured in place to help reduce seams and provide finished edges that add to the beauty of your design.
Quartz Countertops — Are They Best?
Quartz countertops offer durability, functionality, and hygienic performance that's hard to beat. The manufacturing process creates a strong, durable, hygienic and nonporous surface that resists stains and scratches and is easy to care for and maintain. Quartz countertops have become the go-to choice for designers and homeowners looking for attractive, low-maintenance countertops that can withstand daily demands and activities.
Three Popular Quartz Countertops
When it comes to finding the right quartz countertop for your design, Viatera quartz by LX Hausys can help. Viatera quartz countertops are available in various sizes, colors and styles and come with 15-year limited warranties. Viatera has five collections to choose from, including the Calacatta, Masterpiece, Musica, Urban and Classic collections. With more than 45 overall colors, you'll be sure to find a Viatera quartz countertop that meets your design needs.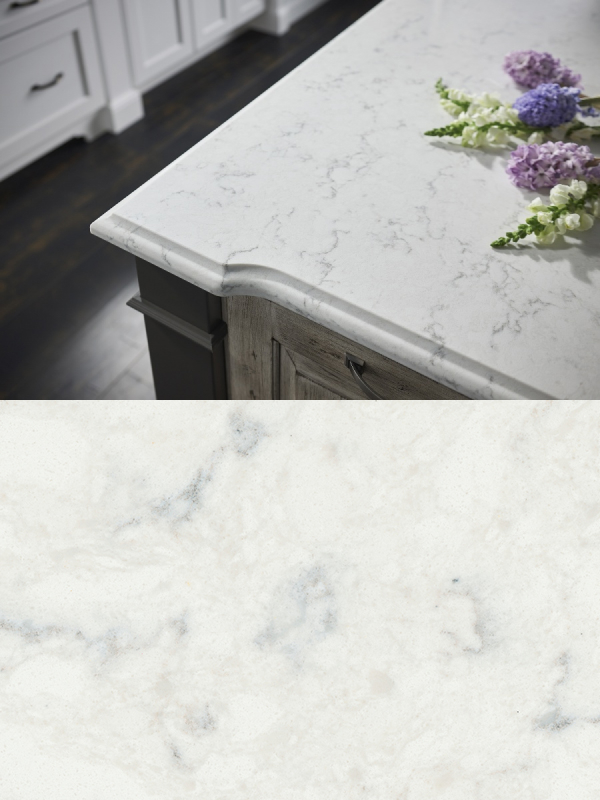 Three of the most popular Viatera colors in the United States include: Minuet, Clarino and Aria, all part of the Viatera Musica Collection. Minuet, features an alabaster white background with gray marbling to provide a rich, luxurious feel. Clarino provides a polished, sharp and sophisticated look with a warm white background elegantly contrasted with a chorus of gold-toned veins. Aria's alabaster and creamy eggshell make the perfect backdrop for intricate black marbling and rich, repeating swirls.
Contact Us
If you're a homeowner looking for the best quartz countertop materials, we're happy to help. Contact us today.
If you're a designer or trade professional looking for quartz samples, products, or information, our experts can assist; contact us now.