When planning a kitchen renovation, it's important to understand standard countertop measurements. The height and depth of countertops play a significant role in the design and functionality of the kitchen. This article will explore standard measurements and how they affect design choices, comfort, ergonomics, appliances, customization, and more. Check out this overview if you're wondering how high and deep your new countertops should be.
Standard Kitchen Countertop Height Measurements
Most kitchen countertops are 36 inches high. The countertop box is 34.5 inches high, and most countertop materials are 1.5 inches thick, making the complete measurement 36 inches or 3 feet. However, it's important to know that these standard measurements are based on the average height of most users, allowing countertops to fall between 3 and 8 inches below the average elbow height. If you are designing countertops for people taller than 5'9″ or shorter than 5'3″, you may want to consider custom heights.
You may decide to make some of your countertops slightly taller in certain areas. For example, you may want to create a slightly taller island for more comfortable seating. If so, you may want to plan for a 42-inch bar-height countertop. Elevating certain countertop areas, including the cooktop area, can make it more comfortable for specific activities. The most important thing to do is to think about the purpose of the area and how it will function at various heights.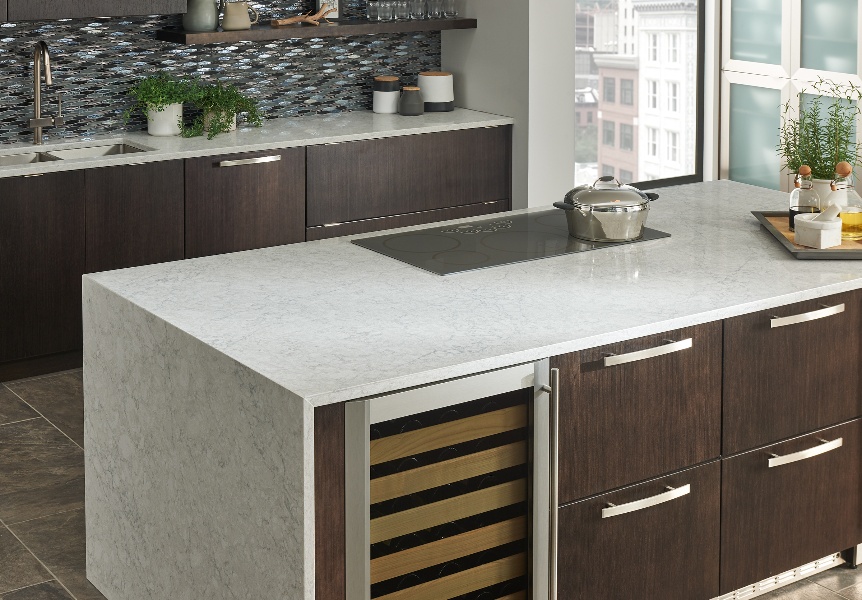 When customizing sizes, you'll want to keep these factors in mind. Most kitchen tasks, including food preparation, require a clearance of three-to-four inches from the user's elbow. You'll want slightly more clearance for cooktops to protect users from the hot surface or potential oil burns. People who do a lot of baking need even more clearance, typically eight inches from elbow to surface.   
Factors that determine Standard Countertop Height and Depth
Many factors can affect the planning process, from height and depth measurements to the physical needs of those within the space. Comfort and ergonomics, appliances, and style preferences play a role in creating functional countertops. Let's explore some practical things you'll want to consider during the design process.
· Dimensions of a Kitchen Cabinet
As we mentioned, standard height measurements are based on the average height of women (5'4″) and men (5'9″ inches) in the United States. Choosing standard countertop heights will help you keep your project on budget, as customization comes at a premium.
Standard countertop depths range from 24 to 25.5 inches from wall to edge, or edge-to-edge across the island. Most countertop boxes measure 24 inches in depth, with an inch and a half overhang for the countertop, making the overall depth of the countertop 25.5 inches.
If the countertop structure or box is deeper, taller, shorter, or more shallow than the standard measurements, that will affect your countertop material dimensions. Therefore, it's crucial to ensure that the countertop and cabinet depth are compatible.
While you can increase the height and depth of countertops, you'll want to consider how these measurements affect functionality. A deeper countertop can make reaching outlets, appliances, and cabinets difficult for some people. Higher kitchen countertops may make food prep, cooking, and cleaning uncomfortable for some users.
· Physical Needs
Fortunately, the average countertop height of 34″ will suit most wheelchairs but not all, so you'll want to think carefully about those measurements. People significantly taller or shorter than the average may also require some adjustments. Some people may also prefer slightly taller or shorter counters to match their posture and movements.
· Size of Other Kitchen Appliances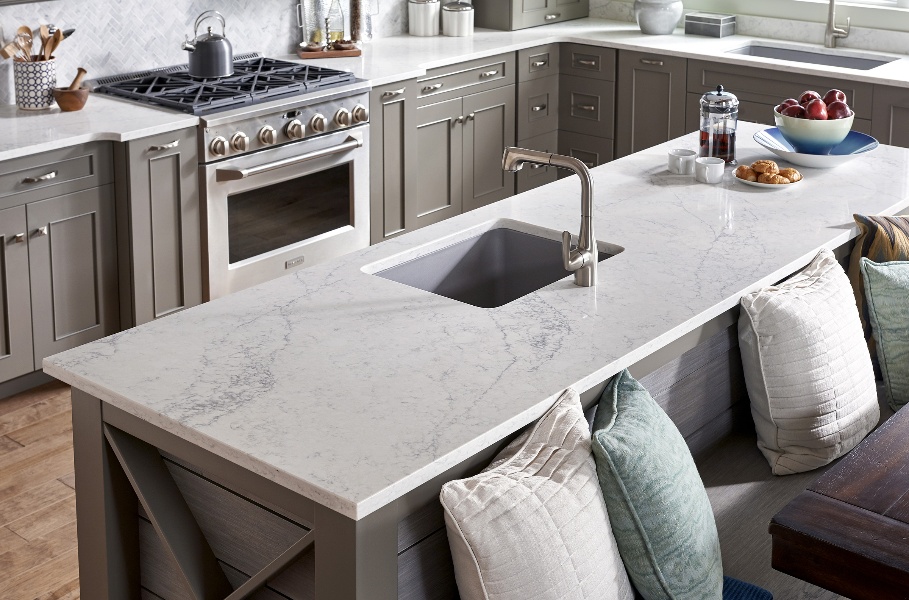 The countertop dimensions can also affect the fit and installation of appliances such as refrigerators, dishwashers, cooktops, and ovens. It's essential to measure the depth and height of these appliances to ensure that the countertop depth and height will accommodate them.
For instance, if your countertops are taller than your cooktop or dishwasher, that will change the flow of the workspace. The same thing happens with depth. You don't want a refrigerator or stove that sticks out beyond the cabinets and counters. Carefully measuring appliances for the proper fit will dramatically enhance aesthetics and functionality.
It's good to know the dimensions of all the appliances you'll be using as that will affect the template the fabricator uses to cut the countertop materials for a consistent look. You'll also need to consider hookup clearance for electrical, plumbing, and ventilation.
Style and Design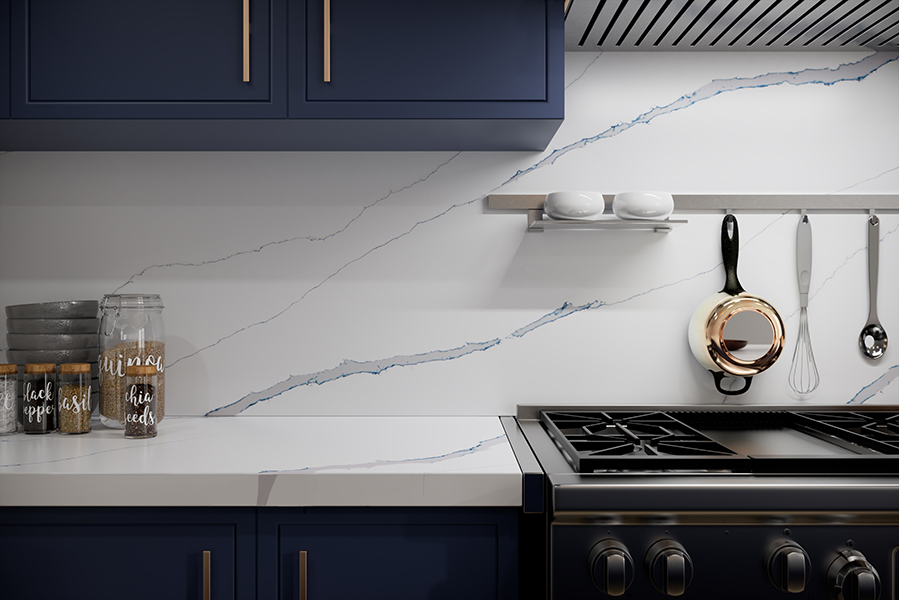 Countertop measurement can also have an impact on the design and aesthetics. A thicker countertop material can add a sense of luxury, while a thinner countertop material can create sleek modern surfaces. Most countertop materials are 2cm thick, or .787 inches.
Before choosing a countertop material, it's important to understand the dimensions of the space, your design goals, the dimensions of the countertop material, and how all materials and appliances will work together to create balance.
Explore Countertops Dimensions in LX Hausys
LX Hausys's Viatera quartz is an ideal choice for residential kitchen countertops. Most Viatera slabs are 120″ long and 63″ deep and come in either 2 or 3-centimeter thickness. Fabricators will cut the quartz slabs based on the kitchen layout, appliance and countertop dimensions, appliance measurement and other factors.
Quartz countertops are the most popular countertop material for residential kitchens, renowned for its durability, scratch resistance, and hygienic properties. Viatera Quartz comes in various colors, including white, gray, cream, brown, beige, black, and blue. Many styles are available, including patterns with small to large flecks and subtle to expressive veining. There are Viatera products to complement any design style, including traditional, contemporary, urban, modern, and other design preferences.
If you're designing a new kitchen or considering a renovation, our experts can help. By providing the LX Hausys team with project details, we can help you access samples and find the ideal material for your project. If you're a homeowner or designer, contact us about your project and someone will respond promptly.