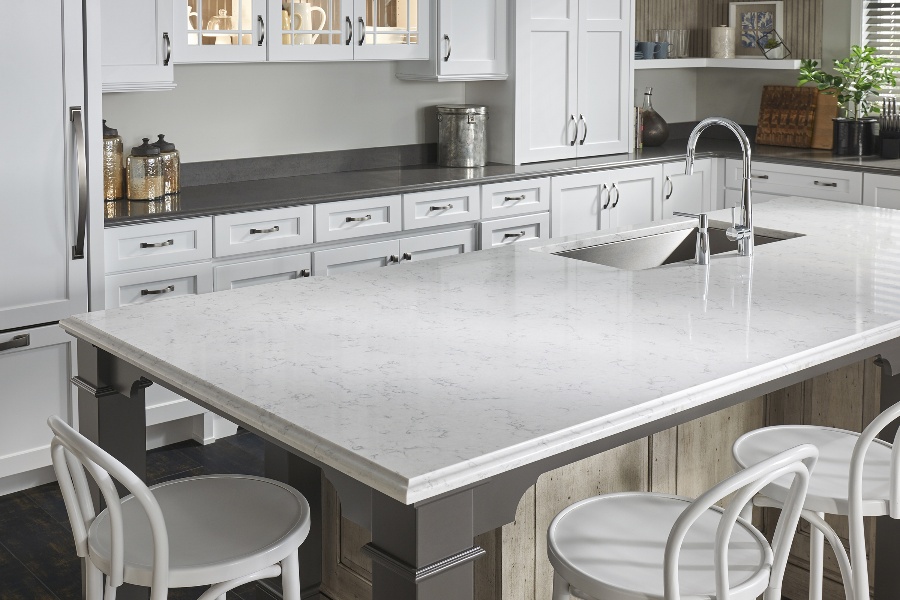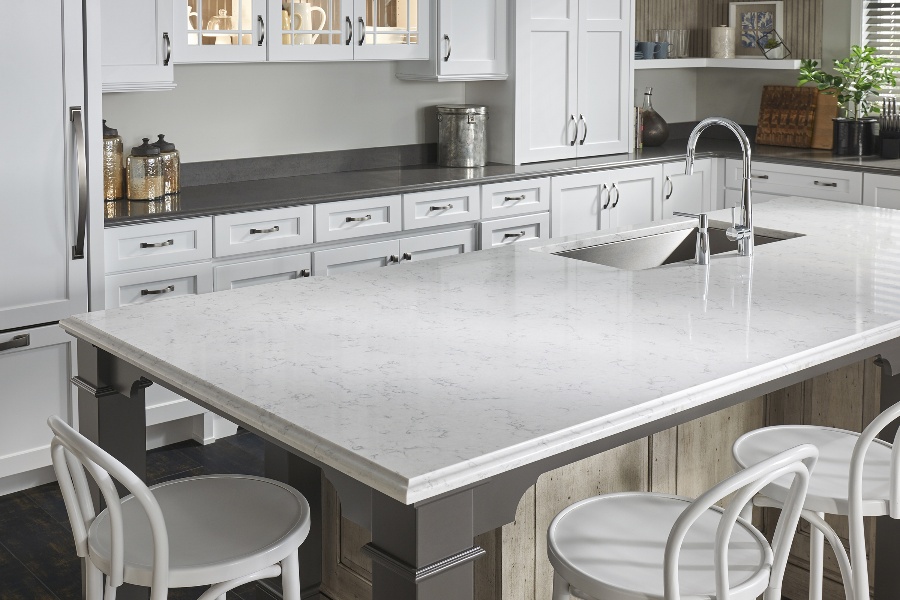 Is Viatera quartz right for you? This article will share the benefits of using quartz surfaces for countertops, worktops, and other high-demand areas. We'll also explore how LX Hausys engineers its high-quality Viatera quartz, popular Viatera colors and patterns, and how this functional and appealing material can enhance your interiors.
What is Viatera Quartz?
Viatera Quartz is an engineered stone material for commercial and residential countertops, worktops, and vanities that combines up to 93% quartz, one of the hardest minerals on earth, with innovative polymers and colorfast pigments. The fabrication process occurs under intense heat and pressure and creates the highest quality quartz.
Viatera uses the most exceptional quartz to design strong and stylish kitchen, bath, and work countertops. Every quartz slab is inspected to meet the company's highest standards, and the non-porous quartz surfaces are strong, sanitary, and easy to maintain.
Viatera Quartz – Features and Benefits

· Durability
Quartz is one of the hardest minerals on earth, making Viatera quartz naturally durable and impervious to scratches, chips, and cracks. It also resists water damage, stains, mold, and bacteria, making it an exceptional choice for home or professional environments.
Viatera Quartz offers extraordinary durability, and the material doesn't need sealing like granite, marble, and natural stone products. The manufacturing process enhances the product's stain and scratch resistance.
· Heat and stain resistance
Viatera quartz is heat tolerant but not entirely heat resistant, and prolonged exposure to high temperatures can damage it. Use a trivet or hot pad under hot cookware and any heat-generating appliance, such as slow cookers and toaster ovens.
Because Viatera Quartz is non-porous, it resists staining. Routine cleaning is done with warm water and a sponge or dish towel. Dishwashing liquid, a microfiber cloth, or a textured sponge can remove spills or splashes. For best results, wipe, don't scrub, rinse with clear water, and buff dry, so the finish looks its best.
· Hygienic Properties
Viatera Quartz offers the luxurious appeal of natural stone without the crevices or pits where mold and bacteria can hide. It is non-porous and doesn't require waxes, sealants, or unique cleaning products, unlike marble and granite. It resists water damage, stains, mildew, and germs, making it an exceptional and hygienic choice for home or professional countertops.
· Colors
Viatera quartz comes in various on-trend colors and styles and is not limited to what can be found in nature. It has a modern, luxurious, and consistent appearance, unlike natural stone coloring and veining, which vary from slab to slab.
The most popular quartz colors are white and gray, but Viatera offers various hues and patterns depending on your design style. From traditional to modern, Viatera by LX Hausys offers white, gray, cream, beige, blue, brown, and black quartz to elevate your design and increase the functionality of residential and commercial interiors.
Viatera quartz by LX Hausys comes in five collections, with varying colors and styles.
Calacatta is inspired by Calacatta Marble and offers bright, natural white backgrounds, intricate veining, and elegant patterns.
Masterpiece includes an inspiring palette of stylish hues and unique designs, with on-trend colors and both bold and subtle designs.
Musica draws inspiration from natural stone with the perfect symphony of light and dark hues with deep, rich complexity.
Urban boasts concrete-like designs lending edgy appeal with an industrial look softened by captivating marbling throughout.
Classic is made up of timeless colors drawing inspiration from the earthy and ethereal tones found in nature. From brightest to darkest, this collection offers something for everyone.
· Depth and Thickness
Viatera slabs come in 2 cm or 3 cm thickness, the recommended industry standard, with slabs measuring 55" in width by 120" in length
Viatera Quartz – Cost
The price of quartz countertops depends on the style, quality, and size of the installation. The slab size will affect the overall cost of installation. Quartz prices typically range from $40 to $85 per square foot, with premium quartz costing anywhere from $75 to $150. The cost of using Viatera depends on your chosen product and project specifications. Contact an LX Hausys quartz expert to find the ideal quartz for your design and budget.
Viatera Quartz – Care and Maintenance
Viatera Quartz does not require sealing because it's polished during production. Using mild soap, an all-purpose cleaner, and a non-abrasive cleaning cloth will keep your quartz countertops in excellent condition. Most stains on quartz countertops can be removed with glass cleaner and a non-abrasive sponge. Quartz countertops can be damaged by high heat, so never place a hot pan or pot directly on the countertop. Easier to maintain than other stone surface materials, quartz will provide years of enchanting beauty and hygienic reassurance.
Viatera Quartz Top 10 Color Ideas
The most in-demand quartz colors feature a predominantly white or gray background with various patterns, swirls, and veining, ranging from vibrant and expressive to subtle and soothing.

Popular white Viatera quartz products include:

Popular gray Viatera quartz products include:
It would be idea to include images for each of these with a linked product title
Viatera Quartz Top 10 Design Ideas
LX Hausys offers tons of design inspiration for Viatera. The website includes inspiration galleries, case studies, trend reports, and a virtual showroom. Discover inspiring Viatera applications, including how it enhances:
Viatera Quartz – Is it Worth Buying?
When it comes to quartz for countertops, you want the most fashionable colors and designs, strength, functionality, and hygienic performance. Every countertop surface has benefits, and only you can choose the one that best suits your home, life, or project. But if you're looking for an affordable luxury countertop that is durable, safe, and easy to clean and maintain, check out all Viatera colors by LX Hausys.
Contact Us
If you are a homeowner needing assistance or a cost estimate, we are happy to help. Please fill out a brief form and contact us today; someone will reply to you promptly. If you are a designer or trade professional looking for samples, products, or information, our experts can assist; contact us now.