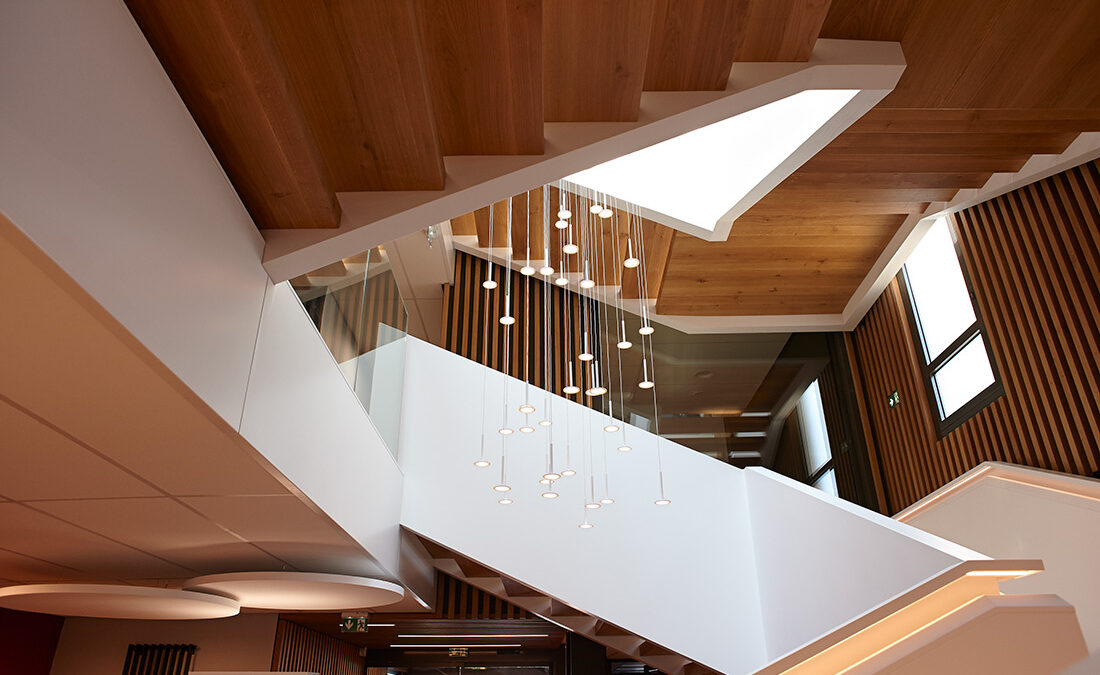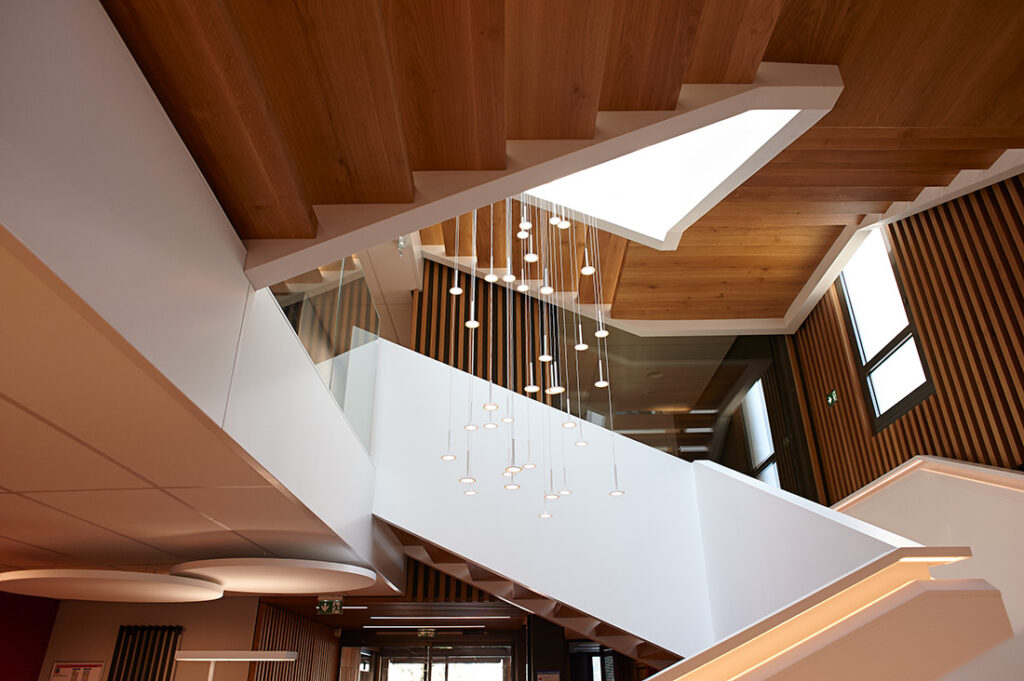 CMMA Headquarter Successfully Combines Function and Aesthetics with HIMACS Solid Surface
On entering the renovation of the headquarters of insurance company CMMA, in Châlons-en-Champagne, a majestic staircase made of natural oak and HIMACS solid surface material, Alpine White captures the eye, like a sculpture.
The architects Patrick Planchon and Franck Deroche and fine woodworker Landry Gobert have successfully combined function with aesthetics in this office design structure that serves as the veritable backbone of the office building.
The client's original specifications for the renovation of a building with many constraints were simple: a backbone that would connect all of the sections and that would symbolize the spirit of the mutual insurance company, solidarity. The architectural transposition of that expectation emerged as a monumental atrium staircase, with the different departments and reception areas wrapping around it on three stories.
· HIMACS solid surface – A material acknowledged by interior design professionals
For State-certified architect Patrick Planchon, "after testing various materials, HIMACS solid surface material stood out from the rest of office interior materials for its performance and its ability to embody the desired monolithic look, thanks to its absence of visible joints. This choice was confirmed by the ability for fine woodworker Landry Gobert to work it in accordance with the architects' designs."
In addition, the HIMACS Solid Surface was chosen for its ability to be shaped down to the smallest detail, in order to reproduce the spatial quality instilled in the office staircase structural design in a perfect "combination of elegant mass and firm airiness," as described by Patrick Planchon.
Landry Gobert, a fine woodworker accustomed to working with noble materials, managed to elevate this sculptural piece in accordance with best practices. Because, although HIMACS solid surface is a next-generation surface material that is as solid as natural stone, it can be worked like wood. Many master woodworkers have appropriated it for themselves and are using it to continuously push the limits of creation.
· Office staircase design in perfect combination: Oak and HIMACS solid surface material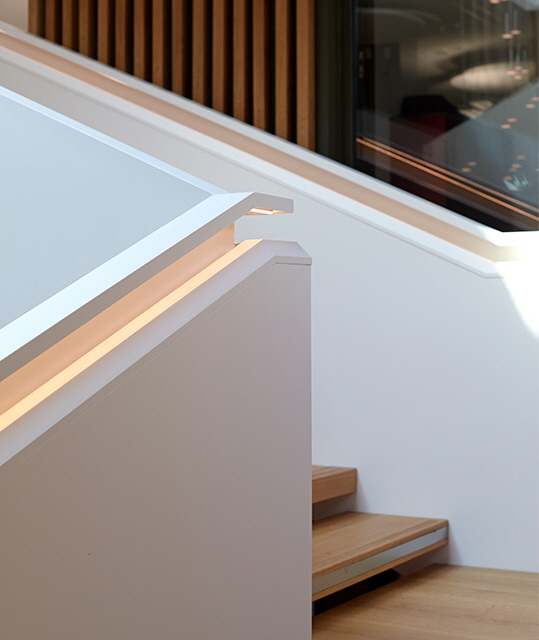 The stairs and landings have been covered with oak slat paneling attached to the metal frame. The wood, varnished natural oak with a matte finish, is an extension of the ground-floor parquet and adds a touch of nobility and warmth to the site.
Further enhancing the wood, the railings installed all along the path of this atrium structure – with the exception of the landings – are cladded with 12-mm bonded, seamless HIMACS Alpine White panels, on top of a metal structure with a slightly beveled lip.
The handrail is perfectly aligned with the inner side and includes recessed joints at the edge of the materials and lighting whose 60° angle illuminates the part of the handrail held by visitors. Functional, modular furniture in harmony with the staircase
· HIMACS solid surface, a material of choice for Cmma office conference room table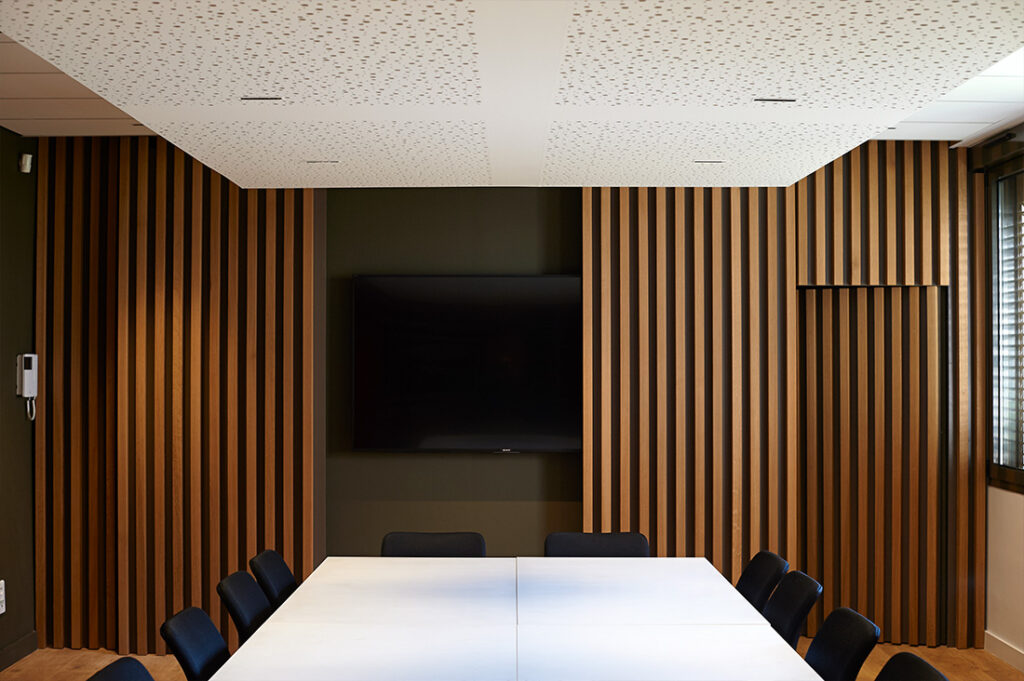 Each space is arranged in perfect accord with the staircase, which sets the tone as soon as a visitor sets foot inside, with variations in warm office decor tones varying between woody colors, the grey brown of the wall cladding and the deep red of the furniture and decorations, set off by the immaculate white of the HIMACS solid surface material.
Four imposing modular conference tables plus consoles made of HIMACS solid surface material furnish the Board Room with its retractable back wall, as well as workspaces with desks and slat paneling, likewise made of HIMACS solid surface.
Like the staircase – the pillar of this renovation – HIMACS solid surface material has made it possible to once again push the heights of the creative work of architects Patrick Planchon and Franck Deroche, and of fine woodworker Landry Gobert, who collaborated in perfect harmony to meet the client's specifications.
HIMACS was the material of choice for office design that best expresses Cmma versatility and its endurance over time, as well as its ability to integrate with traditional materials and reflect the values of the company.
· Long conference room table suggestion by white HIMACS solid surface material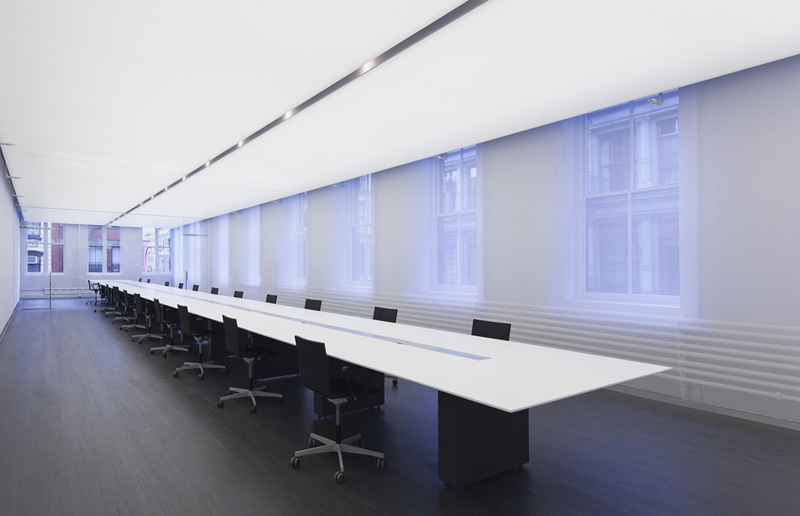 If you are looking for the right material for your conference room table, HIMACS solid surface material will the perfect choice for your office design. The LOGAN office which has two rectangular rooms with long white tables made by HIMACS solid surface material, stands out from any other conventional conference room designs.
The tables are 10 feet in length and protrude through a translucent glass wall. The glass walls divide the project workspace, small offices and conference rooms. Solid Objective-Idenburg Liu (SO-IL), a Brooklyn-based architecture firm, thought this office interior design concepts for LOGAN would be most practical because of its work environment. A large part of LOGAN's workflow consists of members moving around based on different projects.
To make the conference room tables, SO-IL used white HIMACS solid surface material. Fabricated HIMACS sheets were glued together to achieve a seamless appearance. This is one of many essential benefits of HIMACS solid surface that it is uniform even when two or more pieces are glued together, and the LOGAN conference room table is a perfect example of this design quality.
· HIMACS solid surface properties meet every standards required for the office areas
Through continuous research HIMACS satisfied the essential standards making it a suitable surface material for office interior designs. Especially, LX Hausys' rich color and pattern portfolio, developed through more than 25 years of research, makes it possible to create a variety of spaces and further enhance the office experience.
HYGIENE
HIMACS is a non-porous surface and does not allow infiltration or absorption of moisture, dust, viruses, harmful bacteria, or various chemicals. HIMACS is certified by the NSF (National Sanitation Foundation) and approved for commercial food services, medical facilities, schools, hospitality, and other businesses where hygiene is essential.
DESIGN FLEXIBILITY
HIMACS easily realizes designs that are often difficult to make with other materials through 3D thermoforming, allowing the brand identity to blend into the space design. HIMACS can be cut, drilled, shaped, routed, and joined together to accommodate various types of applications.
SUSTAINABILITY
HIMACS is at the forefront of environmental protection with its green certifications. In addition, by installing HIMACS, the building can receive LEED, BREEAM, and DGNB eco-friendly certification. HIMACS is also Greenguard and Greenguard Gold certified. It signifies that HIMACS is completely free of formaldehyde, VOC emissions, and nanoparticles, ensuring particularly high indoor air quality.
Finding an ideal material for designing the office? Check out HIMACS Solid Surface Collection to get inspirations for your office design project!