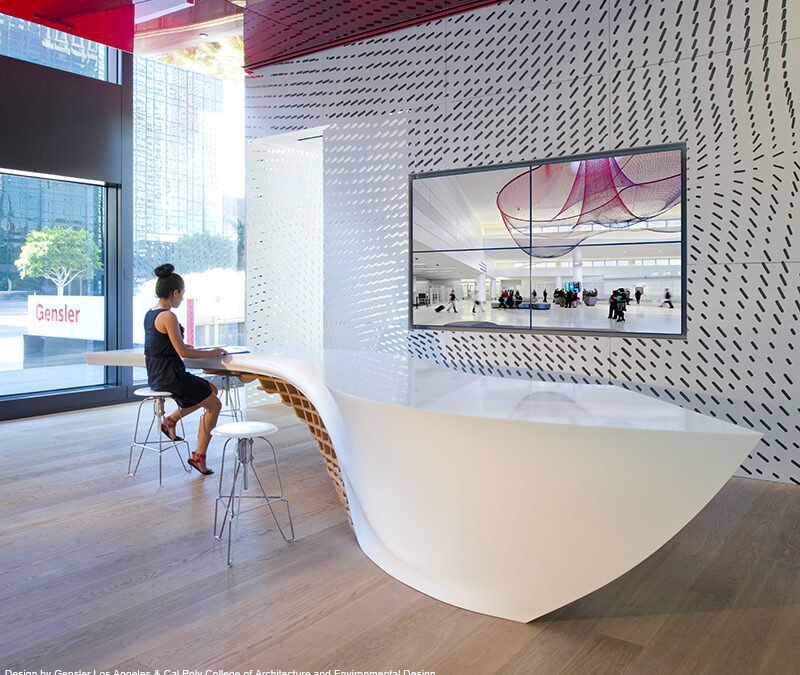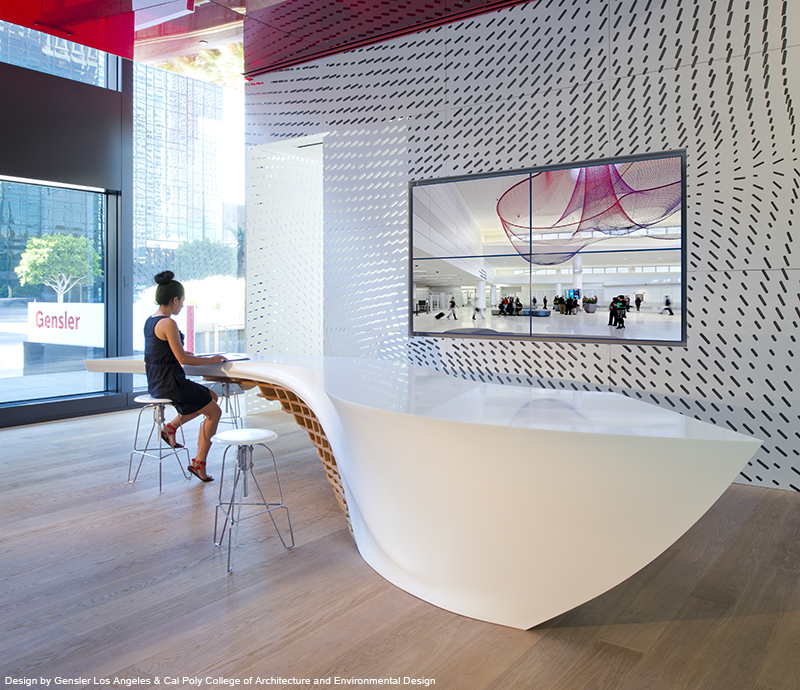 HIMACS Solid Surface Material, a Perfect Solution for Office Interior Designs
It was the time when professors Jim Doerfler and Mark Cabrinha, co-directors of Cal Poly's Digital Fabrication Lab reached out to Gensler L.A. design director Shawn Gehle to create a fully-virtualized studio office design focused on digital fabrication and online collaboration tools.
In response, Gehle authored a unique, 10-week seminar that would allow students access to the firm's design talent and explore form-finding and digital fabrication techniques through the design of a custom furniture piece.
Their office interior design outlined a piece that could accommodate standing and sitting space for guests and storage for the firm's design publications. The piece would need to be site-specific and prominently featured in Gensler's new downtown Los Angeles office. LX Hausys HIMACS solid surface material, with its outstanding quality and thermoformability, was the perfect solution for them to accomplish their trendy yet functional office interior design ideas.
· Overall Process of designing a welcoming reception area for Gensler Los Angeles office
Beyond an initial in-person meeting, Cal Poly students and d[Fab]Lab faculty met with Gensler advisors via the online collaboration tool to conduct weekly seminar discussions and review the team's progress on their interior designs.
This methodology allowed professional consultants and materials specialists to participate easily, while exposing students to the kind of virtual collaboration that is prevalent in professional practice today. Throughout weekly discussions, they were able to bridge the 200-mile gap between designers in Los Angeles and students and faculty in San Luis Obispo.
Maintaining a focus on a digital workflow, the team's design and documentation process also was conducted virtually, substituting a 3-D model as the deliverable for fabrication in lieu of a traditional set of 2-D drawings.
Over the course of the seminar, the original concepts of three students were developed and refined using the 3-D modeling software Rhino and T-Splines, and virtually reviewed and critiqued weekly with Gensler's design staff.
· HIMACS solid surface, a key material provider of Gensler Slo table design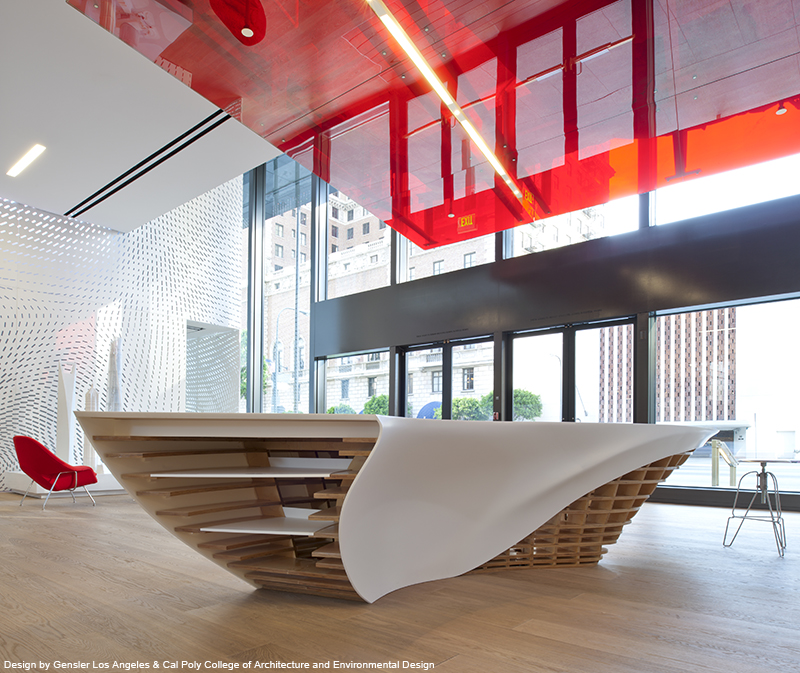 Structural engineers at Buro Happold and the solid surfacing material provider, LX Hausys, joined multiple discussions to examine schemes and offer insight on constructability, cost and structural integrity. A final, in-person meeting in Los Angeles focused on the review of physical prototypes and material samples.
The meeting enabled the team to address the challenges of forming fiberglass vs. solid surfacing as the table's predominant surface material. Inspired by the design and opportunity, LX Hausys become a partner in the project.
LX Hausys provided technical expertise and support for HIMACS solid surface product, which proved to be the ideal surface material for achieving the table's draped surface. LX Hausys also introduced the team to the capabilities of R.D. Wing Co. Inc., the Seattle-based fabrication specialists who ultimately constructed and delivered the table's design.
With HIMACS solid surface material, the long journey of Gensler office interior design project had ended up with a huge success. The SLO_Gen table installed in the main entry of Gensler Los Angeles, continues to lure pedestrians in from the street and prompt conversation on its origin.
HIMACS Solid Surface Material imbue Modernity to the Tourism Office Reception Area Interior Designs
"Connecting contemporary with History", this is the premise that Jose Manuel Sanz Arquitectos follow when they carry out their projects. This time, they have applied their philosophy to add modernity to the Tourism Office located in the Casa de la Panadería at Plaza Mayor in Madrid.
The changes in spatial distribution and the use of high quality materials, such as HIMACS solid surface, have transformed these offices into the ideal place to get any kind of information about the city. With the main goal being to recover the original configuration of the location, Jose Manuel Sanz and his team took charge of updating the information center.
He aimed to bring up modernity to the office interior design. He adopted the most current technology devices to inform visitors. In this way, the use of HIMACS solid surface for most of the furniture contrasts perfectly with the existing materials, creating a space with personality but still rooted in its historical essence.
· Translucency of HIMACS solid surface in office interior designs
HIMACS is a decisive office interior design material for this quality of experience: the magical translucency, the soft feel and the entire package of good gastronomic properties made the decision to use HIMACS solid surface material easy.
The modern design of Plaza mayor tourism office was made possible with the translucent HIMACS solid surface Classic Collection Opal color that light spaces in ways they dreamed of.
As with the tourist office case, translucency and effective use of light are decisive design elements of contemporary architecture – the shades of the Classic Collection, with their exceptional light translucency, allow for spectacular designs. Whether effectively backlit or simply illuminated, the lucent colors of the architecture always add an elegant touch thanks to their characteristic reaction to light.
Properties of HIMACS Solid Surface Material – Best to be Used for Office Interior Designs
The hygienic, antibacterial properties of the material, the ability to process it in many different shapes, the translucent aesthetics and the delicate, soft feel made HIMACS the ideal material for office interior designs.
It is essential to keep office hygienic. HIMACS solid surface material has a seamless surface that essentially seals any gap, preventing dust from penetrating and ensuring a hygienic environment. It does not allow infiltration or absorption of moisture, dust, viruses, harmful bacteria or various chemicals.
Easy cleaning is also important in busy offices. HIMACS solid surface material prevents surface absorption of strong contaminants and ensures an easy-to-clean environment through its airtight surfaces. Along with this property, HIMACS is extremely durable and long-lasting, offering an excellent price/performance ratio.
Finding an ideal material for designing the office? Check out HIMACS Solid Surface Collection to get inspirations for your office design project!