We're analyzing the pros and cons of two popular kitchen countertop materials — quartz and solid surface to help you decide which one is right for you. Your kitchen is one of the busiest rooms in the house, so you need a countertop material that can withstand daily activities and demands. Both quartz and solid surface materials can enhance your kitchen, but one may be better when it comes to daily kitchen activities. We'll take a closer look at both materials, so you can decide which is right for your kitchen design.
It's important to note that there are dozens of materials to choose from for residential kitchen countertops. Many materials, including quartz and solid surface, look very similar, but significant differences exist. Solid surface, for example, is often used in commercial or outdoor projects, including outdoor kitchens, while quartz countertops are more frequently used indoors for residential kitchen design. Quartz has become the most popular residential kitchen countertop material for designers and homeowners, even beating out granite, so let's see what quartz has to offer for your kitchen design and how that compares with solid surface materials.
Quartz Countertops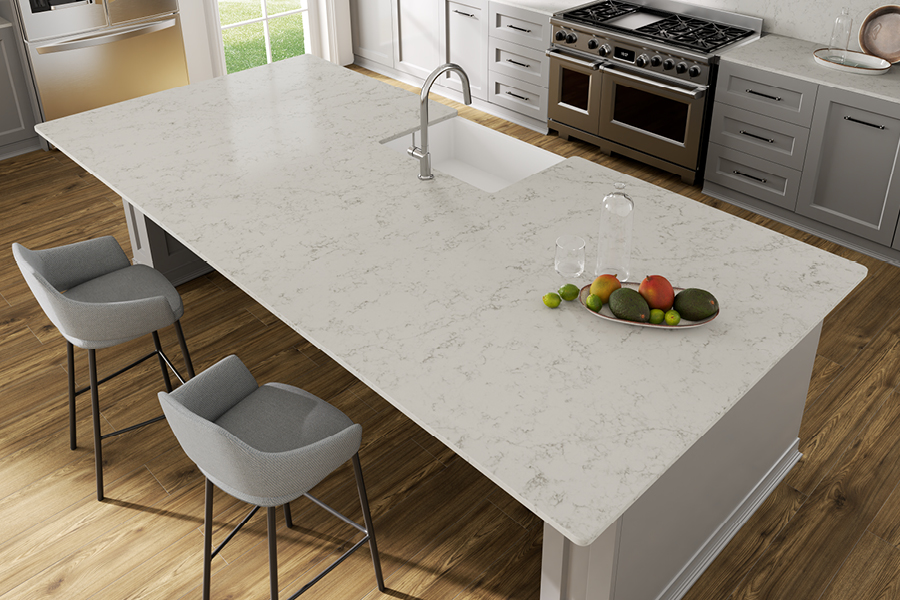 Quartz countertops, sometimes called engineered stone, offer the durability and appeal of natural stone countertops with added advantages from the manufacturing process. Engineered quartz countertops include 93% natural stone, one of Earth's hardest and most abundant materials. The quartz is bound together with resins and pigments to create a durable, non-porous material that can be designed and styled in any color or pattern. Quartz countertops often look like natural stone and can be manufactured to resemble granite, marble, soapstone, and other materials.
Solid Surface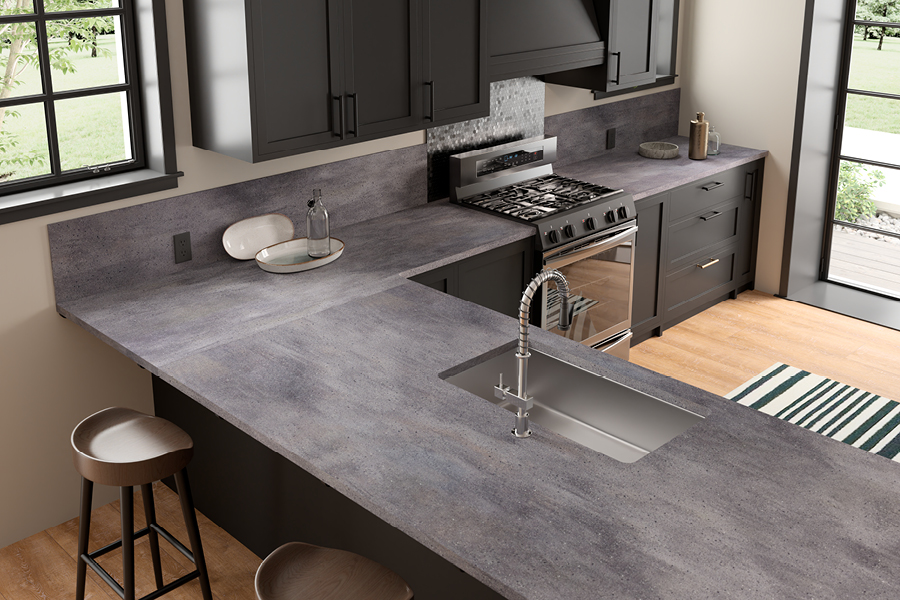 Solid surface, like quartz, is a manufactured product that combines natural elements with resins and pigments. Solid surface countertops use mineral dust (often from marble waste) and a mix of resins and pigments to create a non-porous material that can be installed with virtually no seams. Aluminum trihydrate (ATH) is the most common mineral in solid surface countertops. ATH is a fine, white powder combined with various pigments to create limitless styles and colors.
The manufacturing process for quartz and solid surface may sound similar, and the materials may even look alike. Still, there are some distinct differences to keep in mind when choosing between quartz and solid surface for your kitchen countertops.
Quartz vs. Solid Surface: Colors
Both quartz and solid surface can enhance the look and feel of your kitchen, and both materials come in a wide range of colors and styles. Quartz countertops have a smooth glossy finish and a uniform, homogeneous patterning that may include intricate veining to resemble marble or fine specks and chips that add a bit of shimmer or texture to your countertop.
Solid surface also has a unified, homogeneous appearance and numerous aesthetic options. Solid surface can also be thermoformed (heated and bent) into various shapes, including curves using techniques similar to woodworking. Commercial designers often use solid surface materials for cladding, signage, entryways, outdoor table tops, counters, and three-dimensional designs.
Quartz vs. Solid Surface: Cost
Both quartz and solid surface materials are considered high quality, mid-range priced materials. Both materials will cost more than some other options on the market, including high-pressure laminate and tile countertops. However, both quartz and solid surfaces are more affordable than natural stone options, including granite and marble.
Prices for solid surface and quartz countertops depend on the quality of the product, style, color, fabrication requirements, installation, square foot, and more. Generally speaking, solid surface is often more affordable than quartz, but it depends on the design project, countertop manufacturer, and the quality of the product you choose.
Quartz vs. Solid Surface: Heat Resistance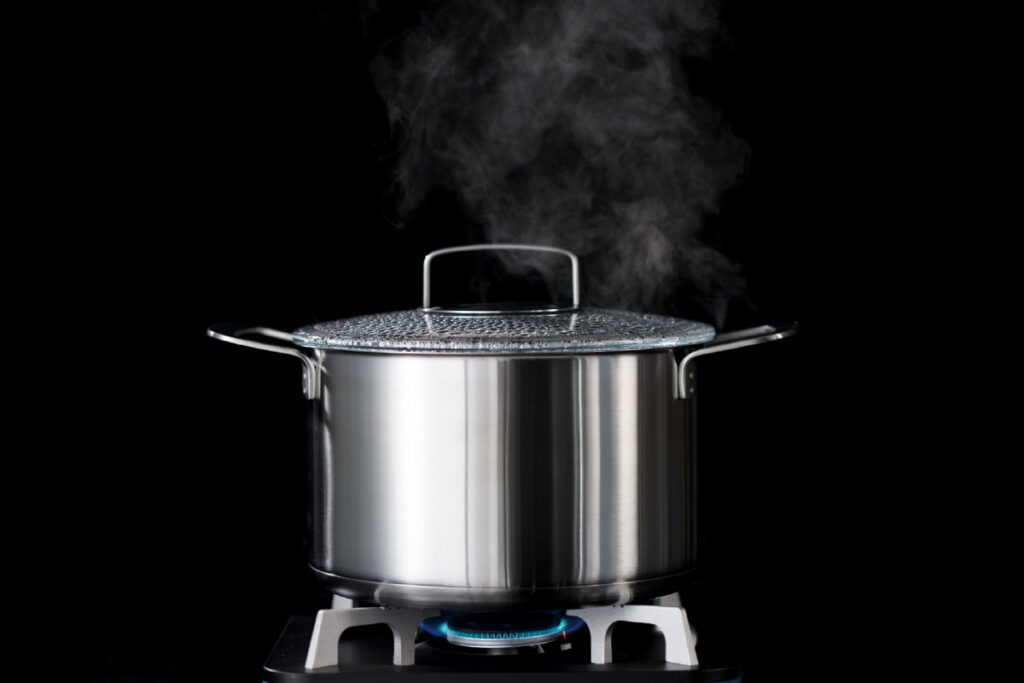 Heat resistance is a primary consideration when choosing to install a countertop next to and underneath stoves, ranges, and heated appliances such as electric frying pans, air fryers, microwaves, and other kitchen tools. Quartz is better at heat resistance than solid surface, but care should be taken with both materials when placing hot pots, pans, or dishes directly on the counter.
Solid surface can withstand up to about 250-320°F while quartz can withstand up to approximately 680°F. Think of it this way, even if you're baking on warming something up in the oven, you probably set the oven to 350 degrees, which means that you won't be able to set that baking pan or dish directly on a solid surface countertop, even for a second. However, quartz is more forgiving and can withstand greater heat; however, prolonged exposure to high heat can discolor quartz countertops over time. The binding resins used in both quartz and solid surface can be damaged by heat, so it's best to use hot pods and trivets with solid surface and quartz countertops.
Quartz vs. Solid Surface: Durability
Quartz countertops have an edge when it comes to durability. Quartz countertops are as strong and durable as natural stone and resist scratches, cuts, and chipping. Solid surface is softer and can be damaged when using knives to cut or chop directly on the surface. However, cuts and damage to solid stone countertops can often be sanded down or repaired fairly easily.
Both solid surface and quartz countertops have low porosity. The non-porous nature of both materials means they're highly hygienic, an important factor for any kitchen. Both solid surface and quartz countertops resist moisture stains, bacteria, and fungal growth. Quartz and solid surface countertops are easy to clean and don't require routine maintenance or sealing. This gives them an advantage over solid stone countertops, which require annual maintenance to prevent staining and contaminants from penetrating and damaging the countertop material.
Quartz vs. Solid Surface: Which Is Better for Kitchen Countertops?

Both quartz and solid surface countertops can enhance the look of your kitchen with traditional and trendy, modern designs available in a multitude of colors, finishes, and patterns. Quartz is usually slightly more expensive than solid surface, but the added costs are worth the money when you consider that quartz is more heat resistant and as strong as natural stone. Quartz may also help you protect your home's resale value since so many homeowners choose quartz over other countertop materials. As a hygienic, durable, easy-to-clean product, quartz is hard to beat when it comes to kitchen countertops. Still, a solid surface countertop can provide a seamless look that other materials can't, so if seams are a top concern, you'll want to consider solid surface.
Find High-Quality Quartz & Solid Surface Products
LX Hausys offers both high-quality quartz and solid surface materials for your kitchen design. Quartz products are available under the Viatera brand name, with five on-trend collections and numerous styles and colors to choose from. Solid surface products can be found under the HIMACS name, which includes 12 collections with varying colors and designs.
You can peruse a variety of Viatera Quartz products on the LX Hausys site, including these collections:

Calacatta provides the luxurious look of Italian Calacatta Marble in a non-porous, hygienic surface that's easy to care for.
Masterpiece is an exquisite collection of hues and unique designs that will make any space a true work of art.
Musica offers beautiful quartz surfaces that reflect the elegant and timeless beauty of the finest classical music while drawing inspiration from the allure of natural stone.
Urban provides vibrant metropolitan styles with edgy appeal, including concrete-like styles.
Classic offers a collection of timeless, beloved quartz designs with earthy and ethereal tones, ideal for any traditional, residential interior.
HIMACS also offers a variety of solid surface styles, including the Aster, Aurora, Concrete, Eden Plus, Marmo, Strato, Terrazzo, Volcanics, and other collections.
Contact Us
Let's talk about your kitchen design project. Whether you're looking quartz or solid surface countertops,, the LX Hausys team can help. If you're a homeowner needing assistance, we're happy to help. Fill out a brief form and Contact us today; someone will reply to you promptly. If you're a designer or trade professional looking for samples, products, or information, our experts can assist; contact us now.