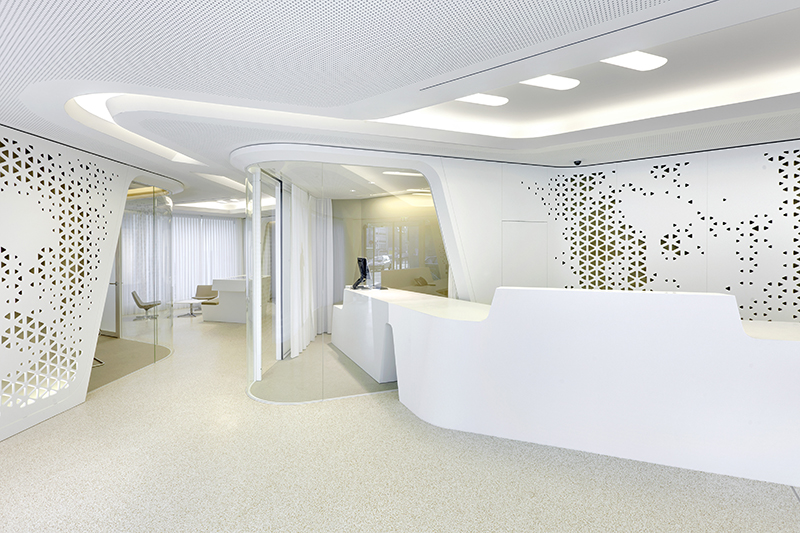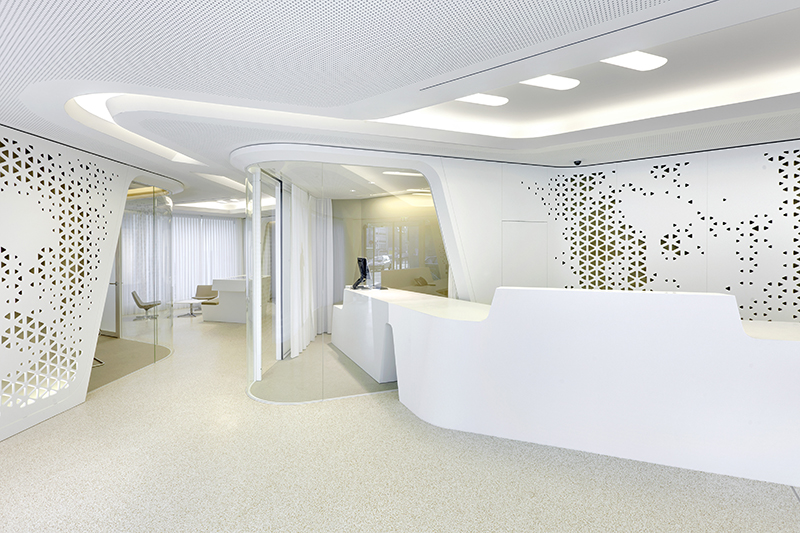 Bright, Friendly Bank Reception Desk and Wall Cladding Design by HIMACS Solid Surface
Chur branch of the Raiffeisen Bank is setting office design concept trends in the reception area designs. The bank's gleaming white customer consultation area made using HIMACS solid surface material with its ingenious planting design offers a bright and friendly contrast to the raw appearance of the railway station forecourt.
Within the clean lines of the solid surface reception desk decors' branch, two reception units appear to hover over a back-lit base set back from the front installed in the polygonal space. The corners of the HIMACS solid surface materials' fittings have been rounded off and the office desk incorporated within them are located on the staff side, so they cannot be seen by customers.
Cupboards, storage compartments and technical equipment are also accommodated in concealed hatches and panels in the wall cladding made by HIMACS solid surface, leaving the pure white exterior undisturbed.
"Using HIMACS solid surface material for this reception decor project gave us the opportunity to respond to the special geometry of the space.", say the architects from Giubbini Architekten.
· HIMACS solid surface – Key material to fabricate flowing wall cladding of reception area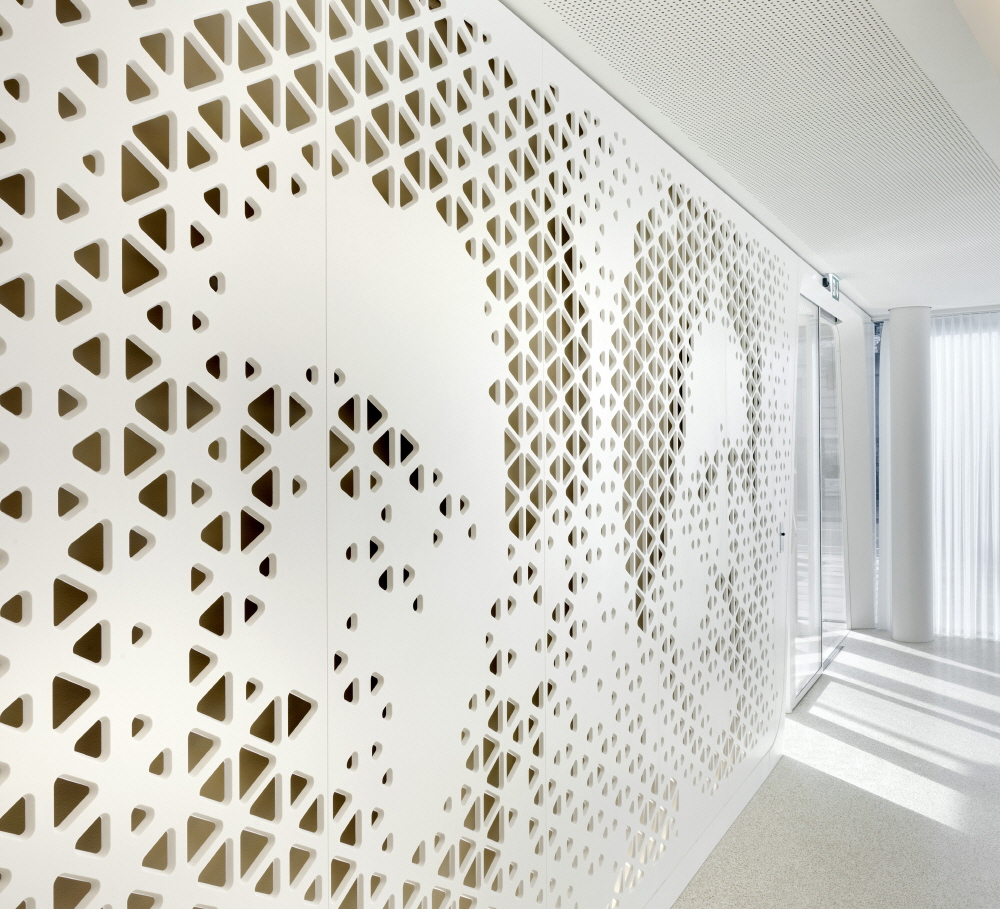 The flowing walls were possible thanks to the HIMACS solid surface's properties, with almost the same strength as stone, can nevertheless be worked with and fabricated in the same way as wood. The chosen shade was HIMACS solid surface Classic Collection, Alpine White.
HIMACS fabrication expert Rosskpof & Partner in Germany used the latest in computer-driven milling techniques (CNC) for the fabrication process. The flowing wall shows the perfect combination of the craftsmanship of HIMACS solid surface fabrication experts and the outstanding quality of HIMACS solid surface material itself.
With its flexible formability and wide range of colors, HIMACS solid surface material offers exceptional design possibilities and all the prerequisites for the reception areas.
· HIMACS solid surface material creates light-filled and inviting reception area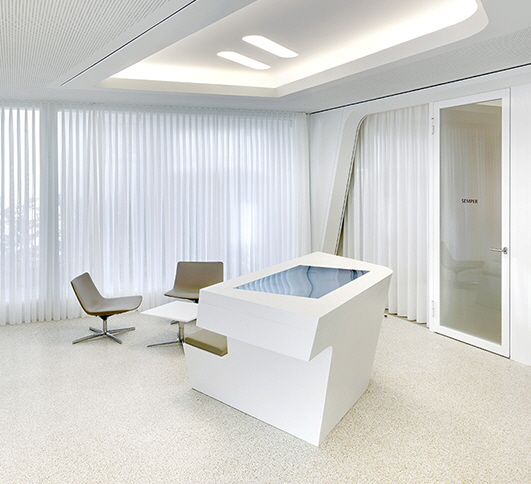 Raiffeisen's flagship branch on Zurich's Kreuzplatz dissolves traditional barriers between customer and employee, creating a new type of "open bank," a space of encounter. The white HIMACS solid surface material that dominates the solid surface reception desk is offset by the green wall planting and furniture.
Room-high plant tapestries are held in pure framed HIMACS solid surface frames, giving the effect of pictures or objects. The architects incorporated the bank's technical requirements by setting a green wall in the wall cladding and furniture, whilst still creating homogeneous surfaces and a unified sense of space
Advanced technologies make banking infrastructure largely invisible; employees access terminals concealed in furniture elements, while a robotic retrieval system grants 24 hour access to safety deposit boxes. This shifts the bank's role into becoming a light-filled, inviting environment – an open lounge where customers can learn about new products and services.
This lounge design feels more like a high-end retail environment than a traditional bank interior. Conversations can start spontaneously around a touchscreen equipped info-table and transition to meeting rooms for more private discussions. The info-table not only displays figures from world markets in real time, but can be used to interactively discover the history of Hottingen, or just check the latest sports scores.
· Innovative reception area design was made possible by HIMACS solid surface
In the customer consulting area, which is located up a level, curved sculptural units made from HIMACS solid surface have been installed in the open space. The shape of these "consultation islands" means that customer interviews can be held with total discretion.
Two electric sliding doors provide access. From the outside, the islands appear to have a slightly jointed pattern, giving them visual identity. Inside, all elements are fitted with high performance sound absorbers, reducing noise levels so that conversations cannot be overheard.
Concealed lighting is incorporated in the wall panels above, bouncing the light indirectly from the white ceiling down into the interior of the islands. The typical qualities of the mineral-based material HIMACS solid surface, which is easy to work with and can be made to be robust and resistant to external influences, made it possible for the architects at Giubbini to come up with this innovative design.
Stripped down in terms of colour and furnishings, the design links the different areas of the bank, creating a visual continuum. This has smoothed the way to creating an "open bank", dispensing with the barriers between customers and staff that are used in conventional bank interior design.
Reception Decor Recommendations with HIMACS Solid Surface Material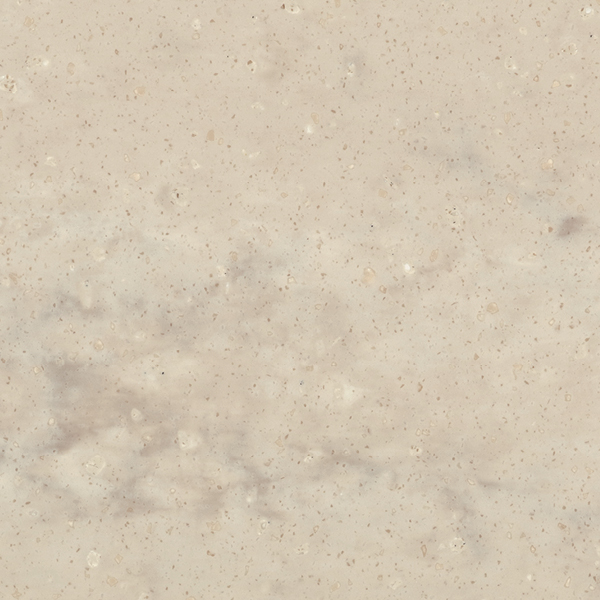 The reception area is the customer's first impression of the modern office interior. Thus, offering them a pleasant beginning through a well-designed space is important. HIMACS solid surface material is the best material to appeal to customers by the extraordinary design, owing to its design flexibility and hygienic properties
The non-porous quality of HIMACS solid surface prevents surface absorption of strong contaminants and ensures an easy-to-clean environment that are easily wiped using only water. HIMACS solid surface is certified by the NSF (National Sanitation Foundation) and approved for airports, commercial food services, medical facilities, schools, hospitality, and other businesses where hygiene is essential.
Aurora Collection's Butter Cream color is especially the perfect choice for reception desk, since it gives the reception counter a real feeling of quality. Its warm color gives customers a friendly impression when entering the welcoming reception area.
HIMACS solid surface stands out in reception decor also because it easily realizes interior designs that are often difficult to make with other materials through 3D thermoforming. HIMACS solid surface can be cut, drilled, shaped, routed, and joined together to accommodate various types of applications.
· Outstanding qualities of HIMACS solid surface that best suits for welcoming reception interior designs
HIMACS is HARDWEARING AND RESISTANT
HIMACS is 100% water-resistant. It is resistant to almost all commercial household chemicals, and everyday stains such as fruit acid or red wine. HIMACS is also scratch-resistant and can be repaired in the event of small scratches – without the need to call in a tradesman. Lastly, HIMACS is heat-resistant thanks to new thermo-cure technology
HIMACS is very EASY TO CLEAN
HIMACS can be cleaned using a moist cloth and commercial detergent, removing almost all dirt without leaving any residue. It is hygienic and can be assembled without the need for visible joints, preventing germs, bacteria and pathogens accumulating in the first place. This material also offers a wide range of sinks and basins, which can also be seamlessly integrated with the worktop.
HIMACS LOOKS FANTASTIC
HIMACS has a natural matt satin finish, which can be given a high-gloss polished finish on request. HIMACS offers a broad selection of attractive shades – elegant solid colors in classic shades and new trend colors, added every year – as well as many natural stone designs. It can be machined just like hardwood or three-dimensionally molded, and also offers the option of creating spectacular lighting effects using rear-milled cut-outs.
Check out LX Hausys HIMACS solid surface collection and get inspirations for your reception area interior design project.