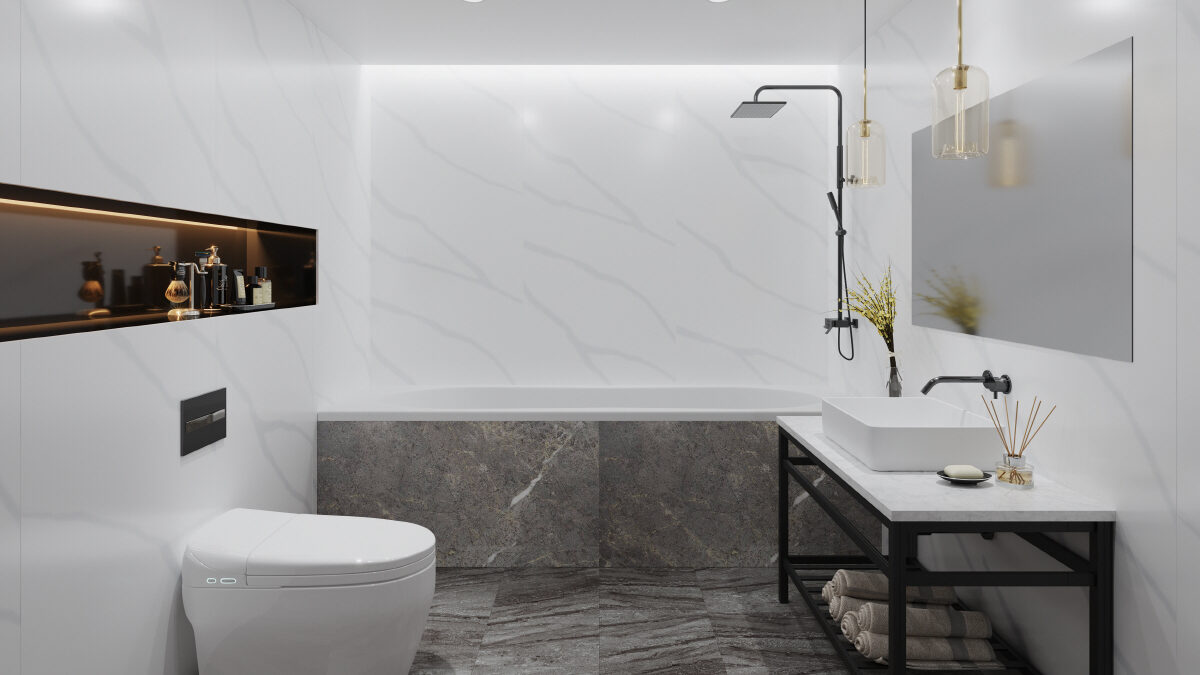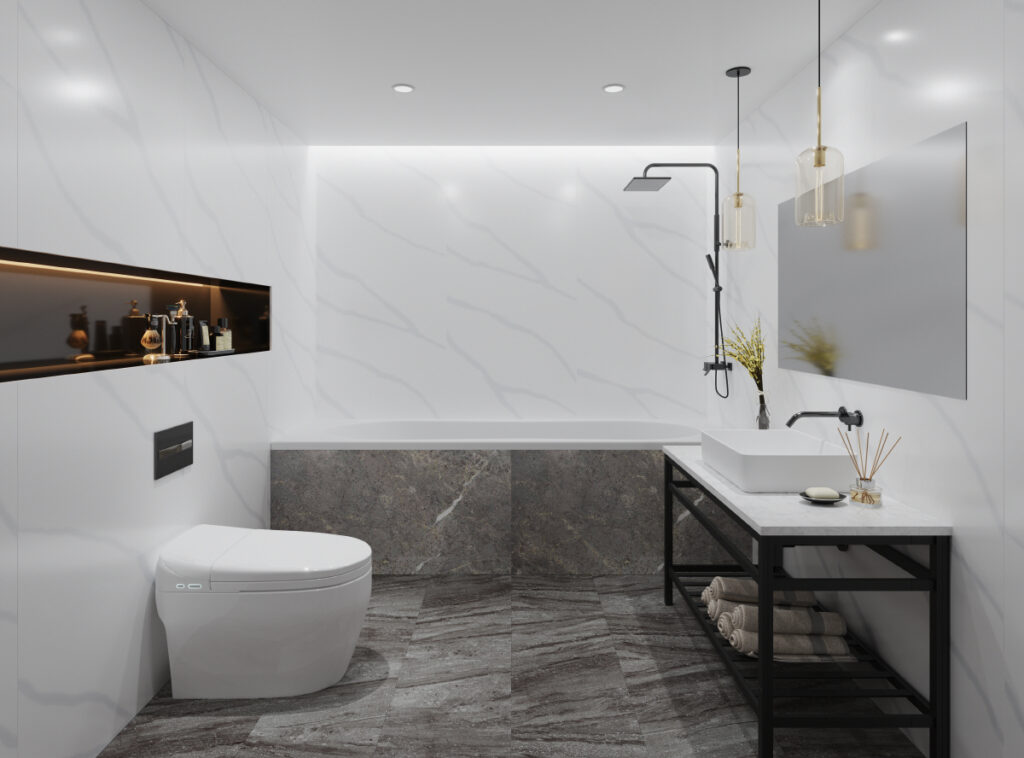 HIMACS Solid Surface bathroom countertop – A Perfect Material for Bathroom Interior Designs
The bathroom is the one room where a feeling of wellness and tranquility is essential. The ideal solid surface material to help achieve this bathroom design should be pleasant to the touch, extremely hygienic and, naturally, waterproof. But it also needs to be malleable and flexible so that every flooring ideas and remodeling ideas for bathroom is possible: from simple straight lines, to dramatic and opulent visions.
Thanks to its waterproof surface and the extensive range of high-quality washbasins, HIMACS is becoming increasingly popular material in the bathroom interior designs. The warm, pleasing feel of HIMACS solid surface material, coupled with its ease of care means it is simply perfect.
Read through our bathroom design collections below, and find out your own bathroom interior design style that suits you best. 
· Functional bathroom vanity top design – The "Scape" Collection
"Leaving out anything that is unnecessary and focusing on product functionality" – this is the feature shared by all NotOnlyWhite designs. A special characteristic that is clearly reflected in the Scape collection. Renowned Dutch brand NotOnlyWhite has again opted for HIMACS solid surface material to create its new bathroom design "Scape 2015", designed by Dutch designer Joost van der Vecht.
This collection is unique in that for the first time, the firm has opted for interior designs by an external designer, in addition to the collections by Marike Andeweg. The premise of NotOnlyWhite is to provide bathroom solutions based on products that are special and striking for the simplicity of their designs.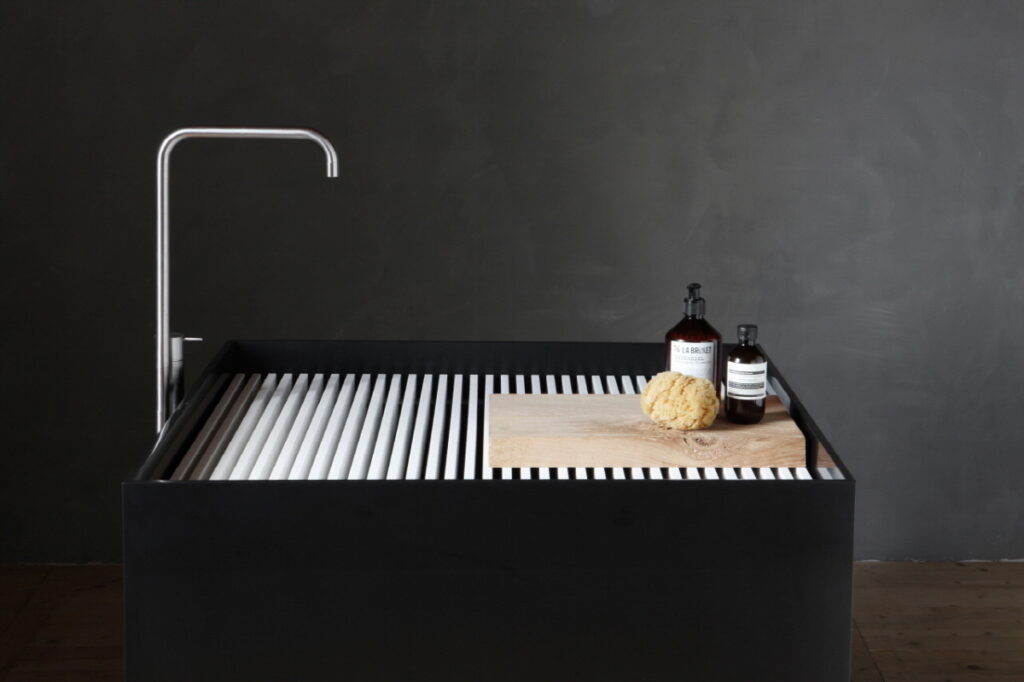 HIMACS natural acrylic stone was the bathroom vanity top material chosen for executing this new basin collection due to its excellent hygienic properties. Thanks to its non-porous surface, the material does not absorb moisture. In addition to being waterproof, it is also extraordinarily effective at repelling stains, making it easy to clean and maintain. Furthermore, it is resistant to scratches and wear. All of these properties make HIMACS solid surface the ideal material for bathroom vanity tops.
· Barn converted to a warm, pleasant bathroom thanks to HIMACS solid surface material
The project executed by Solidity for a converted barn's open-plan wet-room using HIMACS solid surface creates a perfect juxtaposition of ultra-modern elements made from high-performing materials and the rustic timelessness of the building itself.
The material was chosen for the many properties which make it ideal in this situation: its easy thermoforming, its non-porous and impervious surface and the fact that it is so easily joined, cleaned and maintained.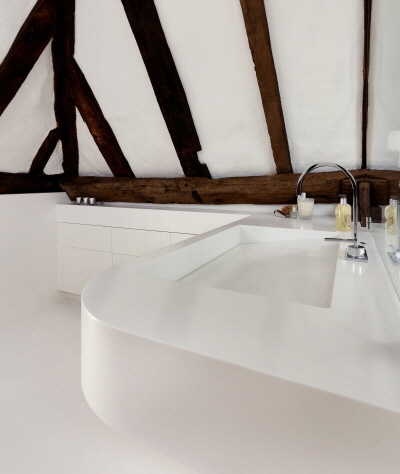 As Solidity's MD, Chris Cook says, "It's the best product available for this type of installation". The other great advantage he explains, is that because of the difficult access Solidity needed to be able to bring in all the material in separate sheets and fabricate and join on site.
It was also the ideal choice of material in this specific situation, being installed in an old timber building. "From a technical point of view HIMACS will flex with the movement of the old building where tiles or stone are too rigid". This is because HIMACS is a natural stone material that has been set in a solid surface acrylic matrix.
· Colorful bathroom interior design by HIMACS solid surface material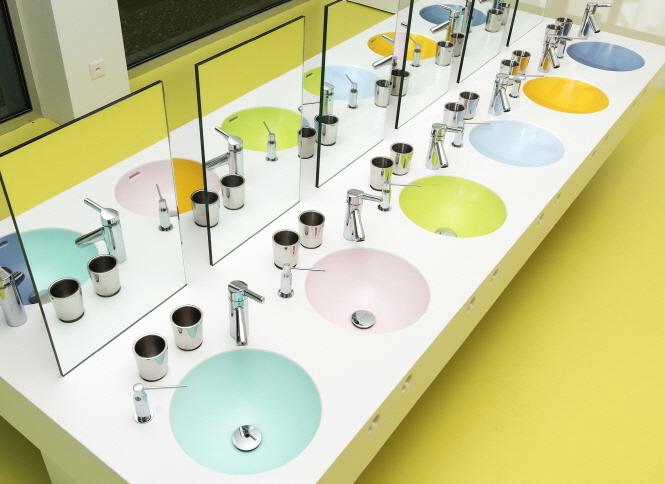 Attention to detail makes the difference between a design that is merely practical and a bit boring and one which is attractive and eye catching. To furnish a bathroom, you need to take all possible aspects into consideration, including both the design and the functionality as well as the material used, since this will have a big impact on the final result.
In fact, bathroom is where HIMACS is able to fully express all of its qualities. A living space where aesthetics foster relaxation while still being functional. Harmoniously forming to the rooms where it is installed, HIMACS Natural Acrylic Stone expresses itself through soft, pure – even sensual – lines that create an atmosphere that is most conducive to letting go of the outside world.
Complemented by colorful, dynamic uni-shade accents from Lemon Squash to Festival Pink, the timeless classic color collection of HIMACS solid surface offers the limitless color range for every bathroom design.
Sink and Basin Design Collections of HIMACS Solid Surface material
HIMACS solid surface sink and basin retains perfect functionality and elegant design for bathrooms and healthcare. Thanks to its smooth, non-porous surface with inconspicuous joints, HIMACS solid surface sinks and basins does not absorb moisture and so is protected against bacteria and fungus.
It is also highly stain-, scratch- and wear-resistant – even with intensive use – and also easy to clean and maintain with a surface that is always pleasant to the touch. These qualities have won over hospitals and childcare centers, environments that require impeccable cleanliness.
· Seamless and hygienic dual basin design by HIMACS Alpine White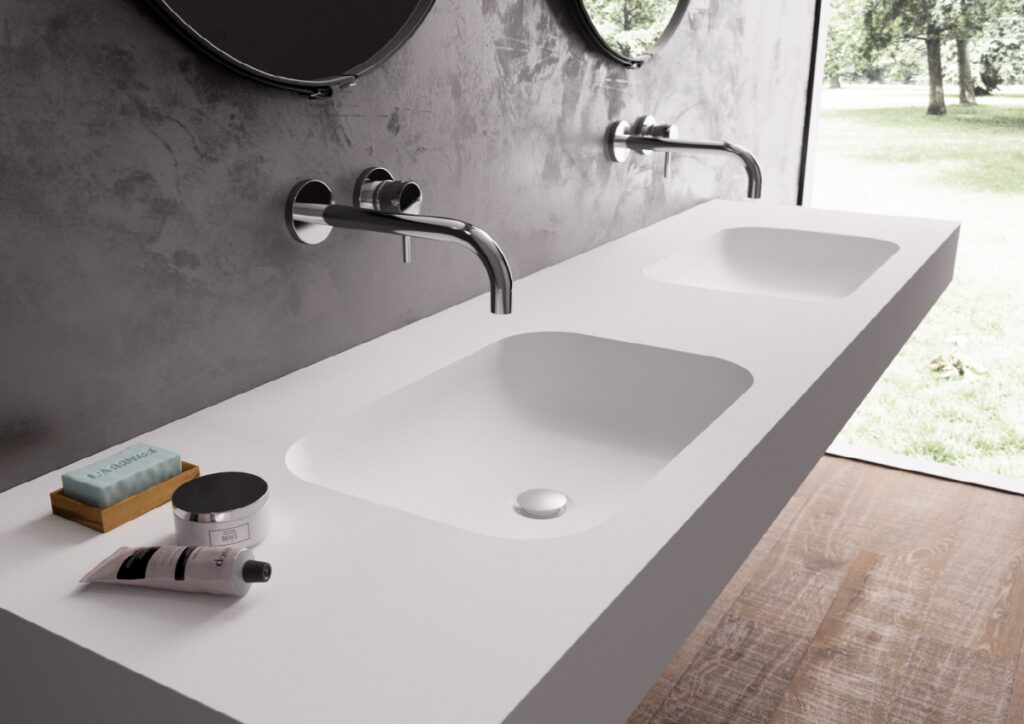 This HIMACS solid surface sinks and basins collection provides designers with numerous options for washrooms, kitchens, hospitals and more. In all cases, designers can achieve seamless and extremely hygienic installations thanks to the flush under-mounted design.
All vanity top sinks and basins for bathroom can be used in any combination, with a HIMACS work surface. Adding a HIMACS wall surface will create a super-hygienic and seamless setting. It is also functional in that it features an extra-wide space with precise side edges, designed for two people to use at once.
· "Not Only White" basin and shelf design with HIMACS solid surface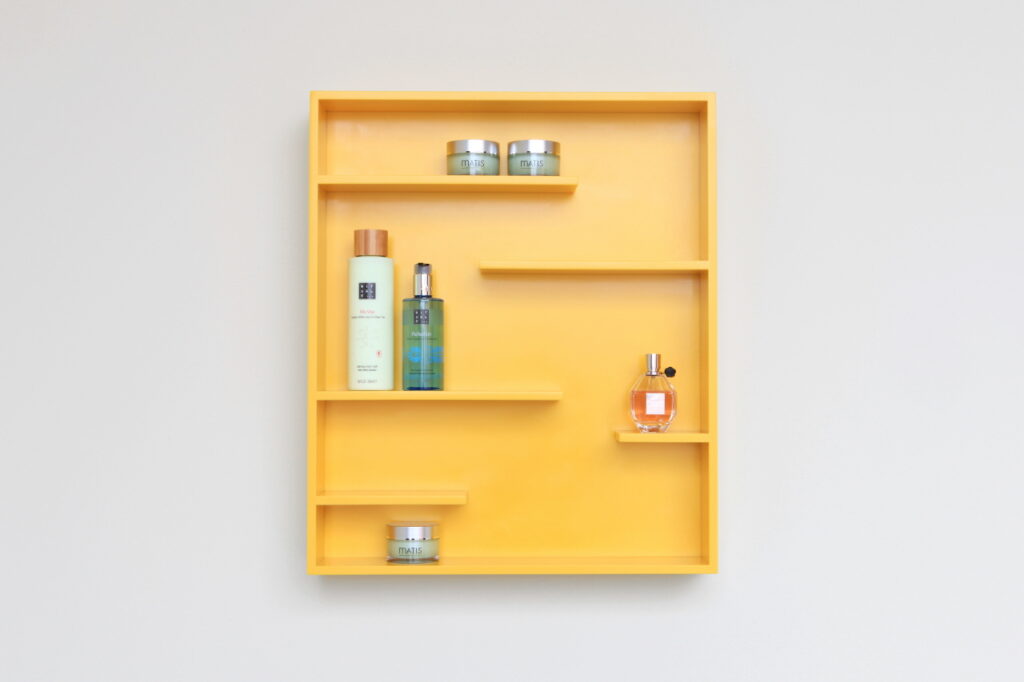 In this new bathroom collection, HIMACS demonstrates all the versatility of this extraordinary material that meets all requirements and guarantees every project the highest levels of quality and functionality, without ever sacrificing ideas.
These are the reasons that inspired Marike Andeweg, the Dutch designer of the NotOnlyWhite brand which was started in 2010, to again choose the New Generation Natural Acrylic Stone for her latest collection of basins and shelves that fit perfectly into any situation, from contract builds to private homes.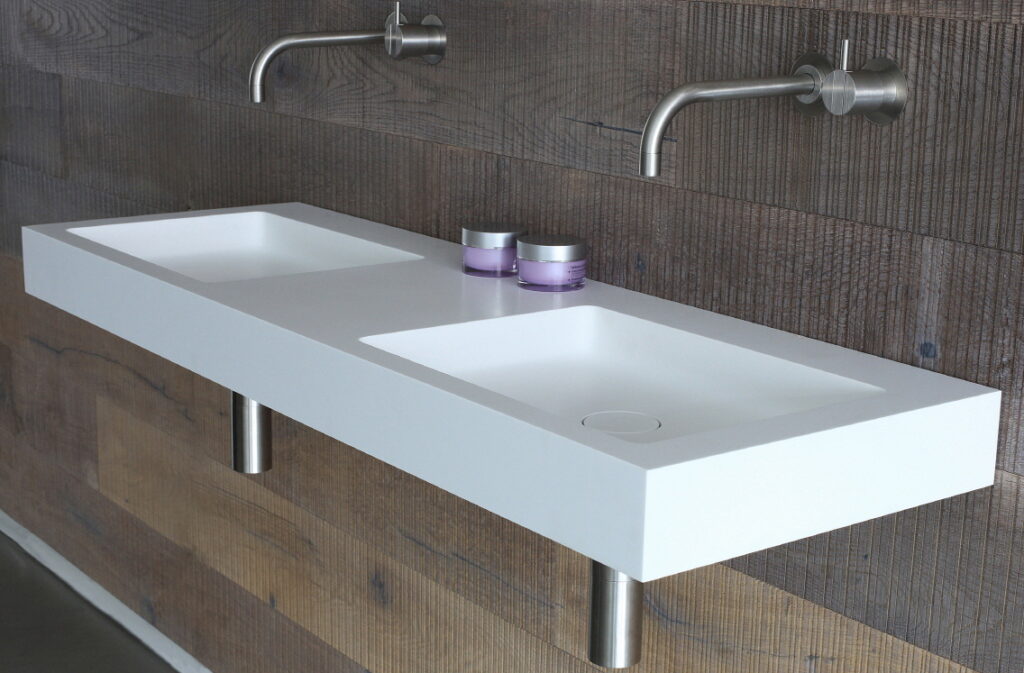 NotOnlyWhite now includes three new series, Air, Box and Light which are three quite distinct collections, each with a strong personality and gentle, fluid geometrical forms. The design of Air stems from the purity of the HIMACS Alpine White basin and counter, with a profile only 3 centimeters thick. The smooth, soft and durable surface of the New Generation Natural Acrylic Stone is united with warm oak wood in this series.
Find your very own personal oasis of comfort with HIMACS solid surface bathroom designs
Good architecture is the result of a harmonious relationship between form, color and function. Function in particular is determined by the materials used. HIMACS solid surface in the bathroom is an unbeatable combination: thanks to the flush-mounted installation, extremely hygienic units are created, looking as if from a single casting and also easy to clean and maintain.
Check out more on HIMACS vanity top sinks and basins collection as well as our various color and pattern collection to find your very own personal oasis of comfort at your home. If you are a designer, you'll find out various attractive models with numerous options for washrooms, kitchens, hospitals and more.