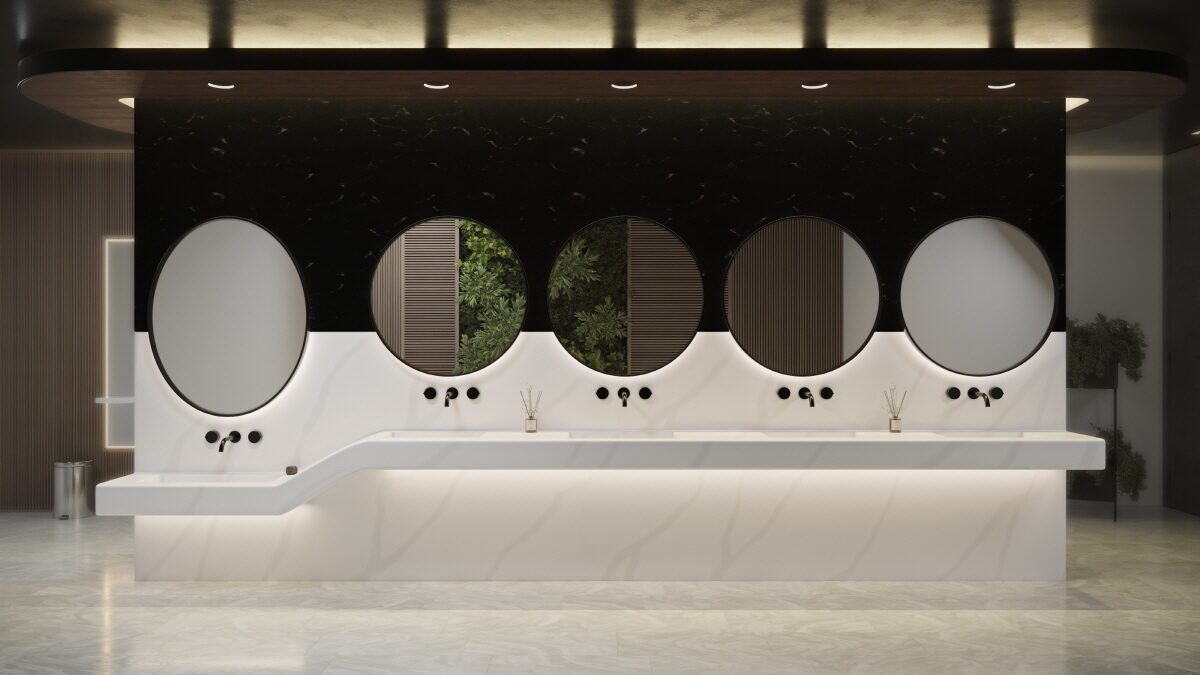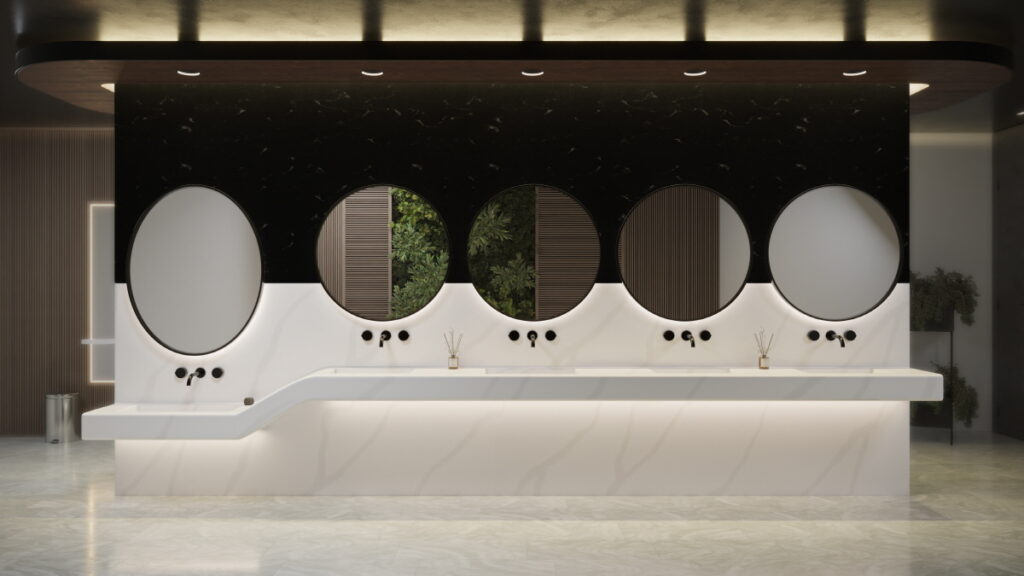 Commercial and residential customers looking for low-maintenance, hygienic countertops with a seamless appearance will want to consider solid surface countertops. This flexible option is available in many patterns and colors and may better suit your needs than other options on the market.
Solid Surface Countertop: Composition
Solid surface countertops are composed of minerals, binding resins and added pigments. The minerals are a bauxite derivative known as aluminum trihydrate (ATH). ATH is a fine, white powder that helps solid surfaces maintain their smooth consistency during the manufacturing process. Most people consider a solid surface a better countertop than laminate because it's made from a solid piece of material and can be repaired.
There are two types of solid surfaces: acrylic-based and polyester-based. Acrylic-based solid surface materials are durable and have a matte appearance. Polyester-based solid surface countertops are usually more affordable but tend to be more brittle than acrylic countertops. They have a glossier appearance and are UV-resistant so they won't fade in the sun. Customers can look at technical specifications to understand whether the product they are looking at purchasing is made using acrylic or polyester.
Pros of Solid Surface
There are many pros to using solid surface countertops in both kitchens and bathrooms.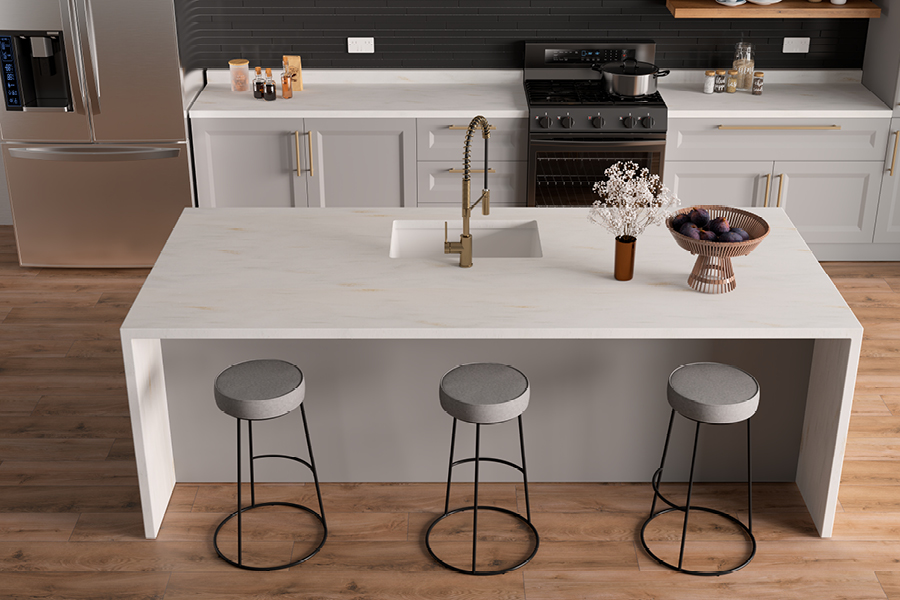 Available in many colors and patterns, these countertops are easy to clean and maintenance free. Since they are molded to fit perfectly, there are no seams or joints to seal. In addition, they are easy to care for and only need to be wiped down with soap and water or another mild household cleaner. Furthermore, these countertops are non-porous, so they resist stains and food-borne bacteria.
Solid surface countertops are also impact-resistant, holding up to daily usage in a busy kitchen or bathroom setting. If something should damage the countertops, solids surfaces are restorable and can be easily sanded and repaired by an expert.
Cons of Solid Surface
Solid surface countertops are not heat resistant and can easily get discolored or cracked if you sit a hot pan down on them directly. They are also more susceptible to scratches, so cutting directly on them will likely damage the finish. In addition, if they are exposed to harsh chemicals like nail polish remover, paint thinner or oven cleaner, they can be damaged.
While solid surface countertops aren't as durable and heat resistant as some other countertops, but slight damage and burns can be repaired fairly easily.
Solid Surface Countertops vs. Other Countertops
As mentioned, solid surface countertops aren't quite as durable and heat resistant as granite, marble or solid stone versions. However, those popular countertop options are usually more expensive and require routine maintenance. Stone countertops are also more expensive and porous, meaning they're less hygienic compared to solid surface counters. And speaking of expensive, those stainless steel countertops featured in restaurant kitchens are generally not cost-effective or practical anywhere else.
Laminate surfaces are generally plastic glued into particleboard, which means they are very susceptible to chipping and far less durable than solid surfaces. Laminate can quickly show wear and damage with heavy daily usage and must be replaced more often than solid surface counters.
Wood counters are porous, making them hard to sanitize and keep clean. Wood is also softer than stone, so these countertops will be more prone to damage and stains. Wood countertops need also need to be refinished from time-to- time.
Finally, ceramic tile requires many grouted seams, making food preparation more difficult and the surface harder to keep clean. Solid surface, on the other hand, provides a smooth, sanitary surface and does not require resealing or other expensive and time-consuming maintenance.
Is Solid Surface Best for Countertops?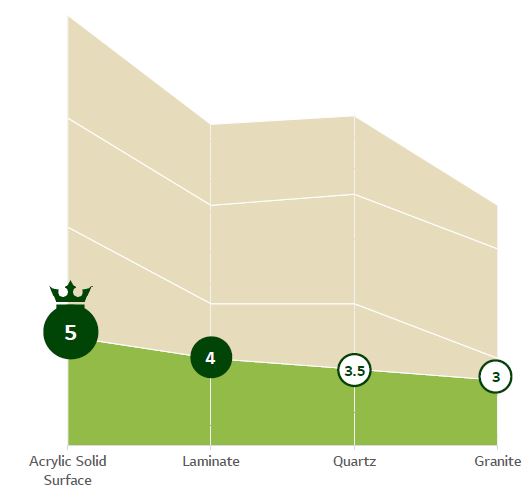 Solid surface should be at the top of your list if you're looking for contemporary, high-quality countertops. It's the best option to achieve a seamless, jointless appearance. Solid surface countertops can also be thermoformed into curvy, flowing shapes, something you can't do with most other materials. Solid surface options can also mimic the look of stone, wood, concrete and other materials. It's an ideal option for those who want to create a virtually seamless, high-functioning design.
HIMACS Solid Surface Collection
HIMACS solid surface materials from LX Hausys offer everything you want in a solid surface countertop. With 12 collections in various colors, there's something to meet everyone's taste and preference.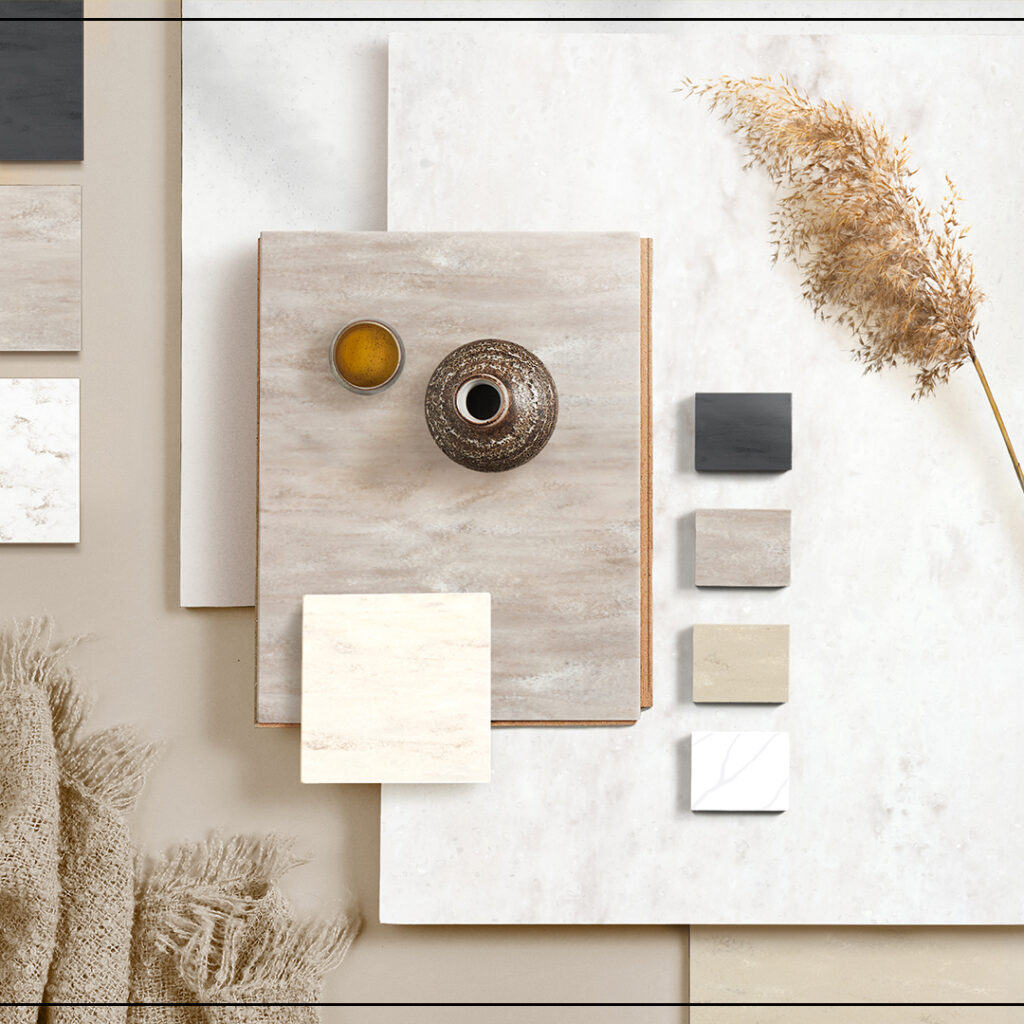 The Aster Collection offers elegant shades of gray, ranging from almost white to a dramatic dark gray, all with a gorgeous mother-of-pearl shimmer.
The Aurora Collection adds a sense of music and rhythm to any space with a balance of hues and patterns to complement modern designs, including trendy nuances and classic aesthetics.
HIMACS' Concrete Collection combines the rough texture of raw concrete with the smooth finish of HIMACS, providing modern extravagance with a nod to the industrial era.
Eden Plus is a great solid surface collection for projects that prioritize sustainability.
The Eden Plus collection features up to 10% SCS-certified pre-consumer recycled content, making it one of the most environmentally conscious solid surface products on the market.
For those looking for classic elegance, the Classic Collection by HIMACS offers 66 products with lively textures, harmoniously natural tones, and maximum subtleness, including several options that look like granite and incorporate recycled content.
No matter what look you're trying to achieve, there's a HIMACS product to match. Other collections include the Marmo and Calacatta Collections, which provide the luxury appeal of marble, and the Terrazzo collection, featuring a vibrant concrete base as a canvas for terrazzo-type designs. There's even a Wood Collection to add the timeless look of wood to your interiors. You may also want to consider the Strato, Volcanics and Pietra collections. You can see them all here.
Contact Us
Let's talk about your next project. Please fill out the form below and we will contact you promptly. Replies will be sent to the email address you provide.