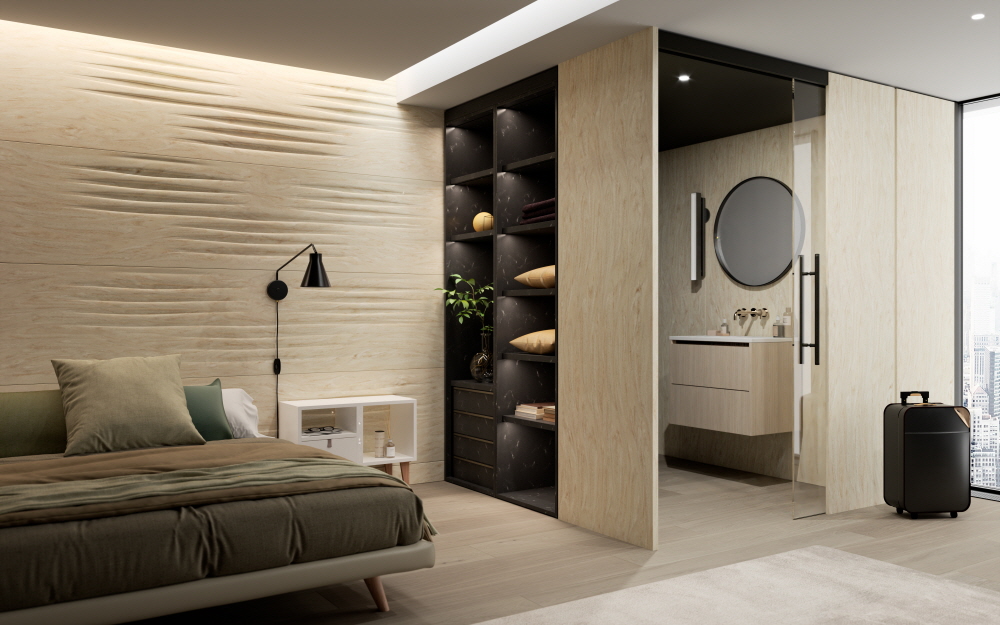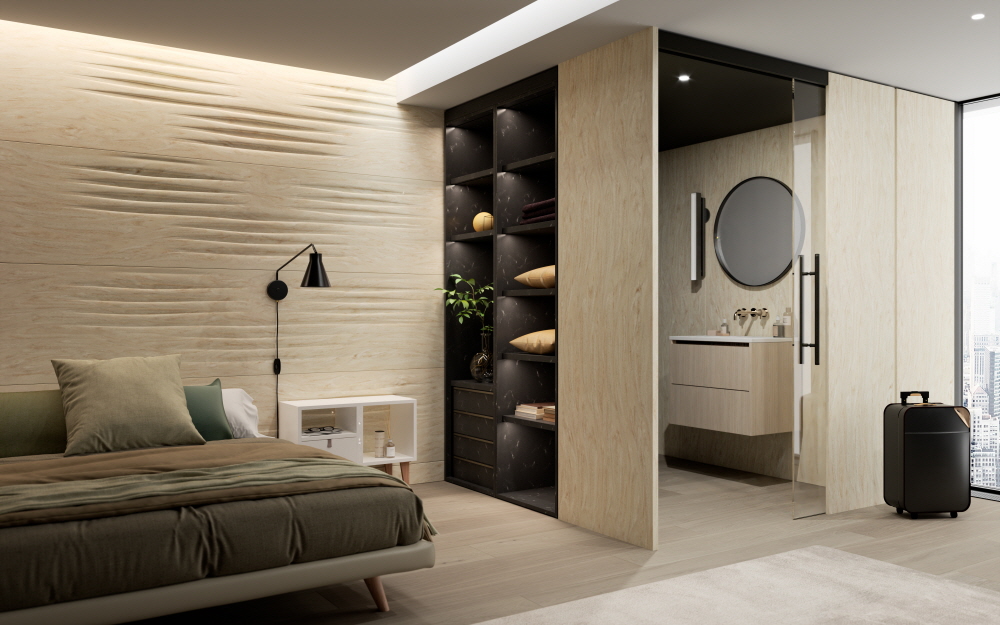 Solid surface is an ideal material for commercial design projects. The material can be thermoformed into various shapes and installed as countertops, worktops, bartops, wall claddings, sculptural focal points and more. Solid surface is often used in commercial restrooms, hospitals, retail spaces, stadiums, museums, offices, and other public and private spaces. In addition to being a fantastic choice for interiors, designers and architects also use the material to create stunning exterior surfaces, including outdoor kitchens and bars, benches, signs and entryways.
In many parts of the world, solid surface has also become a popular choice for home interiors, adorning residential kitchens and baths with a modern design that's durable, hygienic and easy to clean. So, what exactly is solid surface, and is it the right material for you? Let's explore the ins and outs, including solid surface pros and cons and how it can enhance your design project.
What is solid surface?
Solid surface is a non-porous surface material offering plenty of design and performance advantages. Solid surface is a sheet-good material that can be cut, shaped and fabricated by a professional fabricator using techniques similar to woodworking. The sheets can also be thermoformed (heated and bent) into various shapes. This makes the material an excellent option for sinks, countertops, shower pans, wall dividers, workstations, backsplashes, bathtubs and numerous other designs.
Manufacturers create solid surface products by combining acrylic, polyester, or a combination of the two with mineral particles (typically alumina trihydrate), bonding resins and various pigments. The mixture is heated, cured, cut and sanded into different slab sizes. The result is a solid surface, hence the name, that's non-porous and can be installed to create durable surfaces. A coating makes the product hygienic and resistant to moisture, bacteria, stains, and other elements.
Acrylic-based solid surface
If you want to create a seamless look for your countertop area, then acrylic-based solid surfaces are a great choice. Acrylic-based solid surface is much easier to handle and fabricate than the polyester-based version. It can be heated and curved into numerous shapes to create seamless surfaces.
Solid surface materials made from acrylic are more expensive than polyester ones, but they have several benefits. In addition to their strength and thermoforming capabilities, acrylic-based countertops are less susceptible to UV light and fading and more water-resistant and impact resistant.
Polyester-based solid surface
Polyester-based solid surface products have a slightly different appearance compared to acrylic, offering more visual depth. For those that like glossy countertops, polyester solid surfaces can be sanded and polished to a very high gloss. Polyester-based solid surface counters offer more resistance to harsh chemicals than acrylic-based solid surface materials. They're also less expensive; however, that affordability comes with a few disadvantages.
Unlike acrylic-based solid surface counters, polyester-based options are brittle and may crack or break during shipping and fabrication. The seams are more transparent and the material can't be thermoformed into curves or unique shapes. Due to these factors, most manufacturers engineer solid surface materials with acrylic bases or use some combination of both polyester and acrylic.
Strengths of Solid Surface
Seamless countertops are hard to come by, solid surface is unique in its ability to create a more cohesive and continuous surface with a seamless appearance. Fabricators can bend, curve and shape acrylic-based solid surface slabs into infinite shapes, making it an ideal choice for modern and commercial designs.
Solid surface is also extremely hygienic. As a non-porous surface, it resists bacteria, stains, moisture and mold. With minimized gaps and seams, you won't have to worry about water or moisture collecting in crevices and leading to bacteria growth. This means you can continue your countertops up the backsplash, do seamless sink integrations, create large waterfall counters or 3-dimensional shapes that are easy to keep clean and sanitized.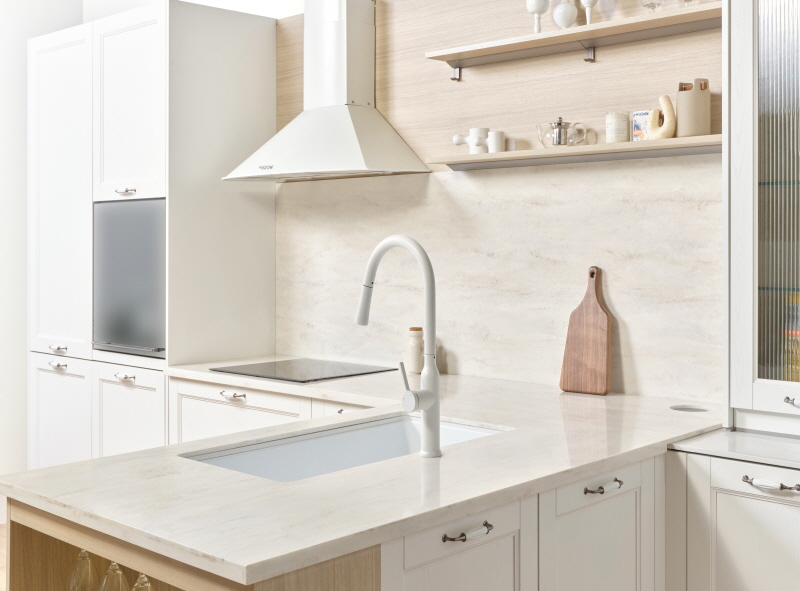 Unlike natural stone countertops, solid surface materials don't require regular sealing, waxing, or special cleaning products. The product is highly durable and resists chipping and cracking. If any damage does occur, a professional fabricator can restore the material to its original, like-new condition. The countertop can be repaired and refreshed even after years of usage in a high-demand environment, such as a hospital, museum or public restroom.
When it is time to replace your solid surface counters, you should know that much of the material is recyclable. Some solid surface products and colors also contain a portion of recycled content and the manufacturing process itself allows for the reuse of off-cuts to minimize manufacturing waste.
From a design perspective, solid surface offers unparalleled variety in color and patterns. You can choose a solid surface countertop reminiscent of concrete, travertine, granite, marble, or solid color materials. Solid surface counters are available in various finishes, including matte and high-gloss. Although most acrylic-based solid surfaces are matte, manufacturers, including LX Hausys and its HIMACS line, have perfected dramatic translucency for acrylic-based products.
To summarize, solid surface is a strong, durable, non-porous and hygienic option. Most solid surface materials are fire-resistant and can be repaired by professional solid surface fabricators. It's also less expensive than other durable countertops, including concrete, granite, quartz and marble. This hygienic, non-porous material also offers numerous design options from both a shaping and aesthetic perspective.
Weakness of Solid surface
The main drawback to solid surface is that it's softer than quartz or natural stone. It can scratch, and is susceptible to heat damage, so you'll need to use trivents, cutting boards or other barriers to protect the countertop from heat or scratches. Harsh chemicals, such as nail polish removers, paint thinners, and oven cleaners can also damage solid surfaces.
Who Should Choose Solid Surface?
Solid surface should be at the top of your list if you're looking for a seamless option. You can also find colors and patterns that are more affordable than natural stone. Solid surface is also great for both residential and commercial applications and can be used outdoors. It's far less maintenance than stone countertops and comes in a variety of patterns of colors. Acrylic-based forms can also be shaped and formed into continuous surfaces. Overall the material is durable, hygienic and a good option for active family areas and public places, which see a lot of traffic, wear and tear.
HIMACS Solid Surface Collections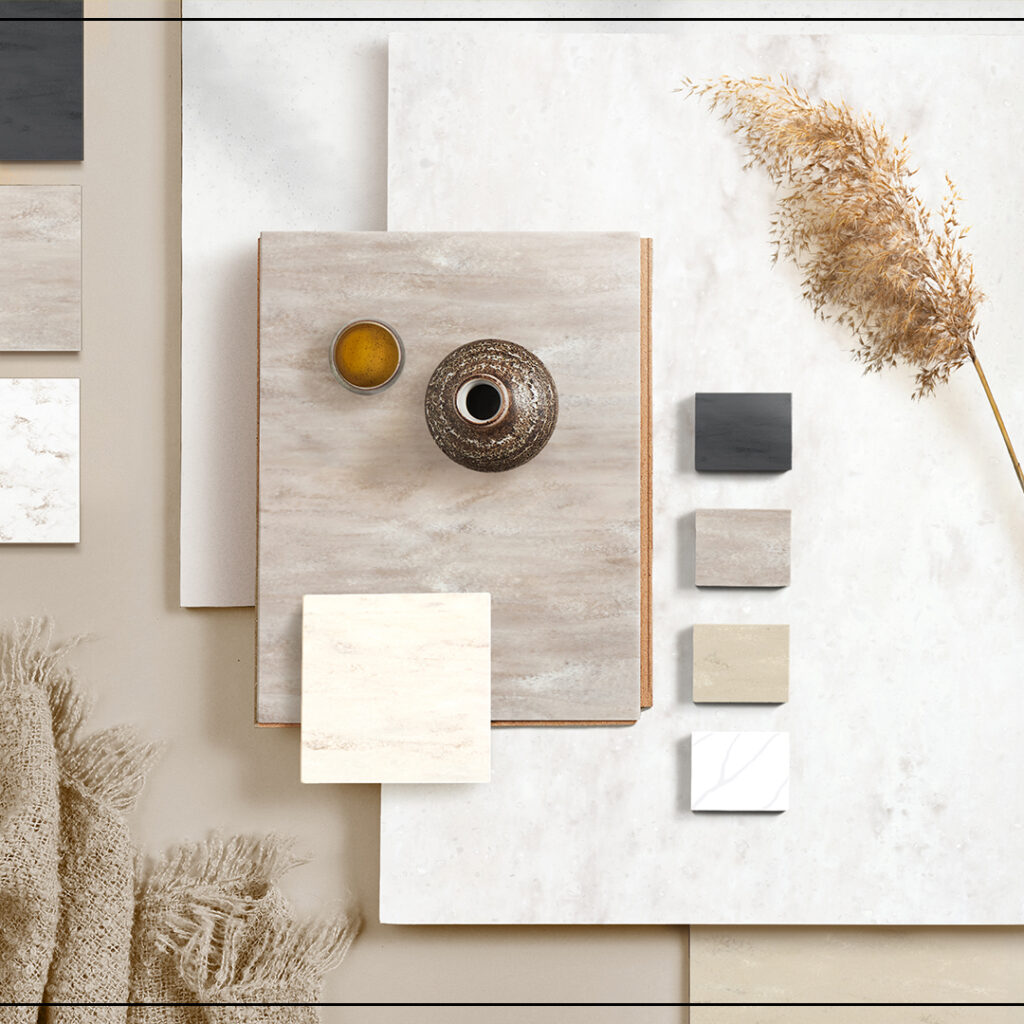 If you're considering a solid surface countertop, we can help. HIMACS by LX Hausys offers an advanced fabrication technology called Thermal Cure. The Thermal Cure process sets HIMACS apart from other materials by producing a stronger compound where structural defects are perfectly evened out. The enhanced structure improves the quality and performance of the solid surface material.
While choosing a countertop depends on your overall design and personal preferences, HIMACS includes a wide variety of solid surface styles, colors and patterns available. Color options include beige, gray, white, black , brown and other colors. Styles include visuals that mimic concrete, terrazzo, concrete wood and other natural materials. With 12 collections and hundreds of options to choose from, you'll be sure to find what you're looking for in one of these collections. If you're looking for eco-friendly designs, try our Eden Plus collection featuring 10% SCS certified pre-consumer recycled content, making it one of the most environmentally conscious solid surface products available.
Contact Us
If you're looking for assistance with your next design project, the LX Hausys team is happy to help. Whether you need help with a residential or commercial project, our experts can help you find the ideal HIMACS solid surface product.
If you're a homeowner needing assistance, we're happy to help. Fill out a brief form and Contact us today; someone will reply to you promptly. If you're a designer or trade professional looking for samples, products, or information, our experts can assist; contact us now.