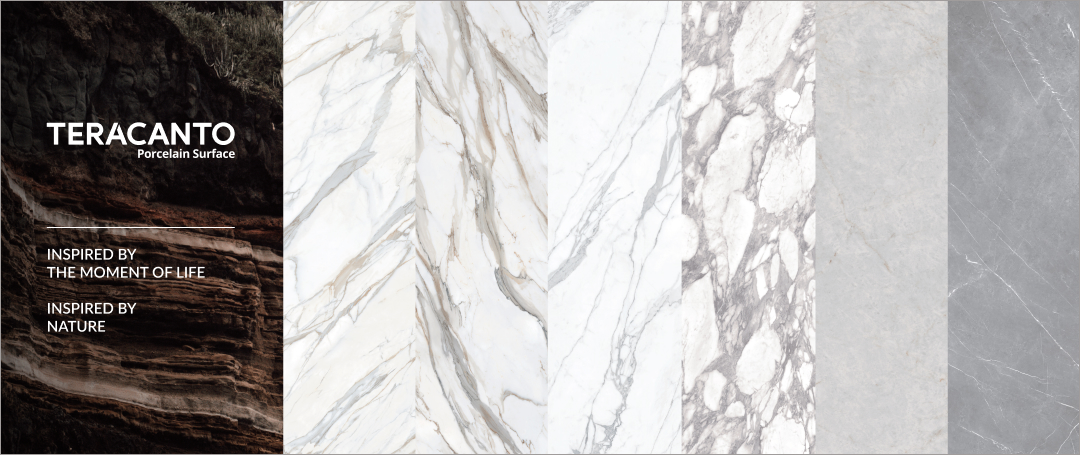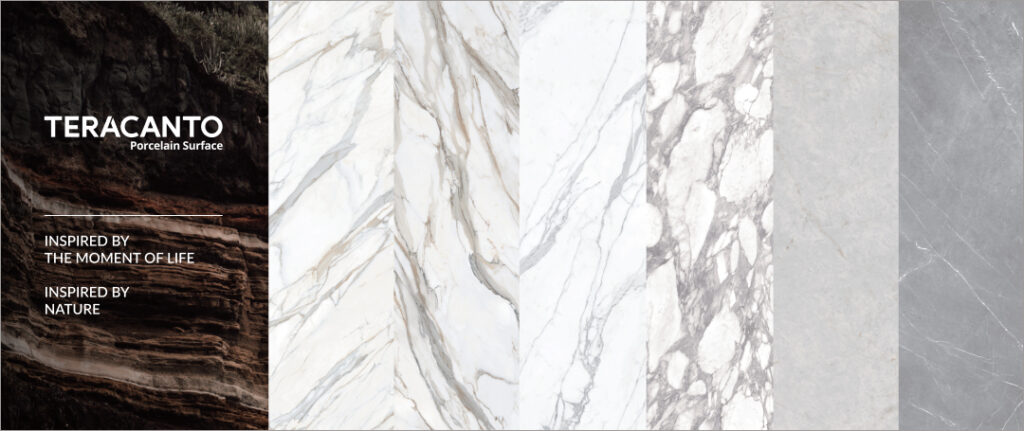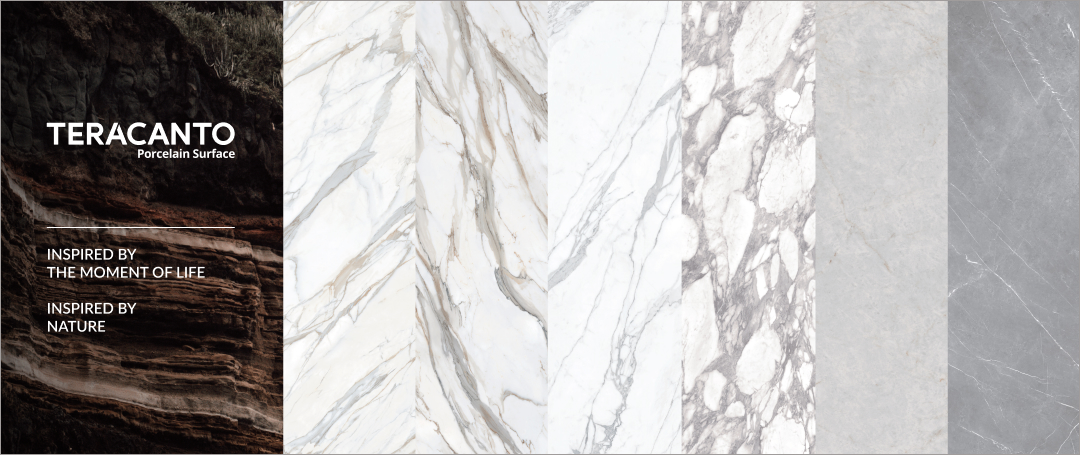 What is Porcelain?
Porcelain countertops are created from clay and fired in a kiln at extreme temperatures, giving it an advantage in heat resilience. Porcelain comes in an assortment of colors and patterns and is simple to clean and maintain. This durable, dense, lightweight surface repels moisture absorption and routine sealing is not required. A glaze, however, is advised to reduce permeability and boost durability.
TERACANTO – Experience the music of the Earth
Inspired by the Earth's magnificent natural beauty and the transcendent sounds of harmonious music, TERACANTO Porcelain Surface redefines high-end design. Luxurious looks, organic Earth-based ingredients, and versatile applications make TERACANTO ideal for premium residential and commercial environments.
Its 600 dpi high-resolution visuals and UV resistance means TERACANTO will look great indoors or outdoors. Made in Italy from natural raw materials, TERACANTO offers strength and durability in an ultra-compact, lightweight material. Transform your indoor and outdoor spaces into places of distinction with TERACANTO.
WHY TERACANTO?
· Made with Natural Ingredients from the Earth
TERACANTO is a Porcelain Surface manufactured in Italy using the highest quality of 100% natural raw materials and minerals from all across Europe, which do not release micro particles.
Feldspar (35%)

Quartz (15%)

Clay (25%)

Kaoline (25%)

The raw material certified quarries are carefully selected to maintain quality control to provide slabs with timeless designs. The manufacturing process is meticulously controlled and monitored as it is produced with the Italian Sacmi machines.
· TERACANTO Slab Dimension
| | | |
| --- | --- | --- |
| Thickness | Width | Height |
| 1.2 CM, 2.0 CM | 1,620mm (63 inch) | 3,240mm (126 inch) |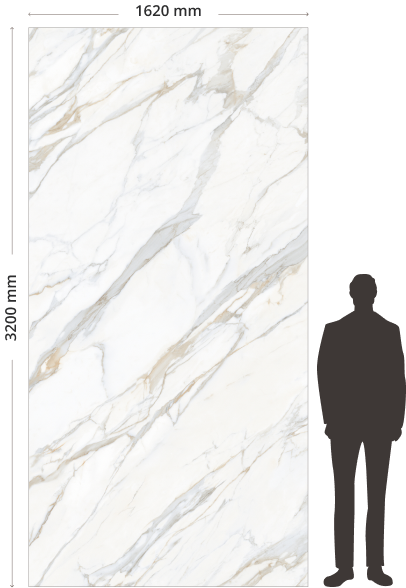 · Bookmatch Colors
TERACANTO's versatility makes it an ideal solution for horizontal or vertical applications for either indoor and outdoor design projects. Applications can range from countertops and showers to statement walls, exterior cladding and more. Following TERACANTO colors can be bookmatched to offer even greater visual design interest:
Calacatta Gold (1.2 cm)

Calacatta Extreme

Statuario Bianco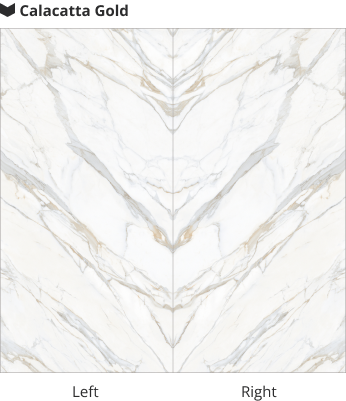 · Thru Vein Technology
TERACANTO Calacatta Gold 2 cm is offered with Thru Vein Technology. This is the newest thru body technology with a clear definition of the veins moving through the entire full size slab. This new technology is an innovation in the industry and will make the slabs look more natural.

· Surface Finish
TERACANTO colors are available with different finishes to fullfill a wider range of aesthetics.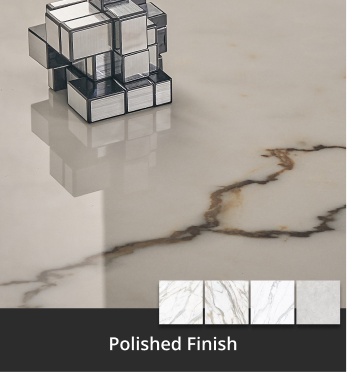 · POLISHED FINISH:
The Polished Finish is obtained through a progressive mechanical grinding process that uses micro-abrasive materials with decreasing granularity to create a perfectly reflective surface. The Polished Surface is recommended for cladding applications, countertops, and for the production of various types of furnishing elements. The special polishing process makes the surface highly reflective. The removal of part of the material accentuates the surface microporosity, making the product more susceptible to staining. All of the Polished Surfaces require the use of non-abrasive tools during the cleaning phase in order to prevent the finished surface from scratching and from taking on a more matte appearance.
· SATIN FINISH:
The Satin Finish is the perfect synthesis between aesthetics and functionality. The surface is perfectly smooth and soft to the touch, with a controlled and homogeneous opacity that enhances the graphic development of the slabs. The complete absence of structure maximizes cleaning capacity and daily maintenance. The slabs are recommended for cladding applications and for decor finishes, but not for floor applications.
· MATTE FINISH:
The Matte Finish is characterized by a light surface structure that enhances stone finishes and allows for obtaining a friction coefficient suitable for floor applications. The structure of the slab remains soft and easy to clean. Its transversal nature makes it suitable for a wide range of applications.

· Features and Benefits
Featuring superior strength and durability, TERACANTO is an ultra-compact, lightweight material that is non-porous and safe for food contact. Easy to maintain, it is resistant to heat, scratches and chemical absorption. Due to its organic composition, TERACANTO, unlike other surface products, is completely UV resistant; its colors will not fade or become altered by the sun, atmospheric agents or smog.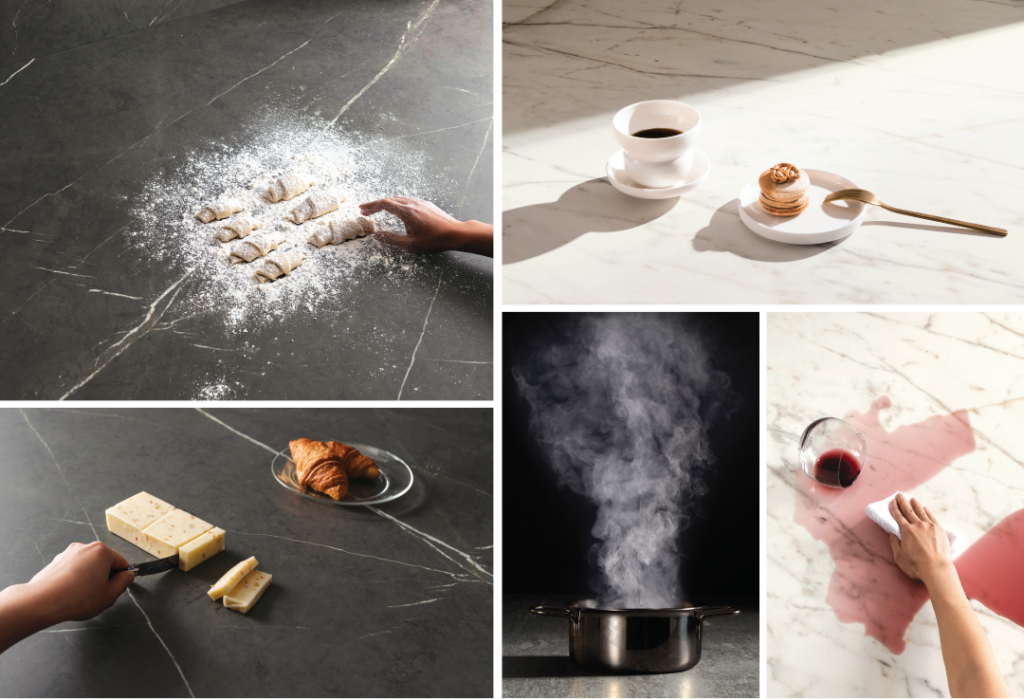 UV Resistant
Porcelain surfaces offer a unique advantage in that they are UV resistant. This means that they are resistant to sun damage, making them an ideal choice for outdoor areas that are exposed to direct sunlight.

Hygienic & Non-porous
TERACANTO is non-porous without crevices or surface irregularities where harmful bacteria and mold may reside. Unlike other surfaces, it does not require a regular application of sealants or waxes to maintain hygienic properties.

Non-absorbent Acid Resistant
Non-absorbent acid property of porcelain provides protection against corrosion and chemical spills. It is also resistant to staining and easy to clean and maintain.

Safe For Food Contact
TERACANTO porcelain surfaces are safe for food contact, as they are non-porous, heat resistant, and easy to clean. This makes them ideal choice for kitchen countertops and other food preparation surfaces.

Heat Resistant
Porcelain is a type of ceramic material that is highly resistant to heat. This makes it an ideal material for countertops, as it can withstand high temperatures without getting damaged.

Scratch Resistant
Porcelain is known for being incredibly durable and scratch-resistant. It is made from a mixture of clay and other minerals, and it is fired at a higher temperature than other ceramics to make it even more resistant to wear and tear.
Colors of TERACANTO – Resembling Organic Look and Feel of Natural Stone
Manufactured in Italy without resins, fillers or additives and made with 100% natural ingredients, TERACANTO's six colors are Calacatta Gold, Calacatta Extreme, Statuario Bianco, Arabescato Royale, Cristallo and Pietra Gray. Each color expertly resembles the organic look and feel of natural stone.
· Calacatta Gold
Perfectly balanced veins of rich gold and cool gray sweep across a polished white base, creating a refined, alluring and classic aesthetic. Featuring the sophistication of Calacatta marble in lightweight porcelain, Calacatta Gold is the perfect accompaniment for luxurious indoor and outdoor applications.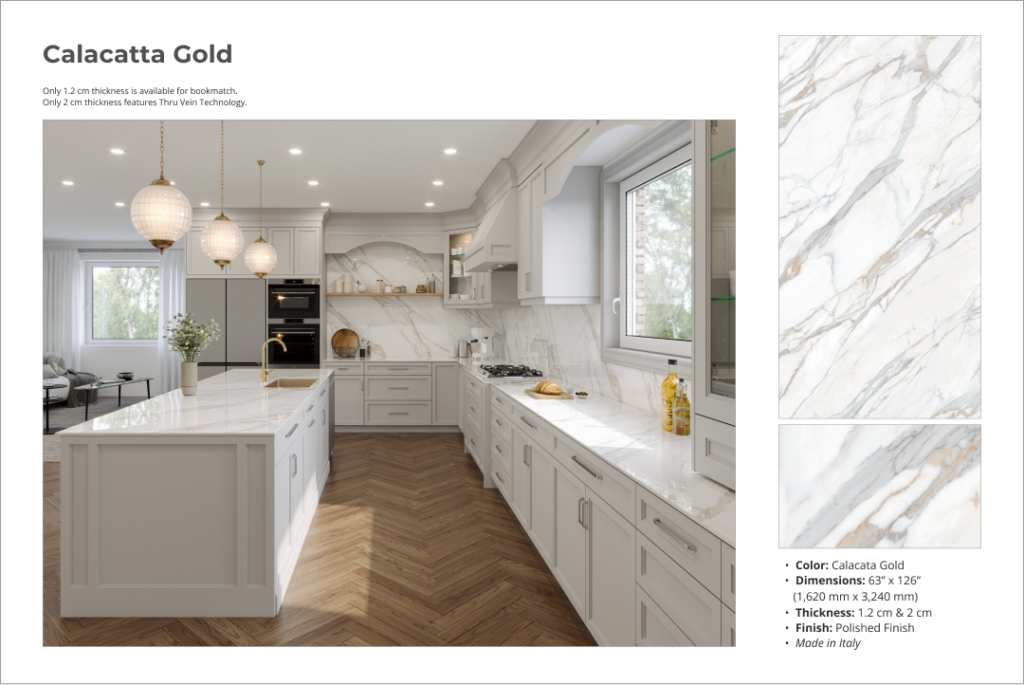 · Calacatta Extreme
Make a statement with Calacatta Extreme's expressive gold and gray veining. Generous displays of thick, bold lines expand across a polished white background, adding a sense of movement and drama ideal for feature walls and vivid environments that are both inviting and memorable.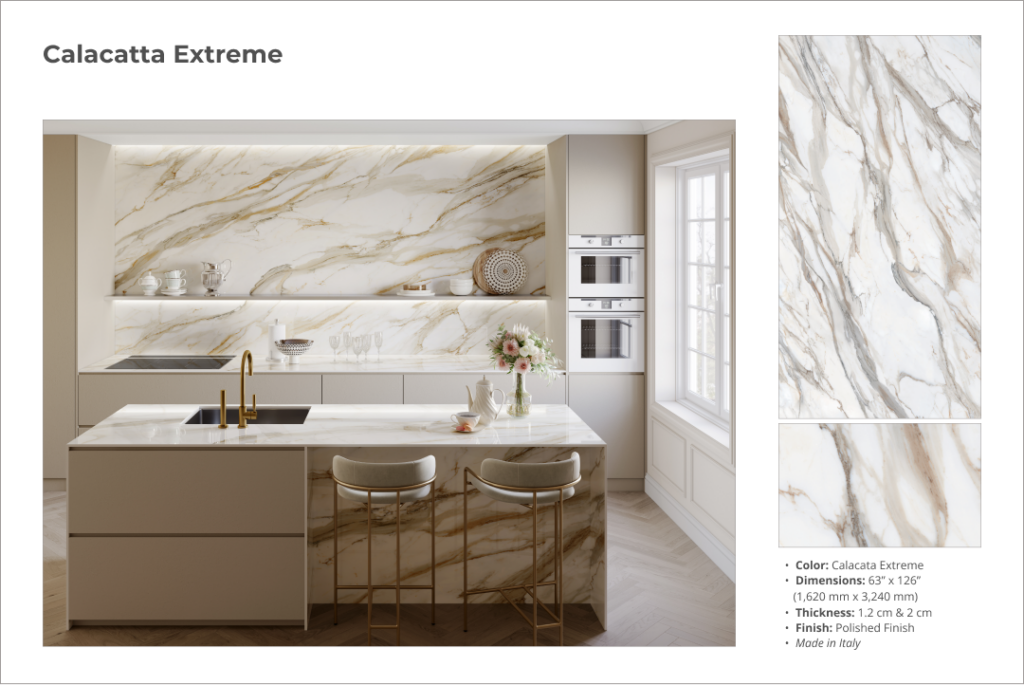 · Statuario Bianco
Taking inspiration from the rare and highly coveted Statuario marble, Statuario Bianco offers quintessential and timeless elegance. Its subtle gray veining strikes the perfect note against the polished white background. Understated yet captivati ng, Statuario Bianco enhances design styles ranging from traditional and modern to art deco and more.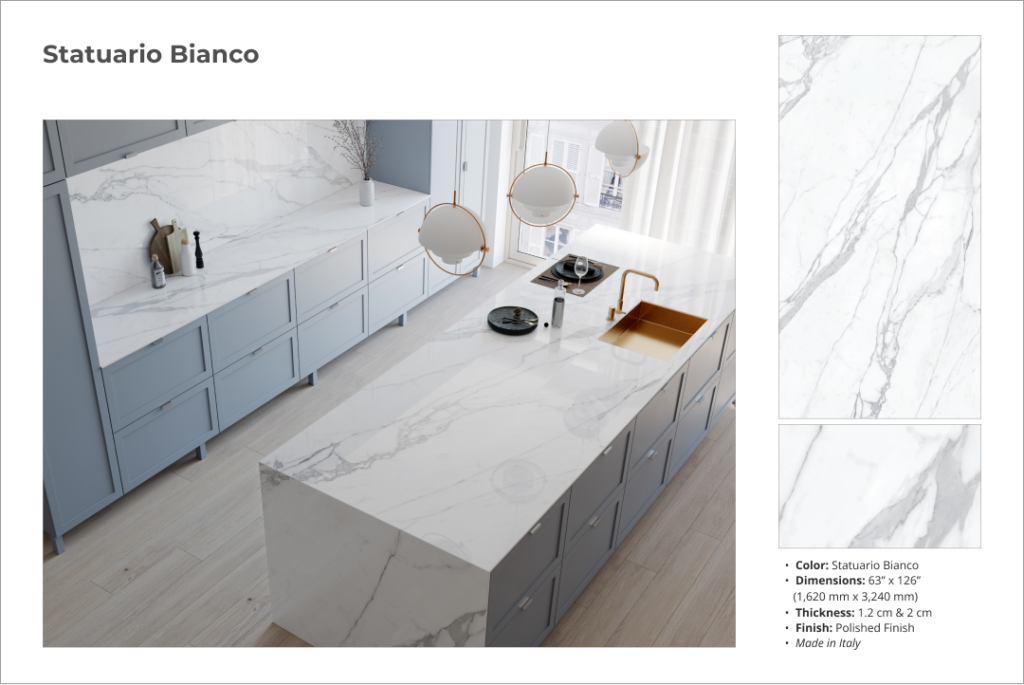 · Arabescato Royale
Achieve the look of urbane sophistication with Arabescato Royale. Swirls of earthy gray and neutral lines merge into large-scale spherical patterns that stand out against a natural white background. With a smooth Satin Finish and uniquely distinctive appearance, Arabescato Royale makes an exquisite statement in vertical applications.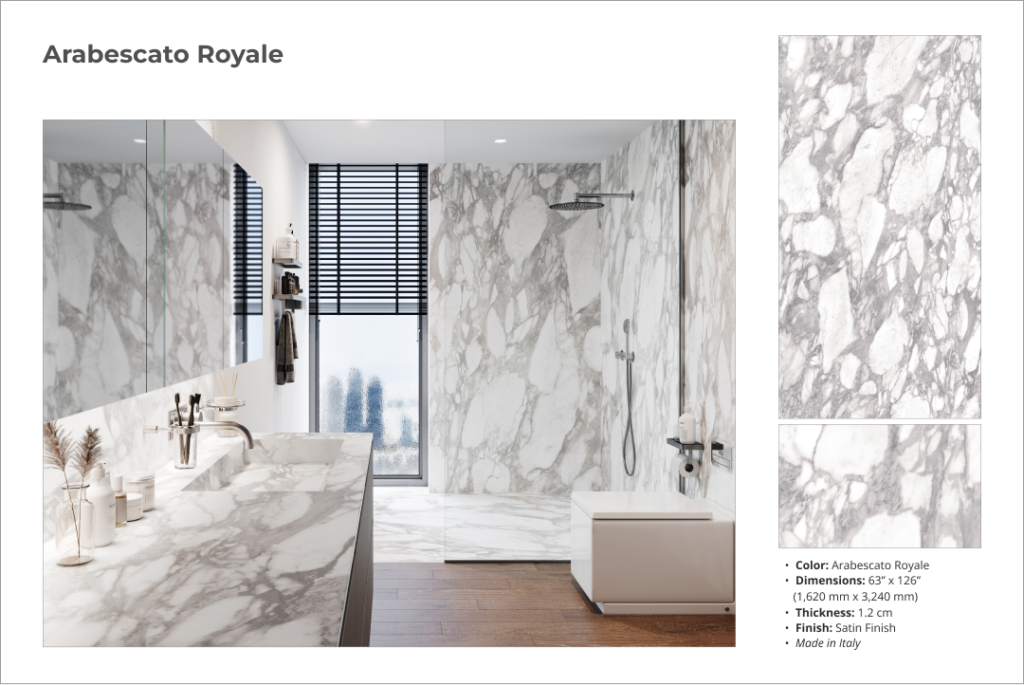 · Cristallo
Cristallo brings a soft, warming glow to interior and exterior spaces. Like rays of sunlight gently peeking through a foggy sky, golden specs and subtle veining appear across a creamy gray background to soothe and uplift the spirit. Cristallo adds a touch of luxury to multiple design styles, including industrial and modern.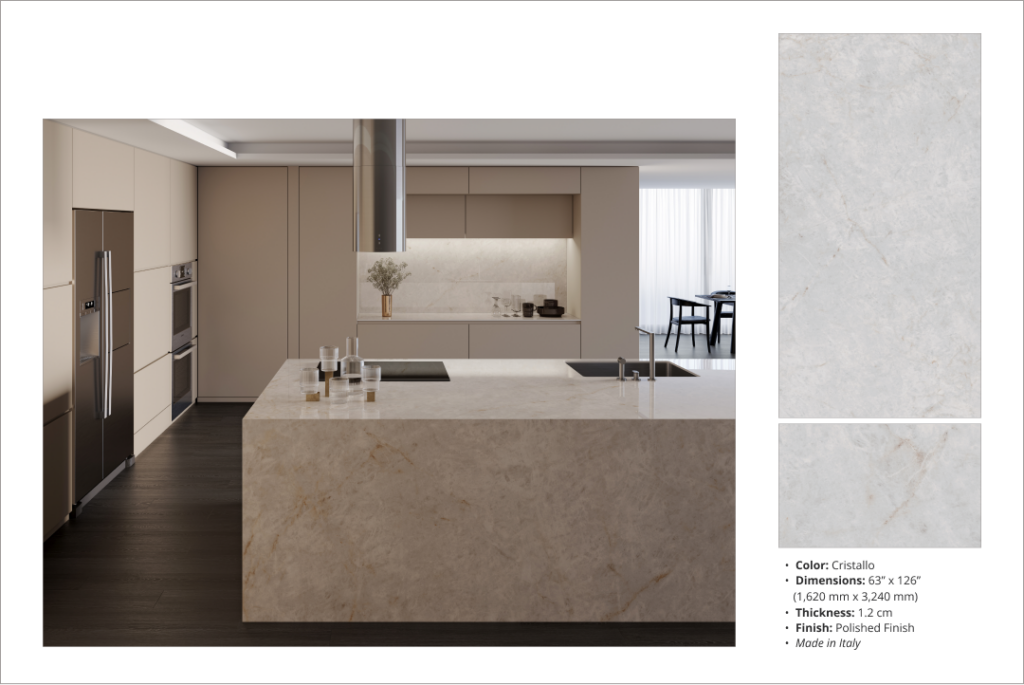 · Pietra Gray
Pietra Gray takes modern sophistication to a new level, starting with the perfect shade of neutral gray and adding just enough delicate and expressive white veining. At once striking and tranquil, with a smooth matte finish and subtle texture, it's the perfect indoor/outdoor surface material for urban, modern and eclectic environments.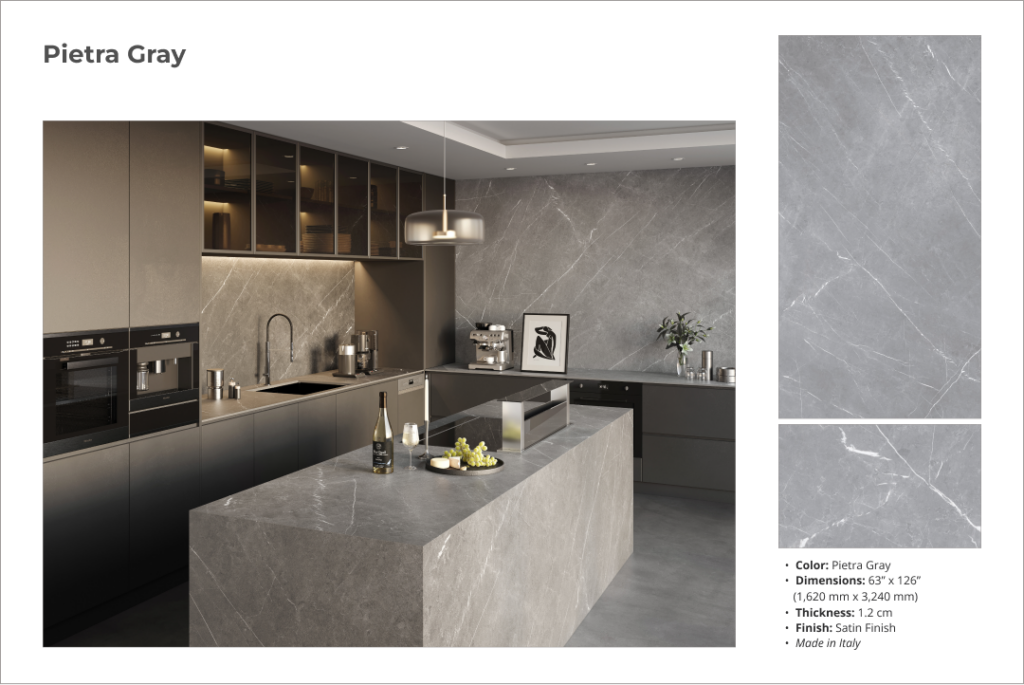 Contact Us
If you're a homeowner needing assistance or a cost estimate, we're happy to help. Contact us today; someone will reply to you promptly. If you are a designer or trade professional looking for samples, products, or information, our experts can assist; contact us now.