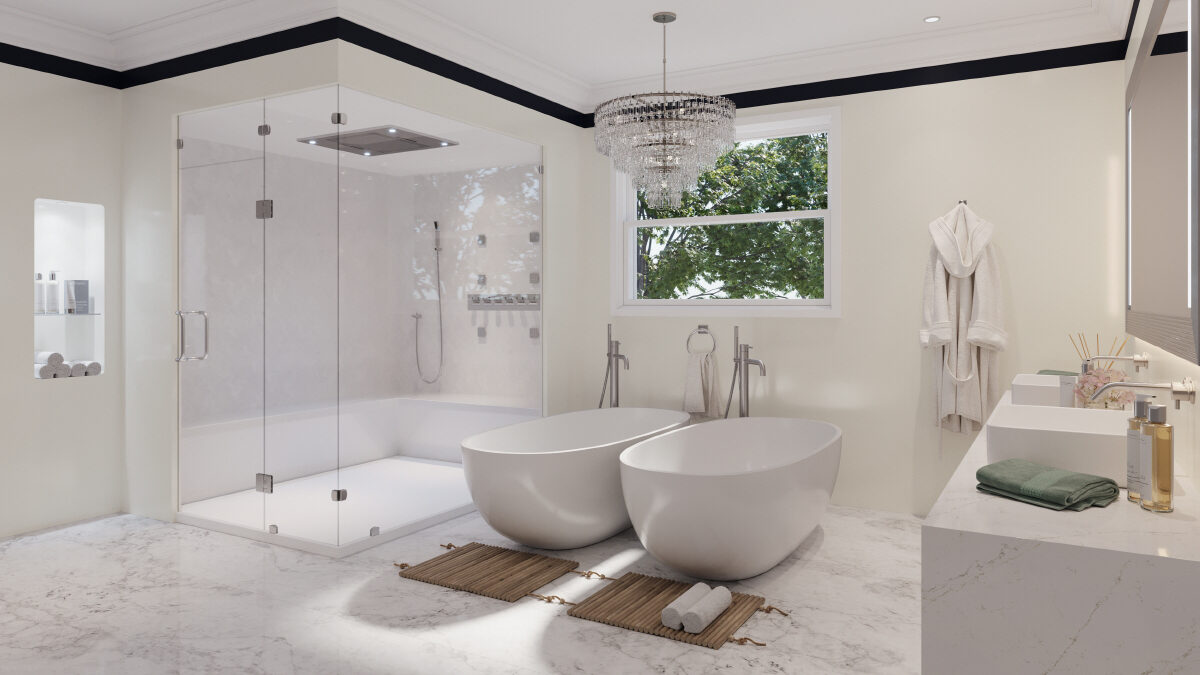 Countertops are a popular way to update and customize a bathroom space, whether residential or commercial. The countertop options are nearly endless, and with so many materials, patterns, and colors available, you may need guidance to know where to begin your purchasing. This article will look at several countertop materials, including granite, laminate, solid surface, porcelain, and quartz.
You can design a truly unique space when you know which material to choose. Whether you're looking to create your own personal, spa-like retreat or need to create a public restroom that prioritizes hygiene, this article will introduce bathroom countertop materials and their pros and cons.
How to Choose a Bathroom Countertop
With so many choices, narrowing down what material to use for your bathroom countertop can be difficult. This blog will review the pros and cons of several countertop options. But there are also broader themes you'll want to remember when making your final choice.
For instance, sanitation is the most critical factor in bathroom design, so the product you select should be easy to clean and stand up to different cleaning agents. Also, you'll want to know how much maintenance is required, such as whether they will need to be resealed once a year.
A bathroom space also needs durable countertops that can withstand everyday wear and tear – whether that's spilling nail polish, heating a curling iron, or dropping a ceramic cup. And, of course, you'll want to consider the budget.
Granite Bathroom Countertops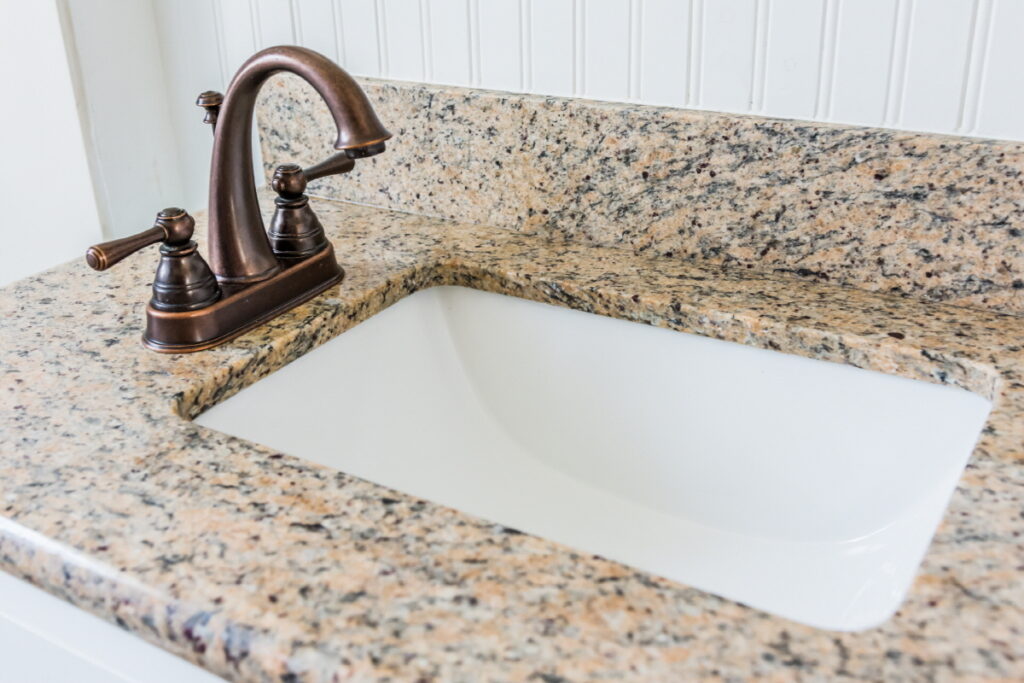 Granite is hard and resilient, making it a popular choice for bathrooms worldwide. Its pros include its resistance to chipping, cracking, heat, scratches, and chemicals, which makes granite easy to clean, maintaining its natural beauty.
Many homeowners and interior designers love the organic natural appearance of granite. Granite comes in various patterns and colors, some with intricate veining and others with hints of sparkling chip-like designs. However, some slabs may have natural flaws that may not be detected initially or in the sample slab; these flaws may cause problems late. Granite has to be resealed regularly, as often as every three months, to maintain its appearance and stain resistance. If you choose granite, you'll have to adhere to a strict maintenance plan.
Laminate Bathroom Countertops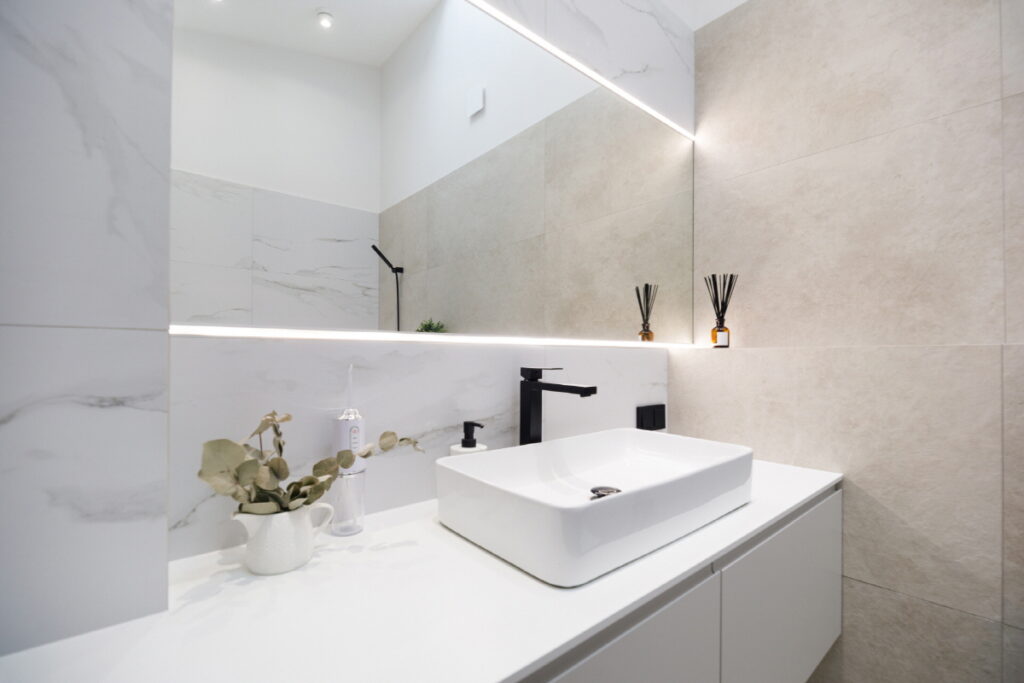 Laminate is affordable for anyone looking to design or redecorate their bathroom and is also DIY-friendly. Laminate countertops are water-proof and much more damage-resistant than their previous iterations in the mid-20th century when their popularity skyrocketed. It's also available in a wide range of colors and finishes.
The main drawbacks of laminate are it is easy to burn, dull, and dent, which could make maintenance a hassle. However, with a lower price point, it's a good option for those who plan to redo their bathroom or replace countertops more frequently.
Solid Surface Bathroom Countertops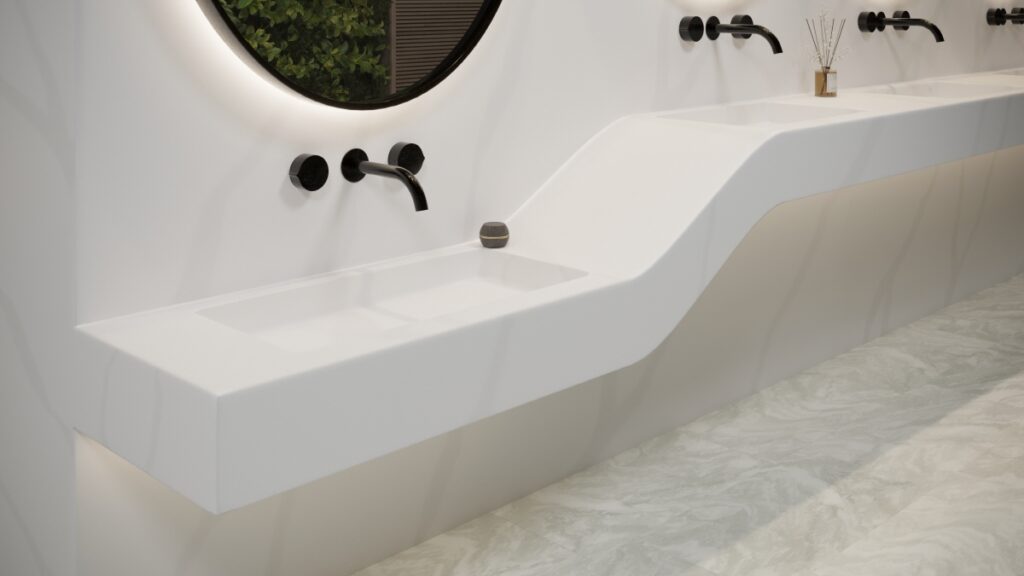 Solid surfaces are incredibly durable and low maintenance. Easy to refurbish, scratches can easily be buffed out by experienced DIYers or professionals. These surfaces can also handle high heat. Another huge advantage is that they're non-porous, meaning you won't have to worry about stains or bacteria. In addition, solid surface countertops are super low maintenance and do not require resealing or routine maintenance. Solid surfaces are installed seamlessly, which means you never need to worry about dirt or grime getting caught in the cracks.
Solid surface bathroom countertops look like laminate, so the style may not be exactly what you're looking for in your commercial or residential design. And while they are easy to refurbish, they are also easy to scratch.
Porcelain Bathroom Countertops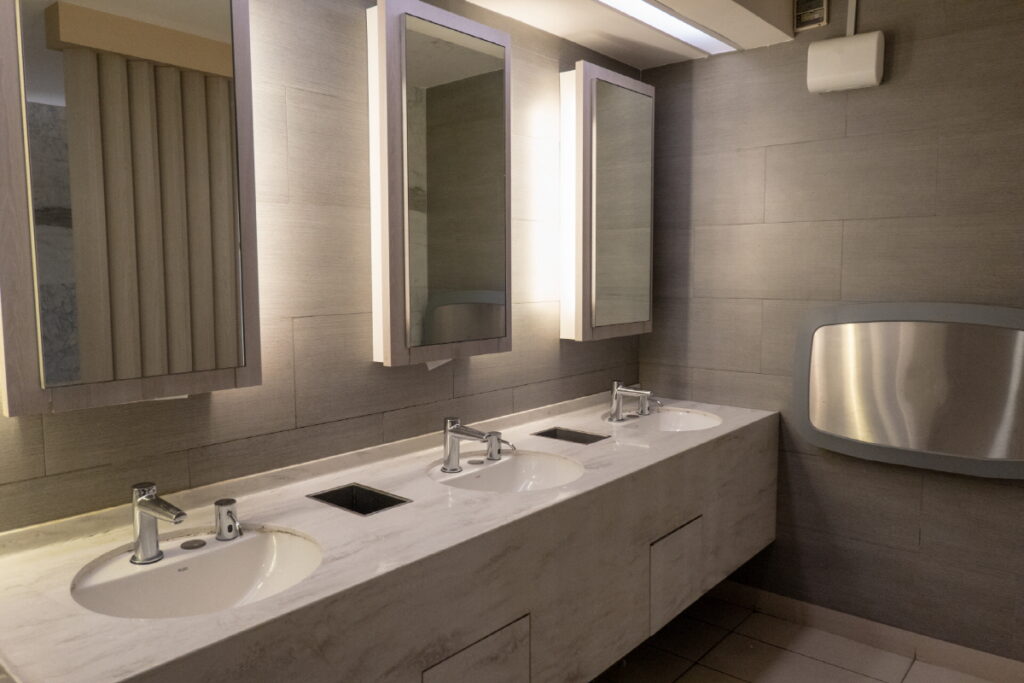 Porcelain is often used on both floors and countertops. An affordable option, and easy for someone who wants to install it themselves, there are many design options available. Some even mimic other natural materials, such as wood.
Although porcelain is dense, it will crack if something is dropped on it and can be a bit brittle or fragile to handle. In addition, the grout can easily stain, requiring more cleaning and resealing maintenance.
Quartz Bathroom Countertops

Quartz is resistant to chipping, scratching, breaking, and staining. In addition, these countertops do not require resealing over time. And, since it's an engineered stone, you won't have any flaws to contend with as you might with other natural materials. Available in many colors and patterns that mimic natural stone, many of these countertops are also sold with sink basins built into them.
As a premium, high-quality countertop material, quartz countertops are more expensive than porcelain, solid surface, or laminate. However, many quartz products are less costly than granite and natural stone. Like granite, quartz must be fabricated and installed by professionals. One of the drawbacks to quartz is that it's less heat resistant than natural stone.
Which Material is Best for Bathroom Countertops?
When deciding on a bathroom countertop, think about durability, stain resistance, ease of cleaning, and matching your decor style. Be mindful of surfaces that easily crack, scratch, or stain.
If budget is a concern, consider the maintenance costs associated with the materials you select. In addition, think about how porous the surface is and how well it will resist bacteria.
Viatera Products: Top Products
Viatera quartz surfaces include 93 percent quartz and offer 15-year limited warranties. Harmful bacteria and mold will not penetrate the non-porous surface, making it safe for daily activities. Viatera withstands everyday wear and tear and offers high resistance to stains, scratches, and chemicals, ensuring long-lasting beauty and durability. Unlike natural stone products, Viatera doesn't require sealants.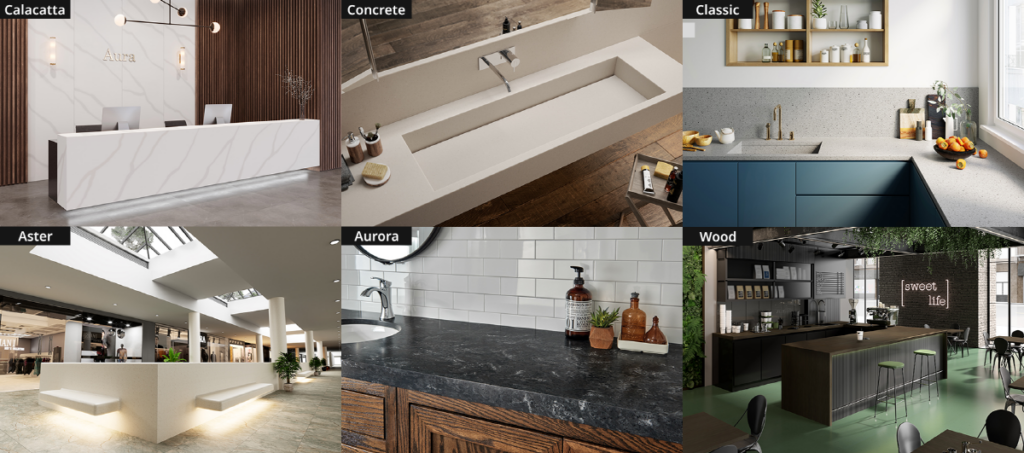 With durability similar to natural stone, HIMACS offers high resistance to stains and chemicals. The non-porous solid surface contains no visible crevices or surface irregularities, thus preventing harmful bacteria or mold from penetrating. HIMACS is easy-to-clean and does not require sealing or special products for maintenance, making it ideal for public restrooms and commercial designs.
The HIMACS' Calacatta Collection offers the same bright, natural white background as Viatera, evoking luxury and opulence in a non-porous, hygienic surface that's easy to care for. The Concrete Collection combines the rough texture of raw concrete with the smooth finish of HIMACS, providing modern extravagance with a nod to the industrial era.
For those looking for classic elegance, the Classic Collection by HIMACS offers 66 products with lively textures, harmoniously natural tones, and maximum subtleness, including several options that look like granite and incorporate recycled content.
The Aster Collection offers elegant shades of gray, while Aurora Collection features a balance of hues and patterns to complement modern designs, including trendy nuances and classic aesthetics. There's even a Wood Collection to add the timeless look of wood to your interiors. You can see them all here.
Contact Us
Let's talk about your next project. Visit our site and complete a brief project form, and one of our countertop experts will contact you by email to ensure you get exactly the right countertop to complement your design.