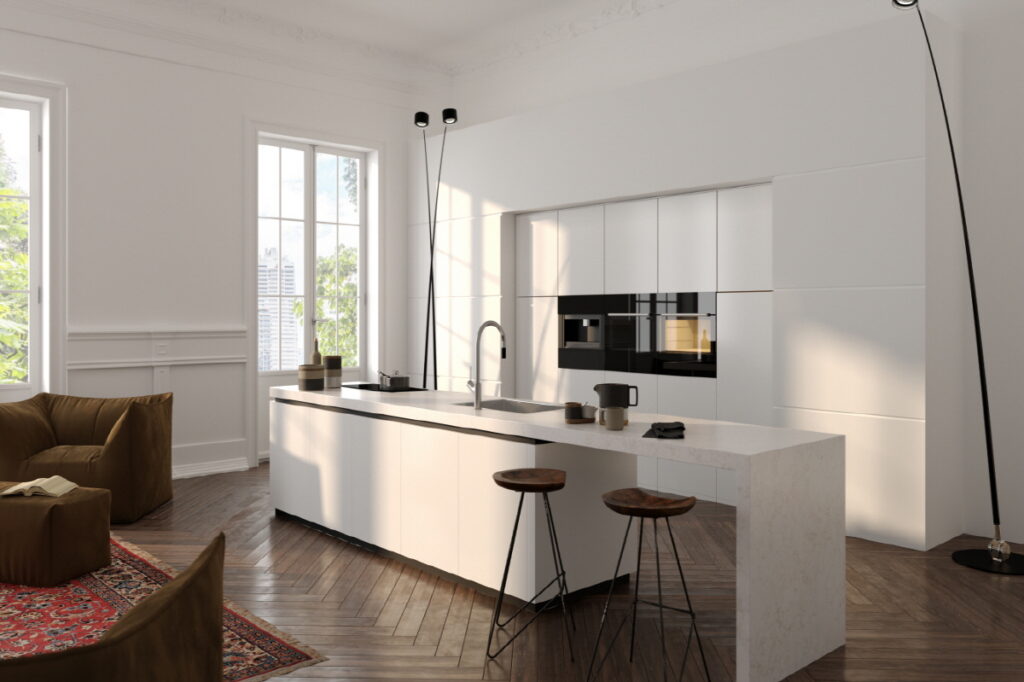 Are you looking for the most heat-resistant material for your kitchen countertops? The one feature you should look for in countertop material—besides durability and looks—is heat resistance. Heat resistance is particularly important if you enjoy cooking at home. Your countertops must handle the heat from scalding pots and pans without damage. Here are the most popular options to consider.
Laminate
Laminate countertops are made with a paper core wedged between sheets of plastic film. It was developed to mimic the look of natural materials like granite, marble, and wood. Unfortunately, though, in terms of heat resistance, there is none. Because it is plastic, temperatures as low as 66 degrees Fahrenheit can cause issues and damage. So if you are looking for heat resistance, look elsewhere. A hot cup of tea can damage laminate.
Solid Surface
Can solid surface countertops endure heat? A little. Solid surface countertops are made from various natural and synthetic materials, using polymer resins. It is more heat resistant than laminate, but the polymer means there is some issue with melting. Typically, a solid surface countertop will sustain temperatures up to 320 Fahrenheit without damage. That may seem high enough, but many pots and pans exceed his temperature. Routinely using pads or trivets can protect solid surface countertops with minimal effort.
Porcelain
When it comes to kitchen countertops, porcelain can withstand heat better than most materials. Porcelain countertops are made from natural ceramic clay and mineral coloring and fired at more than 1,000 degrees Fahrenheit, so after such high fabrication temperatures, one advantage is its heat resistance. Porcelain typically has no problem handling hot pots and pans, even when placed directly on a kitchen countertop.
Quartz
Quartz is very heat resistant. Quartz countertops are made of naturally occurring quartz minerals compressed into durable, nonporous slabs. There are some resins involved in the process, but because the countertop is predominantly quartz, with a minimal amount of resin, quartz countertops are more resistant to heat than solid surface countertops. You may still want to use trivets or pads, as quartz can change color with prolonged exposure to high heat.
Granite
One of the most heat-resistant options for kitchen countertops is granite. This natural stone is formed underground through a natural process incorporating high pressure and temperatures. Typically, the heat generated by cooking will not be high enough to cause damage. Occasionally when a hot pot or pan is placed directly on the granite, it will leave a mark on the countertop, but this will fade as it cools off. However, it's important to note that granite needs to be resealed annually, and the sealant used is less heat resistant than the stone itself. Therefore, high temperatures can affect the sealant, exposing the granite's porous surface and making it more likely to stain.
The Best Resource for High-Performance Countertops
LX Hausys offers high-performance countertops that enhance the look and usability of interiors. It offers Viatera quartz, and HIMACS solid surface. It will also launch a porcelain countertop product in the spring of 2023.
· Viatera Quartz Collections
Viatera by LX Hausys uses only the finest quartz to ensure durable kitchen, bath, and work countertops. Every quartz slab is inspected to meet the highest standards and includes up to 93% natural quartz. Viatera's nonporous quartz surfaces are strong, hygienic, easy to clean and maintain, and relatively heat resistant.
Viatera quartz offers five collections, with varying colors and styles in each.
Calacatta is inspired by Calacatta Marble and offers bright, natural white backgrounds, intricate veining, and elegant patterns.
Masterpiece includes an inspiring palette of stylish hues and unique designs, with on-trend colors and bold and subtle designs.
Musica draws inspiration from natural stone with the perfect symphony of light and dark hues with deep, rich complexity.
Urban boasts concrete-like designs lending edgy appeal and an industrial look softened by exquisite marbling.
Classic includes timeless colors, drawing inspiration from nature's earthy and ethereal tones. This collection offers something for everyone.
· HIMACS Solid Surface Collection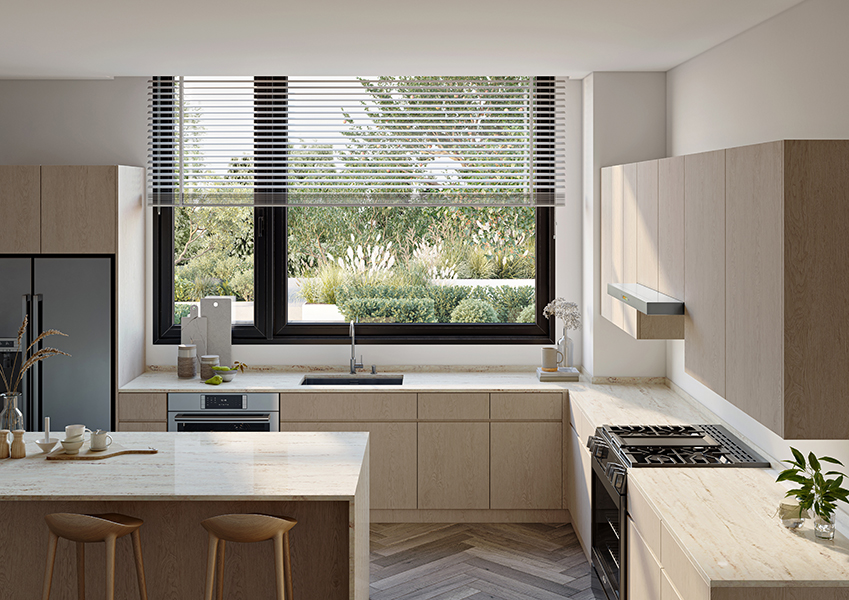 HIMACS is an outstanding solid surface material that blends acrylic, minerals, and natural pigments into a smooth, nonporous, thermoformable, and visually seamless surface. It is often used in residential projects to enhance kitchens, baths, and workspaces and in numerous commercial projects. HIMACS combines design flexibility with exceptional durability and protection against stains, germs, bacteria, and everyday wear. While it may not be the most heat-resistant countertop, it's worth considering if you're willing to protect your countertops with hot pads or trivets.
HIMACS solid surface by LX Hausys comes in 12 collections, with varying colors and styles.
Aster is a collection of elegant shades of gray, ranging from almost white to a dramatic dark gray, all with a gorgeous mother-of-pearl shimmer.
Aurora has soft colors that create music and rhythm in any space, with modern, on-trend details that are both futuristic and classic.
Concrete embodies the rough texture of raw concrete with the smooth finish of HIMACS, adding a modern, industrial feel to commercial and residential interiors.
Eden Plus features up to 10% SCS-certified pre-consumer recycled content and is one of the most environmentally conscious solid surface products available.
Classic includes lively textures, natural tones, and subtleness that are perfect alone or combined with other colors.
Marmo colors address the current trend for top-quality marble aesthetics, ranging from semi-translucent white, through shades of gray, to striking dark brown and anthracite tones.
Strato features an alluring dance of light and shadow with linear patterns and colors designed to delight the eye.
Terrazzo offers a vibration of color and patterns with textured shades, artistic designs, and a touch of modern class; this collection creates a one-of-a-kind experience.
Volcanics offers large, translucent particles of volcanic shades that add a sense of style to any design—on a large scale, the result is dramatic.
Wood offers the timeless look of wood, a staple of contemporary interior design, with a light texture that adds character to any surface.
Pietra embodies flowing movements, expressive colors, and unique textures discovered only in nature.
Calacatta brings the rare and gorgeous look of Italian Calacatta marble to solid surfaces, offering low maintenance, cost-savings, and hygienic benefits.
Explore Heat Resistant Countertops with LX Hausys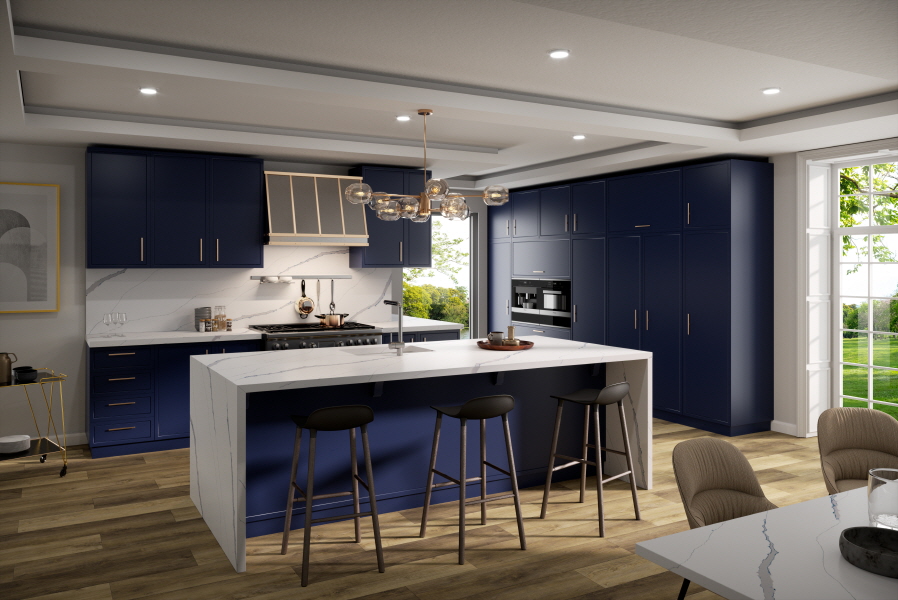 If you're a homeowner needing assistance, we're happy to help. Complete our online form and contact us today; someone will reply to you promptly. If you're a designer or trade professional looking for samples, products, or information, our experts can assist; contact us now or visit our website.