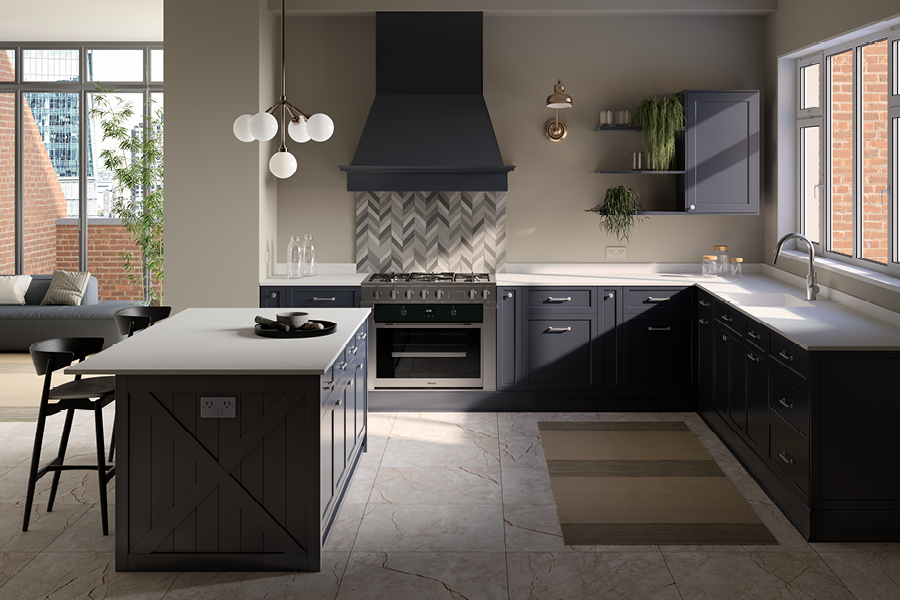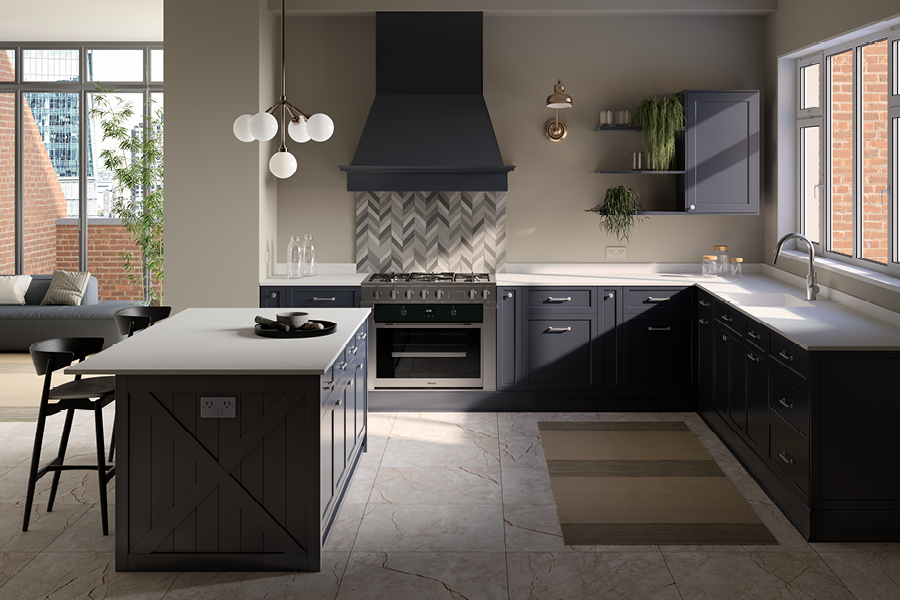 When it comes to kitchen and bath design, countertops are often the center of attention. Countertops define the design story and serve as the hub for most activities, making selecting attractive and functional countertops a top priority for any design project. To select the best countertop, you'll need to consider aesthetics, performance attributes such as stain resistance and durability, and dimensions, including height, depth, and thickness. Countertop measurements may not be foremost in your mind when you think about your design, but they're a vital part of creating a comfortable, inviting, and practical space. In this article, we'll explore how depth, one of the critical dimensions, influences the design and functionality of kitchens and baths.
What is a countertop's depth?
Countertop depth is the distance between the front edge and the back edge of the countertop. If the countertop is against a wall, it's the measurement from the front of the countertop to the wall; if it's an island or peninsula, then depth is the measurement across the countertop. Countertop depth is an important factor as it determines the amount of workspace and surface area available for appliances and daily activities, such as food preparation.
Standard Countertops Depth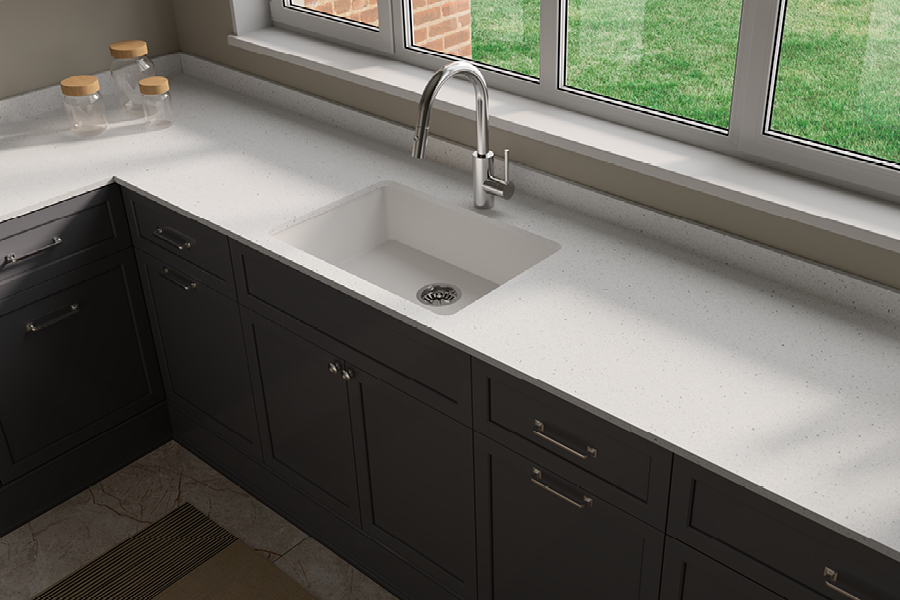 The standard countertop depth is typically 25 inches. However, the ideal depth depends on the layout of appliances, available space, and design and functionality goals. For example, you may want a deeper countertop in the kitchen to accommodate larger appliances and create more workspace, while you may want a more shallow option for narrow or small bathrooms. Let's look at various countertop uses and the ideal depth for each.
· Standard Depth of Kitchen Countertops
The standard depth for kitchen countertops is 25 ½ inches; this measurement aligns with the depth of the cabinetry, countertop support boxes, and the standard overhang measurements. Deeper countertops are an option, but it's important to realize that anything deeper than the standard option can result in significant wasted space and add to the overall project costs for materials, fabrication, and installation.
The standard kitchen countertop includes the depth of the cabinet or countertop support structure – typically 24 inches, plus a 1/12 inch overhang. The overhang provides additional support for the countertop and can help prevent the countertop material from cracking; an overhang also makes it more comfortable for people to sit at the countertop and provides easy access to cabinets and drawers below the countertop.
STANDARD KITCHEN COUNTERTOP DEPTHS

Cabinet Depth

24 inches

Countertop Depth

25 ½ inches

Overhang Depth

1 ½ inches
· Standard Depth of Kitchen Island Countertops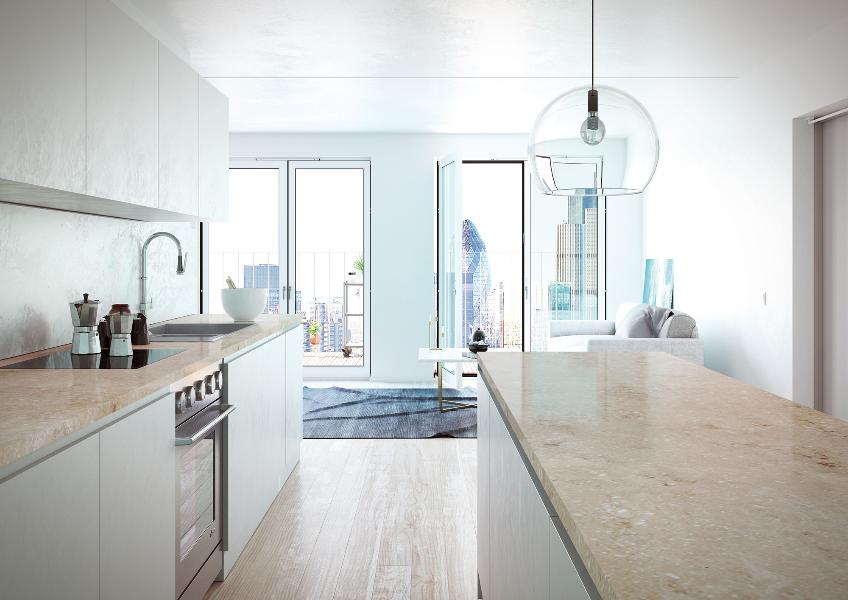 While the main kitchen countertops are usually 25.5 inches, island countertop measurements vary depending on the purpose of the island and the available space in the kitchen. It's common to see much larger island countertops if the space allows. Islands have become a popular gathering spot for families and are the centerpiece of many kitchens, so it's important to understand what you want from an island and how you'll use it. Kitchen island depths typically range from 24 to 36 inches. A 30-inch island works well for dining and other activities, including homework, while a deeper 36-inch countertop may be better for islands with sinks, stovetops, and other appliances.
· Standard Depth of Bathroom Countertops
The dimensions of bathroom countertops differ from kitchen countertop sizes, with bathroom countertops typically ranging from 19 ½ to 22 ½ inches deep. Bathroom countertop sizes depend on several factors, including the bathroom size and the types of sinks, faucets, and other fixtures that will be included in the design. A small powder room bath may require a more shallow countertop, while primary en-suite bathrooms may use a deeper countertop.
What factors determine the standard depths of countertops?
1. Base Cabinet Size
Whether you're choosing countertops for a kitchen, bath or workspace, the depth of the countertop will need to align with the support structure. Countertops are placed on bases, often called boxes or cabinet structures, that dictate the appropriate dimensions. If you want a larger or smaller countertop, you'll also need to adjust the structural cabinet or countertop support box.
Most kitchen cabinet bases are 24 inches deep, while most bathroom countertops or vanity bases are 18 to 21 inches deep. The countertop depth will be slightly more than the base depth to allow for a 1 ½ "overhang. The additional overhang makes it easier to access drawers and cabinets below the countertop and helps prevent the countertop from sagging, chipping, or cracking. Therefore, the standard kitchen countertop is 25 ½" deep, and the standard bathroom countertop is between 19 ½" and 22 ½" deep.
2. Ergonomics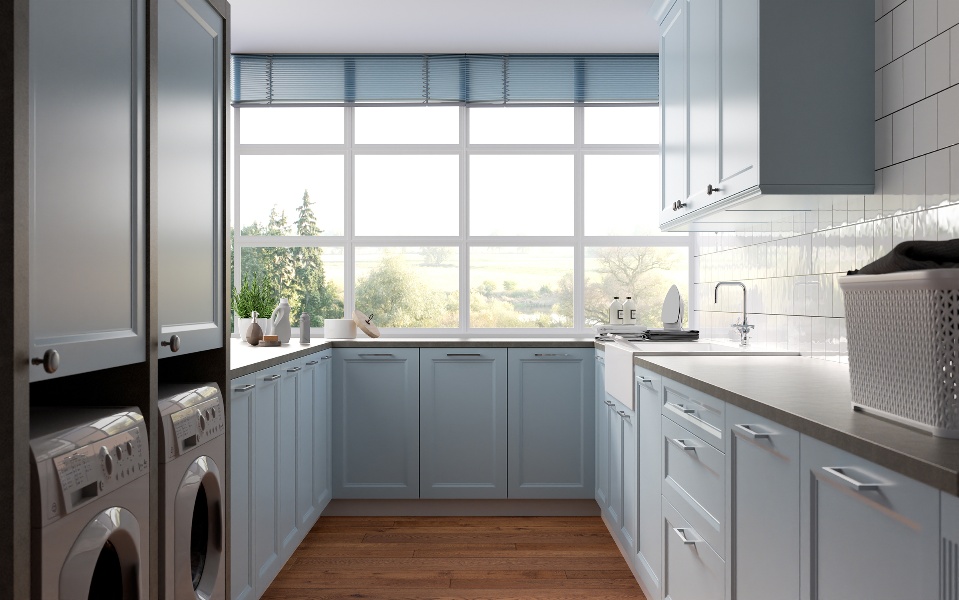 Many daily, repetitive activities happen at the countertop, and an oversized or undersized countertop can make these daily activities easier or more difficult. You'll want the most ergonomic countertop possible to create a comfortable, efficient, and safe surface. Ergonomics involves assessing the physical movements and postures users will incorporate as they work on the countertop, aiming to reduce the risk of injuries from strains from repetitive activities.
When it comes to countertop depth and ergonomics, consider your reach zones and the physical needs and abilities of those using the space. Frequently used appliances, equipment, and faucets should be easy to reach without stretching or extending beyond a comfortable distance. Posture is also a key consideration when choosing the appropriate countertop depth. A deep countertop can cause users to lean forward or hunch over, while a shallow countertop may restrict movements and cause neck or shoulder strains. Countertops that aren't sized appropriately can lead to stress, fatigue, strains, and injuries.
3. Appliances
Before you choose and install a new countertop, you'll need to ensure you have enough space for appliances, such as refrigerators, cooktops, dishwashers, and other equipment. You'll also want to consider how it will look if any of these appliances are deeper than the countertop. You will also want to ensure enough clearance for any electrical, plumbing, or ventilation to support the appliances.
Find Countertops to Fit your Design Project with LX Hausys
If you need assistance finding the perfect colors, styles, and dimensions for your kitchen or bathroom countertops, our experts can help. LX Hausys offers a variety of countertop materials, inducing Viatera quartz and HIMACS solid surface countertops. Contact us and provide a few key project details, and one of our experts will reply promptly.