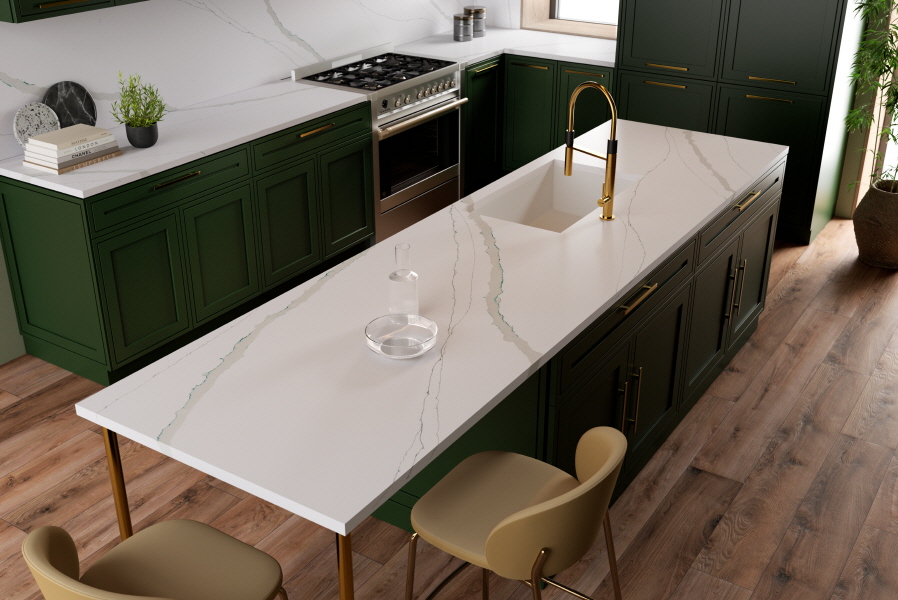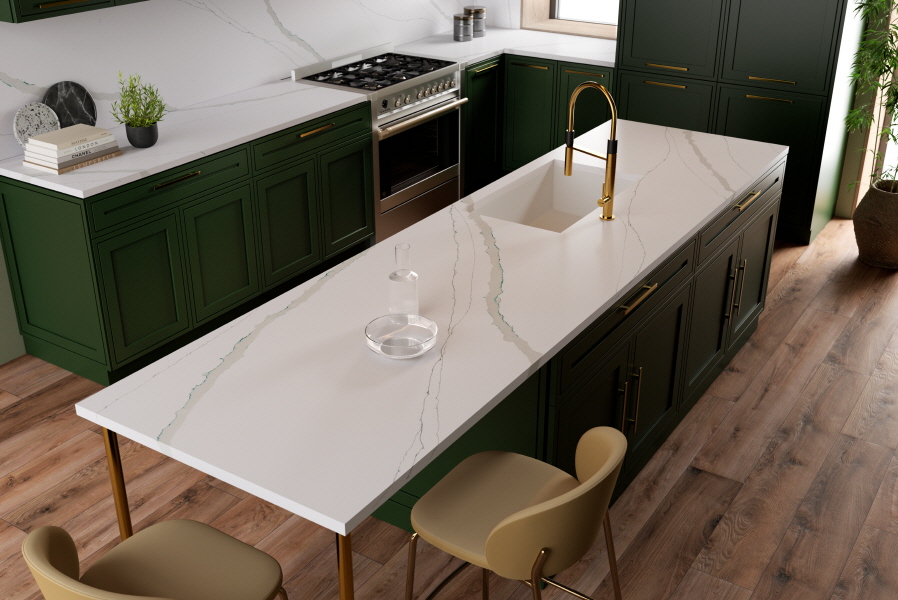 Quartz has become the most popular kitchen countertop material due to its stylish appearance and ease of use. In this article, we'll explore the popularity of quartz countertops and why they're the ideal material for residential kitchens.
The kitchen is the heart of your home, and ensuring your kitchen is both beautiful and functional is a top priority when remodeling or building a new kitchen. Whether it's your first cup of coffee, a work-from-home conference call, an afternoon homework session, unloading groceries, sorting through mail, or preparing a meal, your countertops will serve as the foundation for many of your daily activities. You want them to look great and perform well daily, which is why many homeowners and designers choose quartz countertops. Let's explore the characteristics of quartz countertops and why they've become the go-to choice for today's kitchens.
What is Quartz?
Quartz is a manufactured product that uses naturally sourced ingredients. It's sometimes called engineered stone for its close appearance to natural stone countertops and extreme durability.
Quartz countertops combine crushed natural quartz, one of the hardest and most abundant minerals on earth, with polymers, resins, and pigments to create a strong, durable surface with endless design potential. Most quartz countertops include 93% naturally occurring quartz, which adds to the material's strength and durability. Quartz countertops combine the beauty and strength of nature with modern manufacturing techniques to create a surfacing material that outperforms traditional stone countertops, including marble and granite.
Color and Design of Quartz

There's a quartz countertop for every design preference; whether you're looking for something modern, statement-making, or more traditional, there's a quartz countertop to complement your design goals. Quartz countertops are incredibly versatile and come in many color options and styles, including countertops that closely resemble sought-after Calacatta Italian marble, granite, or other natural stones.
There are numerous options if you're looking for a sophisticated stone-type countertop, but there are also edgier styles that show off the capabilities of modern manufacturing. Unlike natural stone, quartz countertops aren't limited by what can be found and sourced in nature; their deep designs, impressive hues, and intricate patterning can take on nearly expression. There's a quartz color and style to please the most discerning design tastes, and there are plenty of quartz countertop options to match your cabinets, flooring, fixtures, and other design elements.
Durability of Quartz Countertops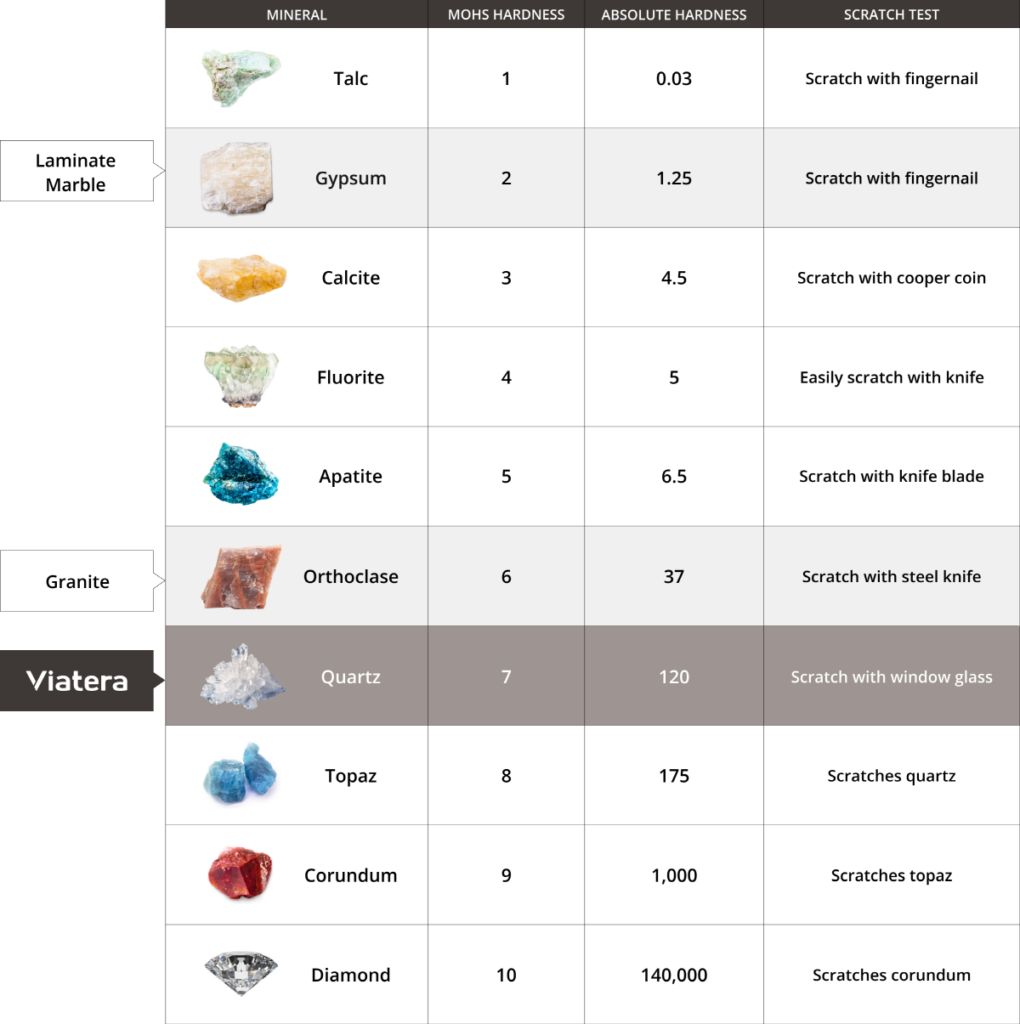 Durability is a critical factor when it comes to choosing a kitchen countertop. You want to be sure your countertop can meet life's demands, from routine meal prep to impromptu gatherings. The kitchen countertop is the centerpiece of your kitchen and daily activities, so it must be durable. Quartz countertops are designed for today's busy families and will hold their appearance without scratching, staining or discoloration for many years.
Quartz manufacturers can produce a non-porous material that resists stains, moisture, and contaminants. The manufacturing process also creates a material that is extremely strong and won't chip, crack or scratch easily. However, no material is 100% invincible, so you should be careful about dropping heavy objects on your countertops. Many quartz manufacturers
Maintenance and Care Of Quartz
When it comes to maintenance, quartz certainly beats the competition, including natural stone. Natural stone has to be polished and sealed periodically to protect it. Stone countertops require annual sealants as part of the maintenance, but that's not the case quartz countertops, which are virtually maintenance-free.
Moisture, dirt, and contaminants are unable to penetrate the quartz's non-porous surface, keeping it free of deeply embedded stains. For this reason, quartz countertops are considered maintenance-free. Simply wiping them off with soap and water is all you need to do to keep quartz looking its best.
While most quartz products, including Viatera from LX Hausys, can resist common stains from juices, tea, coffee, and wine, some stains may require a non-abrasive cleanser. You can also use a non-abrasive scrub pad or razor blade to remove set-in food or dried stains carefully. Cleaning products with bleach, hash chemicals or anything containing trichloroethane or methylene chloride should not be used on quartz as they can damage or decolor the surface material.
Is Quartz A Good Kitchen Countertop?

There are numerous reasons quartz has become the most popular kitchen countertop material. If your budget allows for high-quality, high-design countertops, then quartz should be at the top of your list. As a non-porous, hygienic surface, quartz minimizes exposure to contaminants and won't allow moisture, bacteria, or germs to spread, protecting your family. It can also stand up to daily, high usage without fuss or protection. Quartz's design possibilities, durability, and low maintenance have won the hearts and minds of many homeowners and designers, making it the best choice for busy kitchens that need to be safe, inviting, and highly functional. 
Viatera Quartz Products & Collections
Viatera Quartz comes in various colors, including white, gray, cream, brown, beige, black and blue. Viatera offers five current collections: Calacatta, Masterpiece, Musica , Urban, and Classic.

Calacatta offers a bright, natural white background and intricate viewing patterns that evoke the luxurious look of Italian Calacatta marble in a maintenance-free quartz option. The Masterpiece collection offers desirable on-trend colors and subtle and bold designs that turn any kitchen into a masterpiece of art. Musica quartz styles convey elegance and timelessness with a symphony of light and dark hues adding complexity to a sophisticated palette reminiscent of great classical music. Urban is an excellent collection for those looking to create a more metropolitan or cosmopolitan feel with modern concrete-like designs and edgy appeal. Last but certainly not least, the Classic collection features Viatera styles inspired by earthy and ethereal natural tones, with a classic tone ideal for the traditional kitchen.
Contact Us
If you're planning a kitchen project or remodel, let's talk about your project. Whether you're a homeowner looking for the best kitchen countertop for your family or a designer wanting to provide lasting impact, our team can help. Visit our site, tell us a little about your project, and we'll contact you promptly. Visit now to get started on your quartz project.